Camila Mendes May Have Just Spoiled 'Riverdale' On Instagram In These New Photos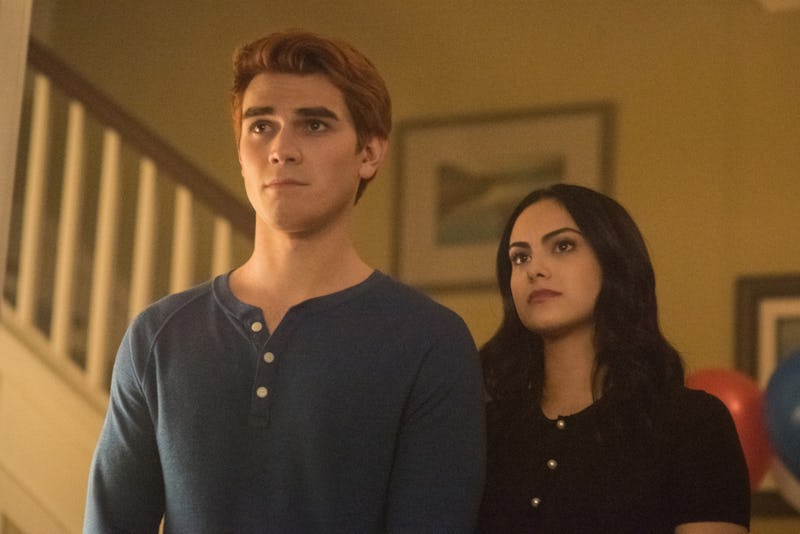 Dean Buscher/The CW
Summer may only just now be hitting its stride, but the Riverdale cast is already hard at work on set. Production for Season 3 is now officially underway, and while details about the latest installment remain mostly scarce, there is a chance that Camila Mendes just revealed a major Riverdale Season 3 spoiler that may have unintentionally hinted at the fate of a currently prison-bound Archie Andrews.
In a recent batch of Instagram stories, Mendes — who plays Veronica Lodge on the series — uploaded brief snippets of herself hanging out with her fellow Riverdale castmates that appear to be taking place on set. One short video shows Cole Sprouse (aka Jughead Jones) jamming out in a car to Creed's "One Last Breath." Another one features her goofing around with Madelaine Petsch (Cheryl Blossom) while lounging in a hammock. However, it's the final part of the story that's sure to raise a few eyebrows.
KJ Apa (Archie) and Mendes are shown riding around in a car, presumably while still on set, with Apa wearing what appears to be swim trunks. Normally, this would not be seen as unusual, given that the members of Riverdale High have been known to partake in a pool party or two. But it is strange to think that Archie would be wearing anything other than an orange jumpsuit throughout at least the beginning of the show's third season.
For those who need a bit of a refresher, Season 2 ended with Archie's arrest, having been framed for the murder of Cassidy Bullock. He was led away in handcuffs and will undoubtedly be facing some very trying times ahead, which is precisely why his shirtless ensemble doesn't seem to add up.
Sure, it's possible the footage is from the cast hanging out either before or after filming for the day, but it certainly looks as if they're in the middle of production. So what gives? Could this suggest that Archie gets let out on bail, or is this some sort of flashback or daydream trickery of him reflecting on better days before he found himself behind bars?
Unfortunately, that's a question that will have to go unanswered for the time being, but to add even more fuel to the theorizing flames, Apa himself also published his own set of Instagram stories that found him once again shirtless after wrapping up their first day back. "You guys are in for a treat," Apa teased in the video, further implying that this outfit (or lack thereof) could hold the key to Archie's fate. Perhaps prison will prove to be a very short-lived sentence for our red-headed hero.
During the CW Upfront presentations, Apa spoke with TVLine about Archie's journey throughout Season 3 and speculated what he wants to see from his character during his stint in jail. "I want him to get a whole lotta tats," Apa told the outlet. "I want him to join a gang. I want it all." Granted, that's not an outright confirmation that Archie will end up serving time, but it definitely seems to be somewhat implied. Additionally, showrunner Roberto Aguirre-Sacasa had also previously mentioned to TVLine in a separate interview that "the prospect of Archie in a juvenile detention center is pretty delicious," while hinting that there "might be a courtroom thriller element to" Season 3.
All things considered, it'd be shocking not to see Archie in the slammer at some point, though these Instagram stories appear to weave a completely different tale. Fans will have to wait until the series returns in the fall to know for sure, but when it comes to Riverdale, anything is possible.