You Should Bring An Umbrella To Inauguration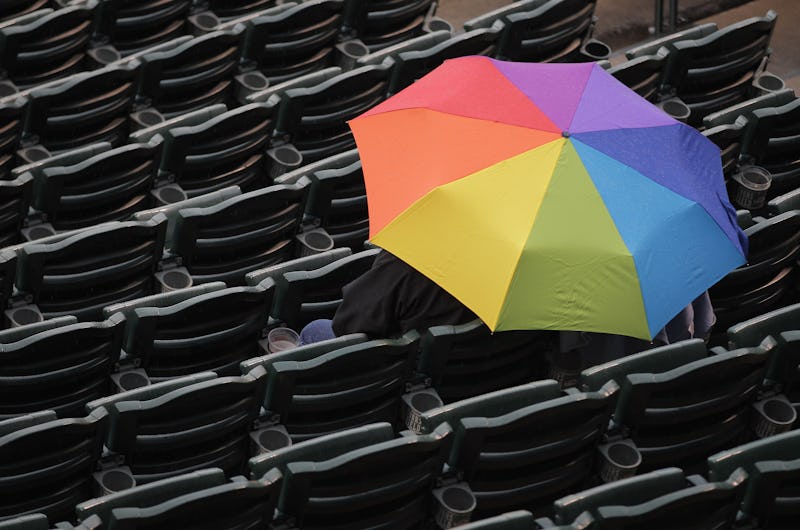 Doug Pensinger/Getty Images Sport/Getty Images
All signs point to rain on Inauguration Day, and that's a real bummer for those who are attending, the protesters, and, oh yeah, the guy who's about to be inaugurated. For security reasons, things that could be used as weapons — like wooden sign posts, selfie sticks, and actual weapons – are not allowed at inauguration. And while your handy dandy rain protector was once on that list, due to the 90 percent chance of rain, the National Park Service revised its list and decided to allow umbrellas at the inauguration.
If you're headed to inauguration, you'll want to be prepared to take cover from the downfall, whether that's with an umbrella, a good rain jacket, or a poncho. But if you do plan to bring umbrella, you have to make sure you're bringing one that actually is OK to carry. Umbrellas that you can collapse and put into your purse are the style you are allowed to bring. As the park service pointed out, think of those Totes folding umbrellas. But "long, non-collapsible umbrellas" will not be allowed.
The swearing-in of the president generally takes place outdoors, barring extreme weather events. According to the Joint Congressional Committee on Inaugural Ceremonies, in 1981, the ceremony began being held on the west front of the Capitol so more spectators could see.
If it just rains a bit, the ceremony should stay outdoors, where you can safely use the authorized umbrella you brought with you. However, in the case of more severe weather, there's the possibility it could be moved indoors. In 1985, the second inauguration of Ronald Reagan was moved inside due to extreme cold.
However, Donald Trump doesn't think that's going to happen. At his "Make America Great Again" rally on Inauguration Eve, Trump spoke to the crowd and said, "So, I'll see you tomorrow. And I don't care, frankly, if it's going to be beautiful or if it's gonna rain like crazy — makes no difference to me. I have a feeling it's going to be beautiful, but I will see you tomorrow, and I will be cheering you on."
There's a whole list of things you can and cannot bring to inauguration, so you should double check before heading to the National Mall. But definitely bring your umbrella. Unless you think it's going to be beautiful.