Can Karaoke King, James Corden, Actually Sing?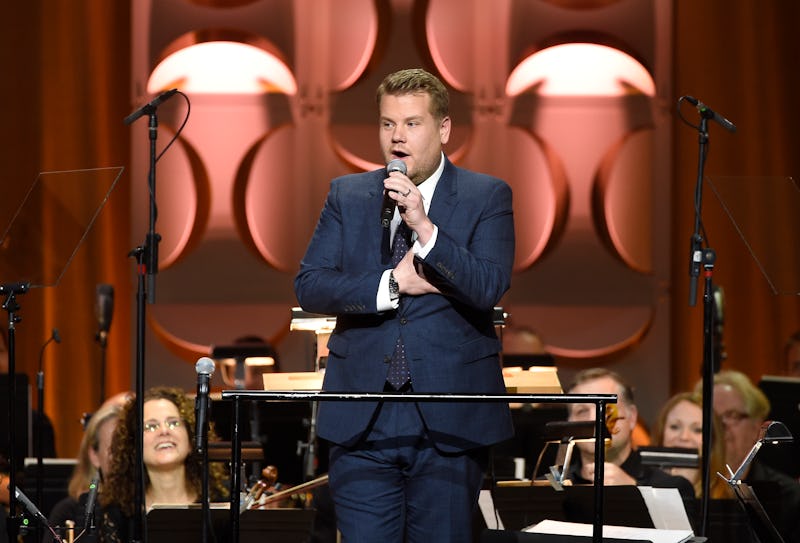 Matt Winkelmeyer/Getty Images Entertainment/Getty Images
He can host. He can charm the socks off any celebrities who come his way. He can do a sterling British accent — probably thanks to his country of origin. But can James Corden sing? It's a fair question. While he performs on Carpool Karaoke on the regular, and sings with extra gusto when certain pop singers seem shy about singing in public (cough, Britney, cough), Corden is not going to be singing when he hosts the 2017 Grammys on Sunday. With characteristic modesty, he told Billboard, "There are a lot of brilliant singers there and no one needs to hear me disrupt such beautiful vocals."
If you're familiar with Corden's back catalogue, then you'll know the man's pretty much the reason the phrase "triple threat" was coined: He acts, he sings, he dances. Also, add comedy and hosting to that list. So yeah, he was probably just trying to make the rest of us feel better by saying he won't perform.
Want to see some hard evidence? I present to you, exhibit A: Carpool Karaoke. First of all, you don't offer to do this segment unless you're relatively secure in your skills as a singer. And Corden's paid his dues. Check out him spontaneously breaking into a harmony on some tricky ballads with one of the greatest voices of our time, Adele, like it's no big deal.
Sure, you skeptics may say, but that doesn't mean anything necessarily. I don't work in television, but I'm pretty sure this isn't a live recording, and as such, they could add in a few generous dollops of autotune after the fact.
But then what about this video below, when Corden is totally put on the spot by a plucky German interviewer? Skip to three minutes in where she asks him to sing his favorite Christmas song — just like that, no warm-ups, so much pressure. His voice is quieter than in Carpool Karaoke, but it's unexpectedly lovely — melodic and warm all at once. Whether or not you care about Corden's voice, get set for goosebumps.
Still unconvinced? You're a toughie. Well, here's Corden making a spontaneous live concert performance with Coldplay. (I know. But nobody's perfect.)
If you've ever gotten drunk and ambitious and headed to karaoke, you'll know that Corden's not messing around. "Nothing Compares 2 U" is one of those songs that's so easy to listen to, but so freaking hard to sing in tune, especially if you have minimal backing. So, sure, not every note is perfect (proving there's no lip-syncing going on), but it's really damn good.
The conclusion? The situation is exactly what you suspected: Corden is pretty much as flawless as his television persona implied.