You'll Swoon Over These Clips Of Luke Evans Singing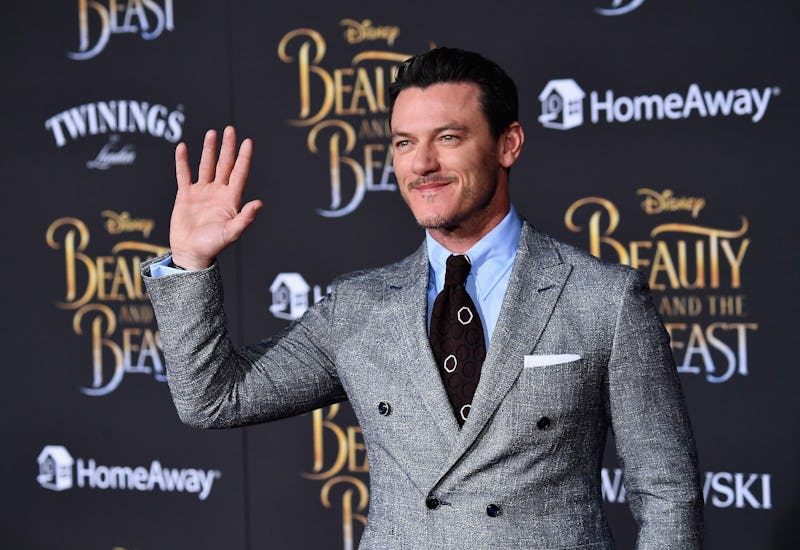 Frazer Harrison/Getty Images Entertainment/Getty Images
In Le Fou's ode to his burly best friend, he covers just about the full gamut of what Gaston can do. He can drink, fight, spit — I get it. But the song "Gaston" leaves out one piece of necessary praise: the man can also sing. That's Girl On The Train actor Luke Evans posturing and posing as the Beauty & The Beast antagonist. And while some of the cast sound noticeably like "actors who sing," Evans' vocals in "Gaston" and "The Mob Song" are distinctly those of a "singer who acts." Yes, Luke Evans can really sing, and he's been doing it for a long time.
Before he made the leap to film, the Welsh actor was working steadily in theater, mostly of the song-and-dance variety. He acted in shows such as the R-rated puppet musical comedy Avenue Q and the Boy George biopic Taboo. Movie roles in The Hobbit trilogy, a couple of Fast & Furious movies, and Dracula Untold took him away from the stage. But I hope the thunderous reception of Beauty & The Beast and his performance will inspire him to do some more movie musicals. Because there's something morally wrong will letting a voice like that go to waste. These clips of Luke Evans doing his thing can keep you company until then.
"One Song Glory"
Evans played Roger, the HIV+ rock star reeling from the suicide of his girlfriend, in a modernized London production of the milestone rock musical called Rent Remixed. I have vivid memories of the first time I saw "One Song Glory" performed on stage and thus very high standards for it. Evans nails Roger's regretful ode to lost potential, especially when he lets loose at the end.
"I See Through You"
So technically, Boy George isn't the central character of the musical Taboo. That would be Billy, a working class boy who heads into the city to escape the cyclical fate of his family and discovers London's colorful and rebellious "New Romantic" scene. Here's Evans as Billy singing his intervention for his friend George's out-of-control substance abuse.
"Delilah"
The actor serenaded the crowd with an impromptu rendition of a Tom Jones song at a fundraiser, and it's ridiculous that this is what he sounds like off the cuff.
"When We Were Young"
During the press tour for The Girl On The Train, host Jonathan Ross asked Evans and Emily Blunt about their choice karaoke songs. Watch as Evans goes "full Adele" and accidentally woos his co-star.
"Gaston"
This list is not complete without a Gaston cage match, minus the cage. When Ross hosted Evans and Hugh Jackman (who played Gaston in the stage version of Beauty & The Beast), he challenged them to out-Gaston each other. Put your masculinity safety goggles on and check it out. (Bonus Taron Egerton as a pretty great Le Fou!)
Whew. After all that belting, the question isn't whether Luke Evans can sing, it's why isn't he doing it all the time?