Luke Evans Is Perfect For 'Beauty And The Beast'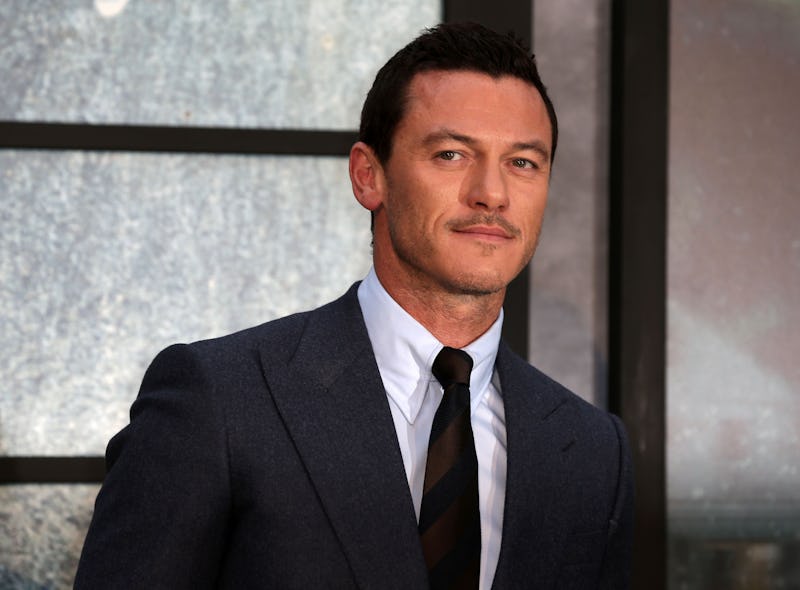 DANIEL LEAL-OLIVAS/AFP/Getty Images
With all the excitement of Emma Watson starring in the Beauty and the Beast reboot, the film's other characters might have slipped through the cracks a little bit. But one of the silver linings of the fact that fans still have to wait until Mar. 15 for the movie's release is that it gives you plenty of time to get to know the rest of the actors in starring roles. So who plays Gaston in the live-action Beauty and the Beast ? The actor's name is Luke Evans, and he has quite the resume, so don't be surprised if his face looks familiar.
Probably the most likely place you've spotted the 37-year-old Welsh actor recently is in 2016's The Girl on the Train, in which he played Scott Hipwell, husband of Megan, whose disappearance drives the plot. However, he has IMDb credits going back all the way to 2003. This body of work includes the sixth and seventh movies in the Fast and Furious franchise, in which he plays Owen Shaw; The Hobbit: Desolation of Smaug, where he played both Bard and his ancestor Girion; and 2011's The Three Musketeers, in which he starred as Aramis. Oh, and just for your information, this is what he looks like with his shirt off.
Evans also has a serious foundation in theater. He got his start on the stage, with training at the London Studio Centre, from which he graduated in 2000. That culminated in three stints on London's West End, which is equivalent to Broadway here in the states: Taboo in 2002, Avenue Q in 2006, and Rent Remixed in 2009. So, it's safe to say that Evans has a killer voice to cut his teeth in such an impressive and competitive environment. I can't wait to see how he fleshed out the role of Gaston.
On a personal side, Evans has been tacitly out as a gay man since a 2002 interview with The Advocate, but has opened up about his orientation more recently as his career has picked up steam. As he said in a 2014 interview with Women's Wear Daily,
It's good for people to look at me and think this guy is doing his thing and enjoying what he's doing and successful at it and living his life. And that's what I'm doing and I'm very happy.
Hear, hear. In 2014, he was linked to fellow actor Jon Kortajarena, but there's no official word these days whether Evans is single or in a relationship. So, to all my guys out there, keep the hope alive.
One thing that's clear is that Evans is a talented actor, and hearing about the singing chops that he'll be bringing to Beauty and the Beast has me eagerly anticipating the film's release.