Can Meghan Markle Still Act AND Be In The Royal Family?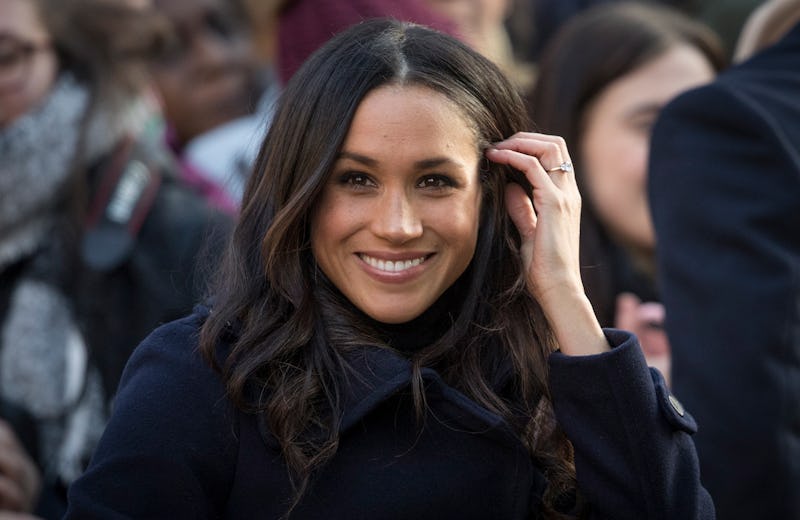 Christopher Furlong/Getty Images Entertainment/Getty Images
Now that she's marrying into the British Royal Family, you might be wondering, "Can Meghan Markle still act?" It doesn't seem likely that once she becomes Mrs. Prince Harry that the 36-year-old actor will continue to act in any capacity, because, well, she's going to be busy with all of her other royal duties. To be clear, neither Markle nor the royal family have given a statement saying she is no longer allowed to continue acting. Even though there hasn't been an official word, there are a few items suggesting this is the case.
Hello! Canada's editor-in-chief, Alison Eastwood, opened up to the Toronto Star in November about whether or not Markle is still allowed to act. "There's no royal decree stipulating that once you become a member of the Royal Family, you must forgo other professional activities." She continued, "It's not written in the royal rule book, but the fact is it becomes completely unpractical to sustain once you are a working member of the Royal Family. We've seen it time and time again. The level of scrutiny and security alone really make it prohibitive."
Royals expert and founder of Beaumont Etiquette, Myka Meier, told Glamour in December about Markle as an actor that it doesn't seem likely she will pursue acting anymore, mainly due to her new duties as a royal. Sarika Bose, a University of British Columbia professor with knowledge of the royal family, also told Moneyish in November, "It would be groundbreaking if she were able to continue in her job."
Markle made it pretty clear during her first interview with Harry in November that acting is in her past. "I don't see it as giving anything up, I just see it as a change. It's a new chapter," she told the BBC after being asked about "giving up" her acting career for a royal life.
"Also, keep in mind, I've been working on my show [Suits] for seven years," Markle continued. "So, we were very, very fortunate to be able to have that sort of longevity on a series. And, for me, once we hit the 100-episode marker, I thought, 'You know what, I have ticked this box and I feel really proud of the work I've done there and now it's time to, as you said, work as a team with [Harry]."
It was announced in November that Markle was leaving her role as Rachel Zane in Suits. "From all of us at USA Network and Universal Cable Productions, we want to send our most heartfelt congratulations to Meghan Markle and Prince Harry on their engagement," a statement from the network read (via People). "Meghan has been a member of our family for seven years and it has been a joy to work with her. We want to thank her for her undeniable passion and dedication to Suits, and we wish her the very best." Her final episodes of the drama will air in January 2018.
On top of that, she shutdown her blog, The Tig, in April. "To all my Tig friends. After close to three beautiful years on this adventure with you, it's time to say goodbye to The Tig," Markle wrote in a statement posted on her blog, according to Entertainment Tonight. Her departure from Suits and the closing of her website both seem to suggest that acting and blogging are now part of her past.
Even Kate Middleton left her career behind after becoming serious with Prince William. According to Reader's Digest, after graduating with a History of Art degree from St. Andrew's College (where she met William), she designed catalogs and worked in marketing for her parents' party supply business, Party Pieces. The publication also reported that she worked as a part-time accessories buyer for Jigsaw Junior, a London clothing store.
So what will Markle do now as a royal fiancée? According to royal commentator Richard Fitzwilliams, who spoke with ET in December, she must "get to know Britain" by touring the country, similar to when she and Harry visited Nottingham, their first official outing as a royal couple. He also said that she will become a member of Harry, William, and Middleton's organization, the Royal Foundation. Fitzwilliams also said that she'll most likely take on her own philanthropic endeavors.
"[Markle's royal responsibilities depends on] what she wants, and what she and Harry have decided on. As I say, they will be especially charitable," Fitzwilliams also added. "I think clearly Meghan will choose fields to specialize in which she feels strongly about. And obviously, as we know, the Duke of Edinburgh, as he's retired, he still retains links to about 800 organizations, but the various functions he has will be attended by members of the royal family. Certain ones will be chosen, which Meghan will wish to support."
Becoming more charitable is something Markle looks forward to. During her first interview with Harry, she told the BBC, "As you said, the causes [she is an advocate for UN Women] that have been very important to me, I can focus even more energy on because very early out of the gate we realized once you have access or a voice that people are willing to listen to with that comes a lot of responsibility, which I take seriously."
As sad as you might be for Markle's acting career coming to an end, they shouldn't be, because she's made it clear this is what she wants. It appears to have been her decision and if she's happy, that's all that matters.