Stormy Daniels' Lawyer Keeps Hinting That There's Proof Of The Alleged Trump Affair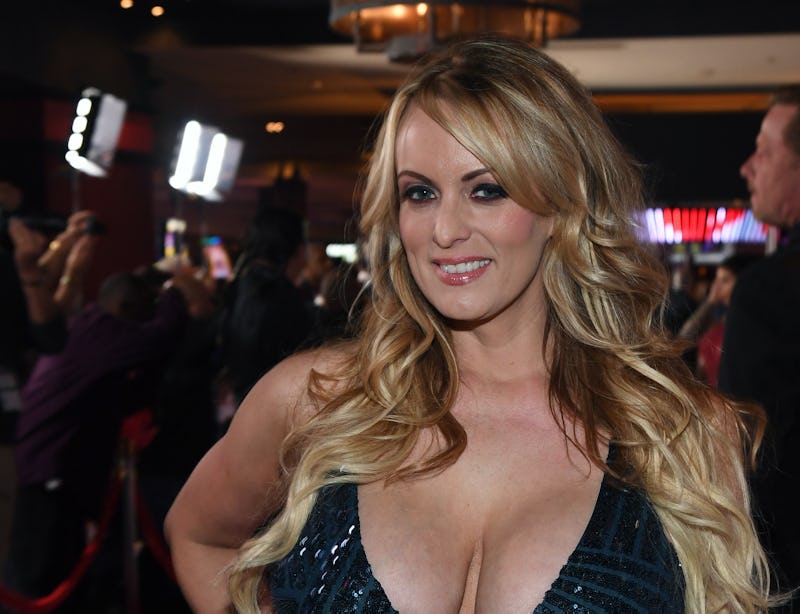 Ethan Miller/Getty Images Entertainment/Getty Images
Following an anticipated interview on 60 Minutes on Sunday, the lawyer for adult film actress Stormy Daniels insisted her alleged Trump affair is provable with concrete evidence. Trump has denied that the alleged affair with Daniels, whose given name is Stephanie Clifford, occurred. However, Daniels' attorney, Michael Avenatti, revealed on a host of morning TV shows this week that Daniels supposedly has a "litany" of evidence to support her claims about the alleged affair.
As Mother Jones reported, Avenatti appeared on Today, New Day, Good Morning America, and The View on Monday — the day after Daniels' 60 Minutes interview aired. Avenatti asserted to Good Morning America host George Stephanopoulos that there is still more information to be revealed about Daniels' alleged affair with Trump. As Avenatti told the host: "We have a litany of more evidence in this case, and it's going to be disclosed, and it's going to be laid bare for the American public."
Stephanopoulos requested some more clarification, asking, "[Is there] direct evidence from President Trump that would prove an affair?" "Absolutely," Avenatti responded.
During his interview with Savannah Guthrie on Today, Avenatti was less direct, though did again imply that further information would be released in the future.
We're not going to get into the details of everything we have at this time and there's a reason for that. We're in the very early stages of this case. We understand the American people want all the information right now, immediately. It would make no sense for us to play our hand as to this issue and we're not going to do this right now. ... [W]e have a case to win.
When Guthrie accused Avenatti of "playing games" about whether or not there exists additional evidence in the case, Avenatti rebuffed the host.
"I'm not playing games, there will be more evidence," Avenatti said. "It's just not going to happen right now. Everyone wants immediate gratification. It's not gonna happen right now."
Part of the reason Guthrie accused Avenatti of playing coy stems from a recent tweet published by the lawyer, in which he appeared to tease an imminent release of further evidence. On March 22, Avenatti shared a picture of CD-ROM and captioned it: "If 'a picture is worth a thousand words,' how many words is this worth?????#60minutes #pleasedenyit #basta."
In addition to seemingly teasing the release of new evidence, Avenatti has also taken to Twitter to deny the existence of certain rumored evidence. On March 27, Avenatti tweeted: "To address the rumor: We DO NOT have a "Monica Lewinsky type' dress. Thus, there is no dress to be tested for DNA."
A "Monica Lewinsky type dress" refers to the blue dress worn by former White House intern Monica Lewinsky that contained Bill Clinton's DNA — and ultimately helped confirm that she had had a sexual relationship with the former president. Rumors that Daniels might still have the dress she wore on the night of her alleged affair with Trump emerged after Alana Evans, a friend of the actress, said on CNN, "All I know is that Stormy still has the dress that she wore from that night."
While Avenatti has denied the existence of a dress as evidence of the alleged affair, it seems pretty clear that he wants to convey that Daniels does possess further evidence related to the case. However, Avenatti has also made it known that he and Daniels are not yet ready to reveal this evidence — and that they wish to focus on winning their pending lawsuit instead.
Daniels is currently suing both Trump and his lawyer, Michael Cohen, to dissolve a non-disclosure agreement prohibiting her from discussing the alleged affair. The hearing for the lawsuit is scheduled for July 12 in Los Angeles County Superior Court.