This Is What The Law Says About Closing The U.S. Border Like Trump Wants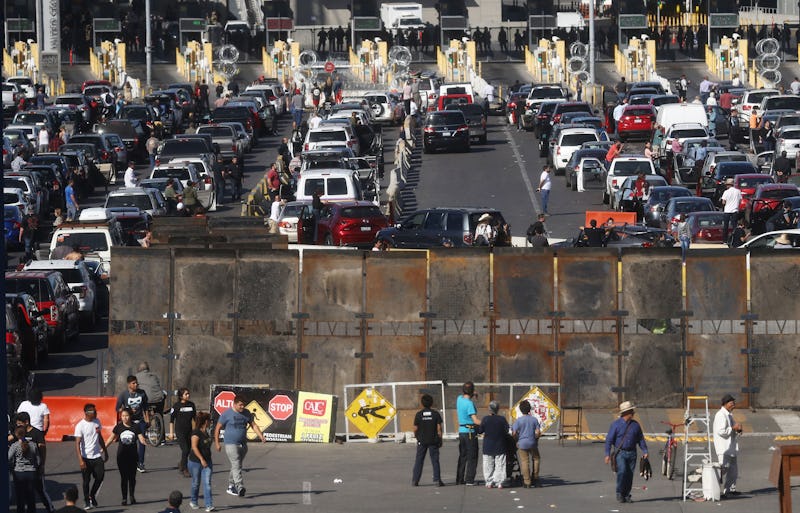 Mario Tama/Getty Images News/Getty Images
On Sunday, as members of the latest migrant caravan reached a U.S. border crossing in Tijuana, Customs and Border Patrol (CBP) decided to close the one area where people can cross with authorization. Showing that the border can be closed as President Donald Trump threatened — at least temporarily — CBP kept the San Ysidro Port of Entry shut for six hours.
Now, though, President Trump is threatening to close the border "permanently" — an unlikely scenario that could be illegal and would definitely not stop asylum seekers who don't have to enter at a port of entry in the first place.
A temporary closure — as was seen on Sunday — is possible at an official port of entry. This is the area along the border where the U.S. and Mexican governments have decided to allow people to cross by showing identification in a systemized way. There are lanes for people entering in cars and other areas for pedestrians to be screened. That's what can be closed.
San Ysidro Port of Entry, the one affected Sunday, is the busiest in the country — and world. More than 90,000 people cross here every day — both on foot and in personal vehicles — according to The San Diego Union-Tribune. But there are many more: several in the San Diego area and a total of nearly 50 along the southern border.
These have been closed temporarily in the past and could all see a coordinated closure or tightening of security. After 9/11, President George W. Bush temporarily closed the borders with Mexico and Canada immediately after the attacks. After they were reopened, those who were allowed to cross were heavily inspected, per The New York Times.
But a permanent closure is a different story. There is no explicit law that allows the president to do so, The Washington Post reported. It would also be bad for the country economically; Bloomberg reported that $557.6 billion in two-way trade crosses the border per year. Mexico is the country's third largest trading partner for goods.
Experts told The Post, moreover, that it could be illegal under asylum law. Yale Law School's Harold Hongju Koh told the paper this is an attempt by Trump to change asylum policies "without or against legal authority."
"What he does not understand, is that everyone crossing our southern border is not illegally present," Koh told The Post. "Those with valid asylum claims have a legal right to assert those claims and remain."
Sunday is a good example as to why Trump's plan to close the legal ports of entry permanently is flawed. When U.S. officials started using tear gas on asylum seekers — which included children and families — some tried going around barricades and over fences to try and reach the United States. Legally, if any of them reach the border, they have the right to seek asylum in the United States.
The Trump administration has tried to limit asylum claims to those who entered at a port of entry, but the courts have found that runs counter to the law. "Whatever the scope of the President's authority, he may not rewrite the immigration laws to impose a condition that Congress has expressly forbidden," U.S. District Court Judge Jon S. Tigar for the Northern District of California wrote in a ruling last week.
That means asylum seekers who cross the border anywhere must have their asylum claims heard. So even if Trump closes every legal port of entry, the vast majority of the southern border — while technically also "closed" — would essentially remain open to asylum seekers.
Trump's plan to permanently close the border wouldn't solve his stated goal and could cost the economy billions — if courts allow it at all.