Trump Taping Comey Is Legal Depending On Where They Talked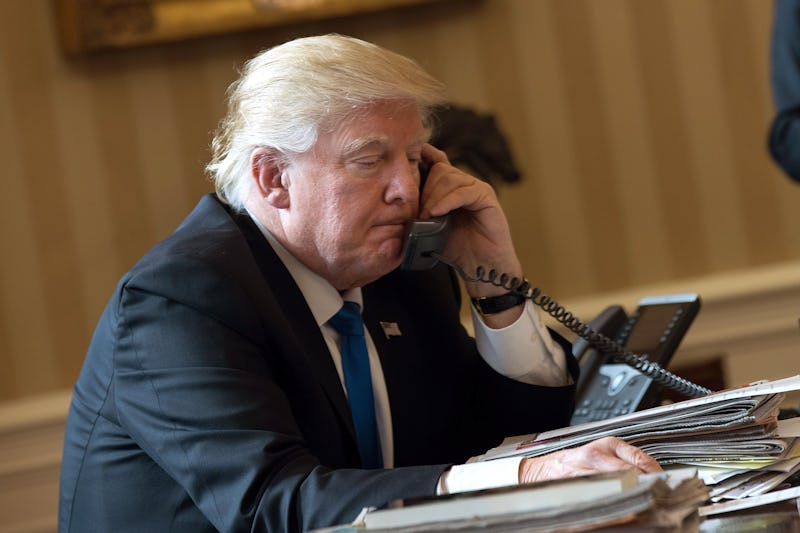 Drew Angerer/Getty Images News/Getty Images
With just one tweet President Donald Trump has opened the floodgates to new comparisons between himself and former President Richard Nixon, who secretly recorded more than 3,000 hours of conversations during his presidency. In a series of tweets published early Friday, Trump appeared to issue a thinly-veiled threat to former FBI Director James Comey while disparaging the media's coverage of the firing — which took place in the midst of the FBI's investigation into alleged ties between Russia and the Trump campaign. In his tweet, Trump implied that he might have "tapes" of his and Comey's conversations that could reflect badly on the now-former FBI director, should they be made public. While it's unclear if such "tapes" really do exist, the president's tweet has many wondering if it's legal for Trump to tape his conversations with Comey?
"James Comey better hope that there are no 'tapes' of our conversations before he starts leaking to the press!" Trump wrote in one of seven tweets published Friday morning. The president's tweet may have been inspired by a recent New York Times report regarding a private dinner at which two anonymous sources claimed Trump allegedly asked the FBI director to pledge his loyalty to him. According to the Times, Comey refused, saying he could give Trump only "honesty."
While the answer to whether such "tapes" are legal largely depends on which state they were recorded in, it seems fairly likely that Trump, if he did, in fact, tape his conversations, broke no laws in recording his discussions with Comey. Under federal law, conversations held in person or over the phone can be recorded as long as at least one of the parties involved has given their consent. Many states, as well as Washington, D.C., also have similar "one-party consent" laws. Under these laws, Trump could legally record any conversation he was a part of without having to alert the other parties involved to the fact the conversation was being taped.
Only 11 states have what are known as "two-party consent" laws, which require all individuals involved to consent to the recording of the conversation. These states include California, Connecticut, Florida, Illinois, Maryland, Massachusetts, Montana, New Hampshire, Pennsylvania, and Washington.
Although it's unclear where and when Trump may have potentially recorded his conversations with Comey, it seems most likely their conversations happened in either Washington, D.C. or New York, which also has a "one-party consent" law. If their alleged conversations were recorded in Florida, where Trump's oft-visited Mar-a-Lago resort is located, then that's a different matter. And if the "tapes" Trump alluded to actually exist, then, as The Atlantic pointed out, his tweet is essentially "daring investigators to subpoena them" — which is what happened to Nixon, too.
But perhaps whether there are tapes or not is the bigger question in this story. Rep. Adam Schiff, a ranking member of the House Permanent Select Committee on Intelligence, called on Trump to "immediately provide any such recordings to Congress or admit, once again, to have made a deliberately misleading — and in this case threatening — statement" in a statement released Friday.