Can Anything Stop The Next Truck Attack?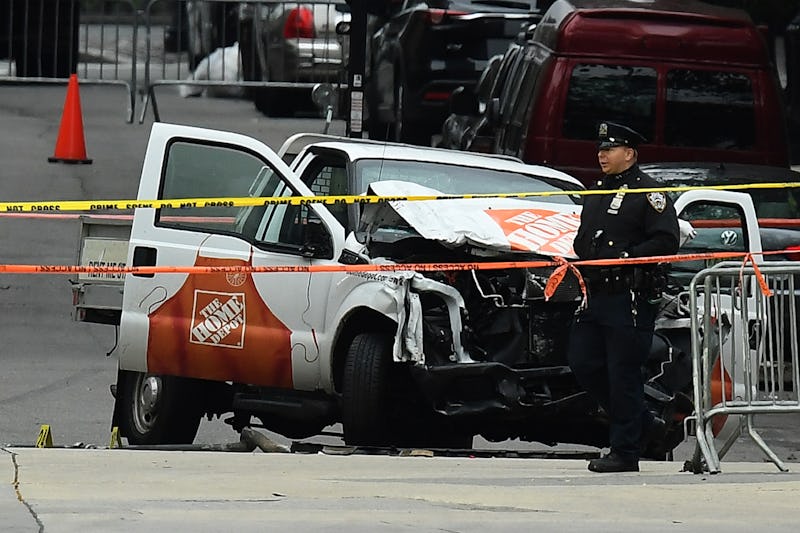 JEWEL SAMAD/AFP/Getty Images
When a 29-year-old man appeared to intentionally plow down multiple bicyclists and pedestrians with a rented truck on a popular New York City walkway Tuesday, city authorities quickly labeled the atrocity an act of terrorism. Increasingly, terrorists are turning to low-tech, easy-access weapons like vehicles to commit violence, leaving law enforcement with few clues to tip them off about an attack. President Trump is calling for "extreme vetting" of immigrants to combat the growing threat while providing police forces with surplus military equipment — but expert analysis and statistical data show that approach may not make Americans any safer.
Inside Trump's "Extreme Vetting" Demands
President Trump renewed his hardline approach toward immigration in the wake of the attack, advocating for a "merit-based" system and pushing to end a lottery program that awards visas to diverse applicants. It was revealed Wednesday that the alleged attacker, Sayfullo Saipov, had entered the United States from his native Uzbekistan through that program.
In a series of tweets Wednesday, Trump blamed Senate Minority Leader Chuck Schumer (D-NY) for the Diversity Visa Lottery's existence. While Shumer helped create the program decades ago, he agreed to end it in 2013 as part of a larger overhaul of the immigration system, per his Republican colleague Sen. Jeff Flake (R-AZ). That bill, which would have increased the number of immigrants admitted for their skill sets, as Trump favors, never passed the Republican-controlled House.
Schumer returned fire by calling out Trump for cutting anti-terrorism funding in his most recent budget. Earlier this year, the Trump administration recommended taking a $150 million bite out of the Urban Area Security Initiative, representing more than a quarter of the program's funding. The money goes toward bolstering densely-populated urban areas, which terrorists often target. It allows soft targets like schools, stadiums, and museums to apply for funding that would help "harden" those targets through preparedness and planning, new equipment, and training.
"How we allocate resources is a direct reflection of prioritization," Bill Braniff, executive director of the National Consortium for the Study of Terrorism, tells Bustle. While Braniff warns that it's impossible to mitigate threats everywhere at once, he says fortifying specific areas — for instance, places where children gather — might be enough of a deterrent to force a would-be attacker to find a new target. "Without those resources, you can't do that," he says.
A few hours after Tuesday's attack, Trump announced via Twitter that he had instructed the Department of Homeland Security to "step up our already Extreme Vetting Program." Since taking office, Trump has proposed three iterations of a plan to restrict travel to the United States for residents of specific countries, nearly all of which are majority-Muslim nations. Those efforts have been entwined in legal battles since January.
"There's no empirical reason to think that terrorism in the U.S., even terrorism inspired by a group like al Qaeda or [ISIS], is an immigrant or an immigration problem," Braniff tells Bustle. He says data from the National Consortium for the Study of Terrorism shows that first- or second-generation immigrants are no more likely to become radicalized than wider society. According to the Pew Research Center, first-generation immigrants are less likely to commit crimes than native-born citizens. And a study published by Northwestern University in 2014 attests, "There's essentially no correlation between immigrants and violent crime."
Do Police Officers Need Tanks?
Back in August, the Trump administration rolled back Obama-era restrictions on a 24-year-old program that gives surplus military gear to police departments. Calling the equipment "life saving," Attorney General Jeff Sessions said the move was a display of Trump's commitment to do "all he can to restore law and order and support our police across America." The practice was heavily criticized after several police shootings of unarmed black men sparked protests nationwide, including in August 2014 in Ferguson, Missouri, where state police and members of the National Guard took to the streets in riot gear and armored vehicles to clear out protesters.
"If we're going to give law enforcement better armor and more powerful weapons, the underlying assumption there is that that material and those well-trained law enforcement officers are going to be at the scene of the crime when it happens or immediately preceding it and are going to be able to interject," Braniff says. "That's unlikely," especially as terrorist organizations urge their followers to use low-tech weapons to inflict the maximum amount of damage. The mere act of renting a car, driving a car, or purchasing a kitchen knife is unlikely to raise red flags among authorities.
"This is going to take all 8.5 million people in New York City to pay attention to what's going on around them," New York City Police Commissioner James O'Neill said Thursday on NBC's Today. "Maybe take off your headphones, maybe stop looking at your phone. See what's going on around you, and if you see something that doesn't look right, something that makes you uncomfortable, [it's] not just [that] you should call. I think you have an obligation to call. Give us the opportunity to investigate that threat."
How The FBI & NYPD Team Up To Fight Terror
With "homegrown" and "lone wolf" terror attacks on the rise, the New York City Police Department has continued relying on collaboration with the FBI and other federal and local authorities. The Joint Terrorism Task Force (JTTF), with more than seventy outposts across the nation, originated in New York City in 1980.
"They are constantly sharing information [and] sharing intelligence," FBI spokeswoman Kelly Langmesser tells Bustle. The collaboration extends beyond emergencies: Langmesser says major events like the New York City Marathon and the Macy's Thanksgiving Day Parade are a focus, and that the FBI routinely discusses emergency preparedness with the New York Fire Department and other first responders. "It is business as usual for us to be collaborating with them," Langmesser says.
"Even an elite Joint Terrorism Task Force cannot do this alone."
Despite the world-renowned counter-terrorism apparatus in New York, Braniff warns that it's unrealistic to expect zero attacks and zero fatalities there.
"That kind of expectation creates an incentive for law enforcement and the intelligence community to really overreach potentially," Braniff says. "In addition to that, it really suggests to me that even an elite Joint Terrorism Task Force cannot do this alone without partnerships and the trust of the community."
Braniff's research shows that there usually is a 10-month long window between when a person starts publicly demonstrating signs of violent extremism and when that person takes action. "[They're] often the kind of things that a friend, a mother, a football coach might notice that the JTTF would likely never have access to," Braniff says. "I'd much rather invest resources when I have a 10-month window of opportunity... than to only invest resources that can only be good at the point of attack."