The 2018 Puppy Bowl Is All About Adopting Adorable Dogs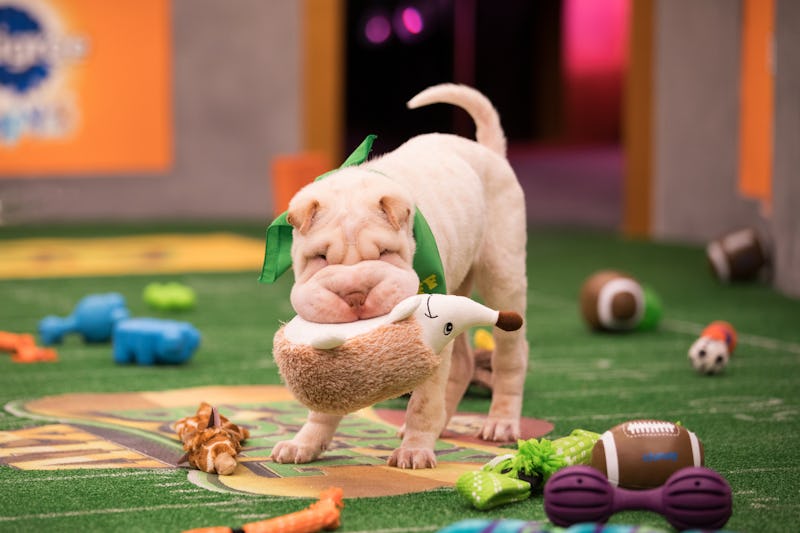 Copyright © 2018 Discovery Communications, Inc.
Super Bowl Sunday on Feb. 4 seems to have something for everyone. For sports fans, there's the big football game. For music fans, there's Justin Timberlake performing the halftime show. For animal lovers, there's the Puppy Bowl (executive producer: Melinda Toporoff) on Animal Planet — an annual event that may make you want to adopt the 2018 Puppy Bowl dogs. According to the Animal Planet website, all of the dogs come from many shelters around the country and the bio for each pup lists the shelter they came from. You can go to the "adopt" page, scroll down the list, find the nearest shelter to you, and be the next forever home for an adorable puppy.
Puppy Bowl XIV will feature 90 adorable dogs on Teams Ruff and Fluff from about 48 shelters around the country, according to the Los Angeles Times. The roster includes canines are from areas that have been affected by natural disasters last year, such as Puerto Rico, Houston, and Florida, referee Dan Schachner told People. In a video interview with the Associated Press, Schachner said that this year's roster includes the Puppy Bowl's first international dog, who comes from Mexico. "We've got special needs dogs, we've got dogs from areas that have been affected by natural disasters, so a really incredible roster this year," Schachner told People.
And some of the pups that appear in Puppy Bowl XIV already been adopted. According to the Cincinnati Enquirer, Animal Friends Humane Society's Boomer and Teddy (now named Scrappy) of Team Ruff have been adopted and have found forever homes since the October taping of Puppy Bowl XIV. The Chicago Tribune reported that Team Ruff's Miss Brie and Team Fluff's Stripe have been adopted, but Team Fluff's Boppity is available for adoption. The Blue Area Humane Society director adopted Puppy Bowl's Luna, a puppy born with a cleft lip, according to MLive.com. Team Fluff's Olympia was abandoned in a plastic container in Missouri before appearing in the Puppy Bowl; she has been adopted and now lives in Maine, according to Country Living.
The Puppy Bowl filmed in October for four days in New York City with 12-21-week-old canines of many different breeds on the mini-gridiron, reported the LA Times. The goal of the Super Bowl counter-programming isn't just to give non-football fans and dog lovers something to watch — the event also helps promote adoption. Animal Planet's VP of Production Erin Wanner told the LA Times, "We want a variety of puppies, because different puppies appeal to different people, and this is all about connecting somebody at home that says, 'Oh my gosh, I need to go adopt a puppy just like that.'"
In addition to the puppies, Puppy Bowl XIV will feature Jokgu the piano playing chicken pecking the "Star-Spangled Banner," adoptable kittens purr-forming the Kitty Halftime Show, and a sloth ruff-eree "assistant" for Schachner, according to the AP video. For the first time, Animal Planet will air the Dog Bowl on Saturday, Feb. 3, which will showcase older dogs and encourage the adoption of senior canines in shelters. According to the ASPCA, the rate of adoption for young puppies is 60 percent, while the adoption rate senior dogs (who are older than seven years) is 25 percent.
Today reported that 50 dogs from 10 states on will participate in the Dog Bowl's Team Tails and Team Paws; their ages rage from two to 15 years old. According to Today, the Dog Bowl dogs are just as rambunctious as the puppies... except the older dogs like to nap on the field. "These dogs have their wonderful playful moments and they have their siesta moments," Dog Bowl host and consulting producer Jill Rappaport told Today. "People's hearts are going to melt."
And if your heart tells you to adopt a furry friend during the Puppy Bowl, you know just where to find them.