The 2018 Puppy Bowl Starting Lineup Is Too Cute To Handle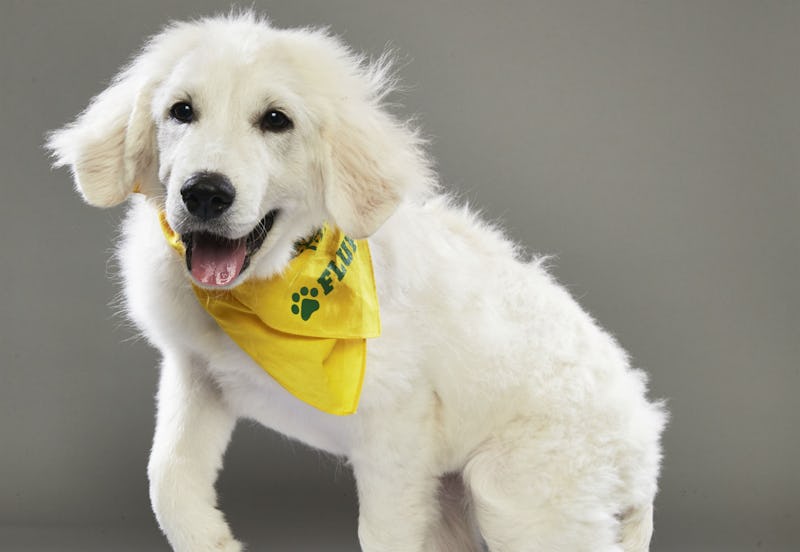 Animal Planet
Finally, after an entire year of impatiently waiting, the 2018 Puppy Bowl puppies for the starting lineup are here. Yes, the puppies are as cute ever, and in no surprise whatsoever, this year's lineup representing "Team Fluff" and "Team Ruff" is beyond photogenic. Seriously, these dogs know how to take a photo. Per usual, the Puppy Bowl will air on Super Bowl Sunday. This year's big two-hour event, which also has an "all-new bone-shaped" stadium, begins Feb. 4 and will air simultaneously on both the east and west coasts at 3 p.m. ET/12 p.m. PT on Animal Planet.
Of course, the puppies are out to win the Chewy.com "Lombarky" Puppy Bowl XIV trophy, but what they truly have their hearts set on is finding their forever homes. All of the dogs are available for adoption, which is what the Puppy Bowl is all about. And in amazing news, typically every dog ends up being adopted.
In February 2017, Animal Planet's general manager, Patrice Andrews, told Nerdist.com, "It's really about the rescue and welfare of pets. This is just one of those fun [ways to] heighten the awareness of adoption." She added, "The goal has been, and it has actually happened, that we've had a hundred percent adoptions every year."
Regarding this year's Puppy Bowl, there's even more good news. There are more puppies than ever this year, 90, to be exact. (Below is just the starting lineup, but 90 puppies will play altogether.) They also come from 48 different rescues from 25 U.S. states and territories. This year, some of the puppies come from areas that were devastated by natural disasters in 2017, including Houston (puppy Tyler thanks to Rescue Road Trips), Puerto Rico, and Florida.
As you can see below, there are also special needs pups, like Ryder, who is a sight-impaired Husky, Chance, a deaf Dalmatian, Moonshine, a sight-impaired and deaf Border Collie, and Luna, a Pomeranian mix with a cleft palate. There is also Mango, who is the first-ever international puppy player rescued from Mexico with help from Compassion Without Borders. To make you swoon even more than you probably already are, Buttons, a sight-impaired and deaf Cocker Spaniel, and Sophie, a three-legged Goldendoodle, are real-life best friends.
With that, you've waited long enough. Here is the 2018 starting lineup for the cutest annual game of football ever.
Tyler: Team Fluff
Sunny: Team Fluff
Stripe: Team Fluff
Sophie: Team Fluff
Savannah: Team Ruff
Sally: Team Fluff
Ryder: Team Ruff
Petree: Team Ruff
Peanut: Team Ruff
Olympia: Team Fluff
Mr. Wigglesworth: Team Ruff
Biscuit: Team Fluff
Blueberry Pie: Team Fluff
Boomer: Team Ruff
Buckalew: Team Fluff
Buttons: Team Fluff
Carlo Carlino: Team Ruff
Chance: Team Fluff
Clyde: Team Ruff
Edwin: Team Ruff
Hannah: Team Ruff
Jennifer Pawrence: Team Ruff
Joy: Team Fluff
Juniper: Team Ruff
Kaleb: Team Fluff
Kitsy: Team Ruff
Lila: Team Fluff
Luna: Team Fluff
Mango: Team Fluff
Moonshine: Team Ruff
Morris: Team Ruff
Bear: Team Fluff
Barry: Team Ruff
Ana: Team Ruff
Alvin: Team Fluff
Miss Brie: Team Ruff
Vaughn: Team Fluff
Kelly Barkson: Team Ruff
If you don't think you can wait until the actual Puppy Bowl, you'll be happy to know there is also a "pre-game" show beginning at 2 p.m. ET/ 11 a.m. PT, with the only kind of "tail-gating" anyone needs.
As for the actual Puppy Bowl game, "Jokgu the piano playing chicken" (she appeared on America's Got Talent Season 12) will peck out "The Star-Spangled Banner" with help from her barnyard friends, including ducklings, piglets, and baby bunnies, chilling on the sidelines. This has to be the best start to any football game. Also, don't you worry, Dan Schachner, will return for his seventh year as "rufferee" with help from this year's assistant referee, Shirley, the rescue sloth. Yes, the "Kitty Half-Time Show" is also returning for another epic performance (step aside, Justin Timberlake) with "Kitt-ENSYNC" singing "Meow Meow Meow" set to the tune of *NYSNC's "Bye Bye Bye". Like the puppies, the kittens are also available for adoption thanks to ASPCA NY.
And in some further exciting news, especially for Bachelor Nation, The Bachelorette and Bachelor in Paradise star Wells Adams is joining the program. Adams loves animals (including his very own dog) and is no stranger to promoting adoption on social media, so it's only appropriate he's helping with the "in-depth Pup Close and Personal profiles".
The 2018 Puppy Bowl sure does sound teRUFFic, but when is it not?