People Are Mad That You Can't Buy band.do x Starbucks in the U.S.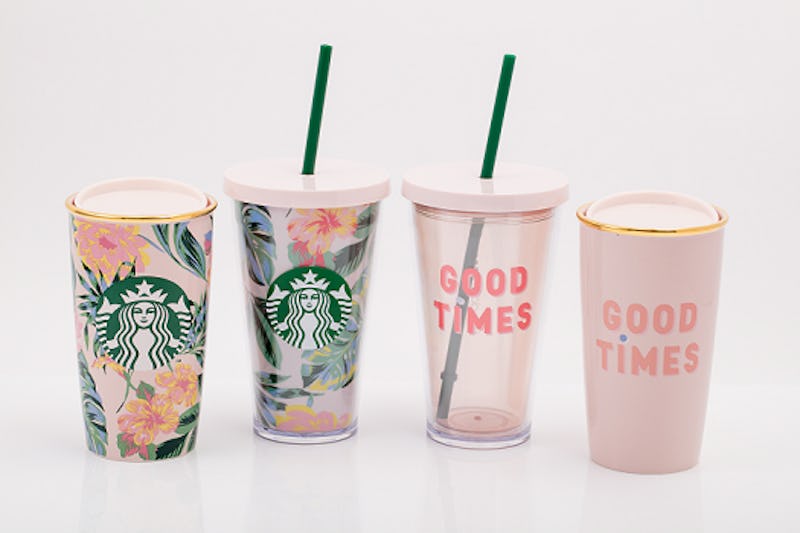 Courtesy Starbucks
Stop what you're doing, because Starbucks is adding yet another fashionable collab to their resume. Delving into merch territory, Starbucks and ban.do have joined forces to create an entire line of notebooks and bags. Because the brand already makes your favorite unicorn-inspired drink and cup of joe, so they might as well add home goods to the list as well. While you can't buy Starbucks x ban.do in the U.S., there is one simple way to score the collab.
What do you get when fashion and food brands collide? Apparently, really good merch. This isn't just your typical mug creation though. The collection have everything from stationary to home goods. There's notebooks, makeup and tote bags, and of course, they came up with an adorable mug as well. Because it wouldn't be a Starbucks collab without it. Unfortunately, you'll have to pack a bag and book a trip to Asia is you want to buy the entire collection. According to the brands, this collection of goodies will only be available in select stores in Asia Pacific.
The only way to get the merch in the U.S. is to win ban.do's giveaway. To enter, all you have to do is head over to the site and fill out the form. After that, you'll have to wait until June 16 to see if you've one. May the odds be ever in your favor!
On the plus side, there will be 50 winners in ban.do's giveaway. That makes your odds way better than you might have expected. You'll also get a 15 percent off coupon ban.do coupon just for filling out the giveaway form, so everyone's a winner. You have nothing to lose and everything to gain!
Although the collection won't be available in the U.S., it was oddly enough inspired by LA culture, beach umbrellas, lounging by a pool, and anything tropical as their inspiration, according to the brand.
People are pretty bummed about not being able to buy the collab in the States. Fingers crossed that all these upset customers will urge the companies to open the collab up to other countries too. Because just about everyone wants in on the fun.
Why would they tease us like this?
Same.
The emoji says it all.
Share the wealth with the whole world, band.do!
The U.S. isn't the only ones not invited to the party.
So where can I sign the petition to take this collab worldwide?