Pizza-Inspired High Tops Actually Exist & Yes, They're Called "Pie Tops"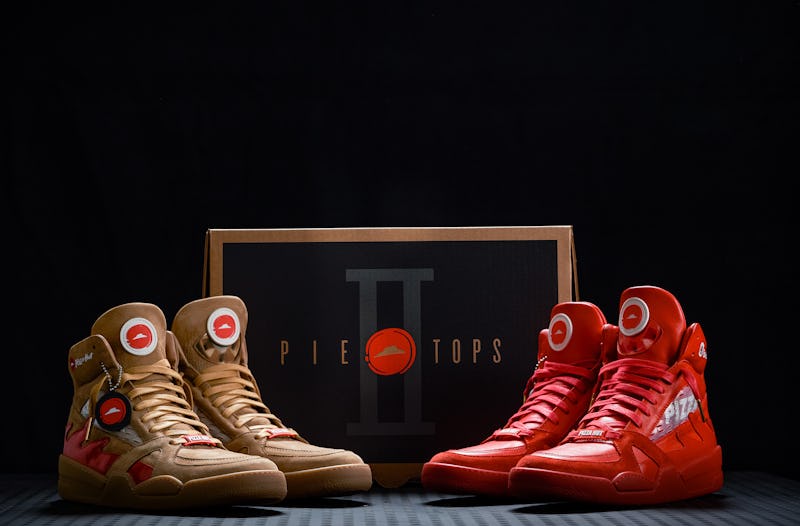 Courtesy of Pizza Hut
Pizza is pretty delicious. But is it... stylish? Pizza Hut sure thinks so. The brand launched Pizza Hut Parkas to promote its oven-hot delivery system last year. But sadly for pop culture and pizza enthusiasts, the coats were not available for purchase. The Pizza Huts Pie Tops, which are high top sneakers, are back for second round this spring as part of the promotion for the NCAA tournaments, March Madness, and pizza consumption.
This time out, sneaker pimps and pizza lovers can actually purchase these kicks. A small quantity will be made available to the public for a limited time.
Fifty pairs of Pie Tops II will be available on www.hbx.com, which is Hypebeast's e-commerce site. The shoes will go on sale the week of March 19. For additional opps to scoop up the Pie Tops, follow @PizzaHut and @Hypebeast for further details.
If you don't care about the March Madness scores, but want to score a pair of these dope AF kicks for your feet, throw them each a follow.
This second generation of Pie Tops was created in conjunction with famed sneaker designer Dominic Chambrone AKA the The Shoe Surgeon. He crafted the first edition, as well.
The Pie Tops II are not just snazzy kicks that come in pizza-inspired hues like golden wheat and marinara sauce red. These are the first and only shoes in which the wearer can order a pizza with a button push. These sneakers are that legit.
Besides the pizza ordering function, the Pie Top II can also pause live TV. Wait... what?
The Pie Tops II are basically "smart" shoes. They are equipped with Bluetooth technology that links the shoe to the user's phone and PieTops app. There is a smart button inside the tongue of the shoe that allows the user to order a pizza from the Hut. No, we are not kidding.
The shoe can also pause games so that March Madness fans and wearers don't miss any action on the court when, say, opening the door for the Pizza Hut delivery guy.
That's right — the Pie Tops II also boast a pause capability, which links the user's shoe to their TV through their cable provider.
Are you shook by the Pie Top II shoes and their magical powers yet? There is nothing these kicks can't do.
Aren't these sneaks super sharp? Heck yes they are!
"This year, the Pie Tops II were created to showcase our focus on giving customers the best delivery experience while making sure that tournament fans can feed their pizza craving without missing a moment of the action," said Zipporah Allen, Chief Marketing Officer, Pizza Hut, in a press release. "It's called March Madness for a reason. We don't want anyone to miss a play while answering the door to get their pizza."
As for the styling, the red version is inspired the familiar Pizza Hit logo. The wheat edition pretty much looks like pizza dough in sneaker form. This year's version is inclusive, with expanded sizes for women and teens.
Besides ordering pizzas and pausing college basketball games with the push of a button, the shoes are pretty bangin'. There's the marinara sauce-inspired patent leather splash, along with cheese grater mesh, branded Pizza Hut lace tags, branded inner soles, and more make them cool and conversation-starting.
The Pie Top II sneakers are the ultimate in street style! The red pair will look amazing with an all-black ensemble of leggings and a hoodie. Meanwhile, the wheat version is no doubt killer when teamed with destroyed, light wash skinnies.
Good look snagging a pair during March Madness. If not, you'll have to settle for a slice (or two) over sneaks.