How To Work Out With The Stars Of TLC's 'OutDaughtered'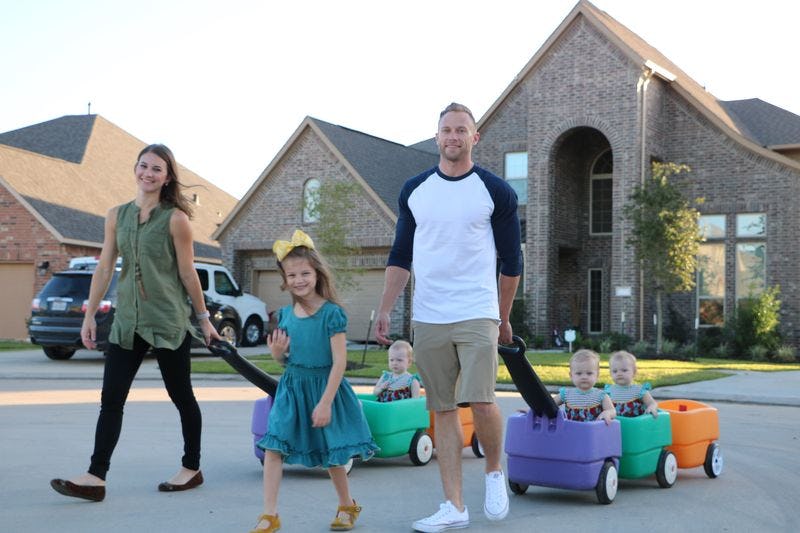 TLC
With six pairs of little feet scrambling around the Busby household, it can be exhausting to just watch TLC's Outdaughtered, a show chronicling the life of the Busby parents, their toddler quintuplets, and one older daughter. It's amazing that Adam and Danielle Busby have time for anything outside the house, let alone opening their own business. But Outdaughtered stars the Busbys recently opened Rush Cycle, an indoor cycling studio in League City, Texas, a suburb of Houston. And if you're in town, you can go to the Busbys' spin studio and take a class.
According to the Rush Cycle's website, The Busbys opened the studio with four other people, listed as just Todd, Priscilla, Pete, and Kylie. The site explains that the six owners are "close friends," who live in the same subdivision. Those interested in booking a class or buying a class package at Rush Cycle League City, can do so online. Right now, it looks like you can sample a class for free. After that, packages run $52 for four classes a month; $96 for eight classes a month; and $129 for as many classes a month as you like.
The "About" section on the League City page explains that the Busbys and their friends are "official Rush Cycle Franchisees." So while this is the first Rush Cycle location in this part of Texas, and the only one owned by the Busbys' crew, Rush Cycle is a chain. Other outposts exist in California and Colorado. So, maybe the Busbys and company could be opening more Rush Cycle locations in the future.
Group cycling is definitely a popular and social way of working out, and this Rush Cycle investment makes sense considering the Busbys seem to have a very active lifestyle. Danielle Busby explained her commitment to fitness in a TLC blog post. She wrote that before she had quintuplets, she felt like she was in the best shape of her life. After they came, she found that she doesn't have as much time to work out as she used to. "Exercising is something I enjoy doing and it is something that makes me feel better about myself (and helps offset the Oreos I ate today, LOL)," Danielle wrote. "There are days I am actually able to get away and go to the gym, but as a mom of six, it doesn't happen too often, and I try my best to do workouts at home."
But gym equipment isn't necessary when you have five squirmy weights at home. "When I don't have a baby in my arms, I run up and down the steps, skipping every other step, too — every extra bit counts, right?" Danielle blogged. "I calculated one day that I do around 700 stairs a day, and that's at a minimum! I can carry two babies at a time upstairs, so it makes three trips to just get them all upstairs."
But it's probably easier to make it to the gym when you own one, right? And the next time you're in their neighborhood, you can drop by the Busbys' Rush Cycle studio to possibly take a class with your favorite TLC parents.