LeBron James' New Talk Show Could Be Coming To Your Neighborhood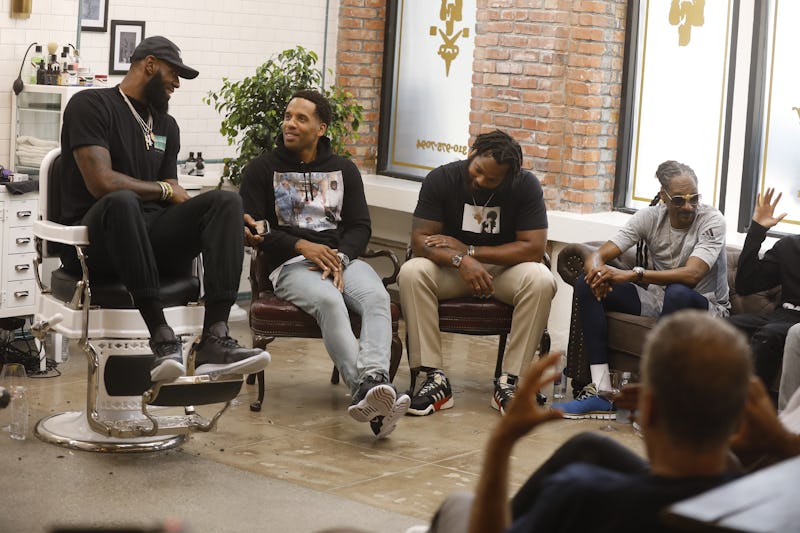 John Johnson/HBO
If a LeBron James-helmed talk show sounds like a beacon of hope in this terrible world to you, you're in luck. HBO is actually bringing that very idea to life this week. The Shop, which debuts Aug. 28 at 11 p.m., will use a barbershop as the backdrop for an unscripted series of discussions among celebrities and athletes. It sounds like a great place to be if you need a haircut, or if you just want to bask in some legendary greatness and good conversation. So, can you actually visit the barbershop on The Shop?
Well, it turns out there's not just one filming destination, but there's the possibility that production could be visiting a barbershop you're already familiar with. According to NBC's San Diego affiliate, The Shop will be filmed in "various barbershops across the country." The Hollywood Reporter also states that the first episode was filmed at West Hollywood's Barber Surgeons Guild, though the locations of future episodes weren't divulged.
It's no surprise that the people behind the program aren't broadcasting the locations they'll be visiting — if they want The Shop to feature a "real, uninterrupted discussion," the way James says he does in the tweet below, they probably don't want to deal with fans of the celebrities swarming the streets around them and potentially throwing off filming. In this case, laying low and filming covertly might be the way to go.
Fans are definitely going to be interested in what — and who — The Shop will offer. According to Deadline, huge names like Snoop Dogg, Jon Stewart, Draymond Green, Candace Parker, Odell Beckham Jr., and Alvin Kamara will all be featured in just the very first episode. Plus, you know, LeBron James. Whew. Talk about a line-up.
The Shop gives off the distinct vibe that it has the potential to dive head first into sensitive, controversial topics — and James said that's why a barbershop is the perfect setting. "When I was a kid, being in barbershops meant listening to adults talk about sports, clothing, politics, music, everything happened in the shop," he told The Hollywood Reporter. "It was so real and so candid — no one had a sense of, 'Well I can't be myself here.' That's how The Shop became an idea."
He also said that in this age, especially, having face to face conversations with people is more important now than ever. "This show is real, it's candid and it's the essence of conversation," James continued in the same piece. "And we know with social media and text being the way people communicate, the form of conversation, actually talking, is kind of a lost art."
Whatever happens, HBO seems keen to help facilitate it. "LeBron James told us he wanted to create a place where athletes and artists can come together to share points of view freely," Peter Nelson, executive vice president of HBO Sports, told Variety. "We are honored they want HBO to be the home of that conversation. We are pleased to partner with LeBron, Maverick Carter and Uninterrupted on The Shop." Viewers will hopefully be just as pleased to tune in and see what they're talking about.