Can You Watch The 'Gilmore Girls' Revival Without Netflix? You Won't Want To Miss Out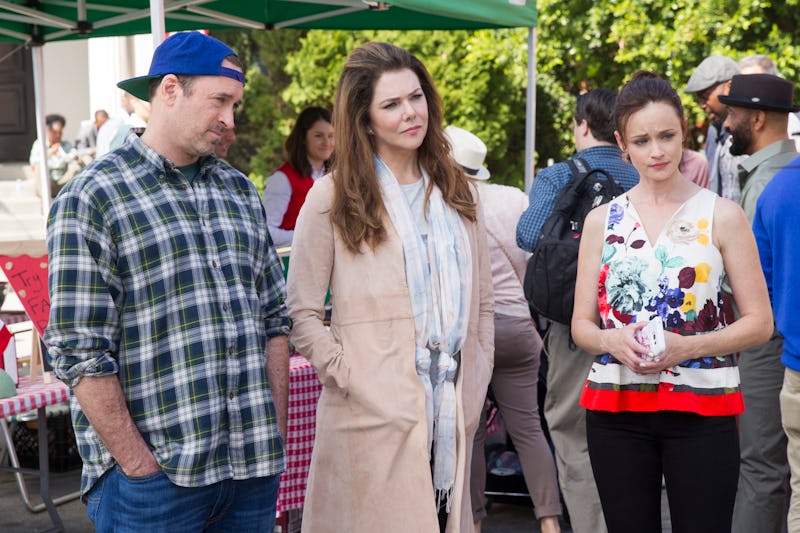 Saeed Adyani/Netflix
The biggest television revival of the season is fast approaching, and Gilmore Girls fans are dying to find out what's been going on in Stars Hollow for the past decade. It appears that much is still the same, but fans of the show won't want to wait too long to watch it and risk having the famed last four words spoiled for them. Those without an account are likely wondering if there is any way to watch Gilmore Girls: A Year In The Life without Netflix when it premieres on Friday, Nov. 25, and there's actually hope.
While Netflix feels like an omnipresent force, serving over 86 million members in over 190 countries, not everyone has a subscription to the popular streaming platform. Unfortunately for those wishing to go back to Stars Hollow, Netflix has exclusive first rights to stream Gilmore Girls: A Year In The Life before allowing other digital distributors to sell it. If you want to see the new season as early as possible, you'll need a Netflix account. Luckily, there are plenty of ways to catch the revival, if you're willing get creative or have a little patience.
Wait For The Season To Go Up On iTunes
While many Netflix original series see initial release on the streaming network, it's usually not long before they become available for purchase on the iTunes store. Fans can currently buy past seasons of Netflix's flagship shows like House of Cards, Orange Is The New Black, and its biggest series revival yet, Arrested Development. While chances are that Gilmore Girls will inevitably end up on iTunes, there's no telling how long that wait will be. An alternative entry point to Netflix may be your best bet at getting an early view, but patient fans should be fine waiting for the show's release on iTunes.
Set Up A Free Trial
Netflix offers free one-month trials to first-time users, so now is the perfect time to cash in. If you've already used your free trial, another option is to convince a friend that it's about time they use their free trial. As long as they have an e-mail address and a credit card that have never been linked to a Netflix account, there is a free trial waiting for them and then you can enjoy the revival together.
Find A Generous Family Member
Gilmore Girls: A Year In The Life premieres the day after Thanksgiving, which is a time for family. More importantly, it's a time for you to convince your family to let you setup a profile on their account. Netflix is setup for an account to have multiple profiles for different family members, so why not check in with your third cousin and see if he is willing to give you a spot?
Netflix & Chill — Literally
If none of this works for you, the best course of action may be to go to someone else's house and watch Gilmore Girls with them. You can bill it as Netflix and Chill, as long as they are fully aware that there will be literal Netflix, as the only thing you'll be interested in for the next six hours is finding out who Rory finally ends up with.
Gilmore Girls: A Year In The Life is a huge deal, and you shouldn't let something as simple as not having a Netflix account stop you from seeing it as soon as you would like. Of course, you can always just subscribe to Netflix and see how you like it — there are currently three different tiers of plans, which cost $7.99, $9.99, and $11.99 per month. Once you watch all of the revival, you can check out all the other content available for streaming, including the entire original run of Gilmore Girls.