Canada Won't Rule Out Hitting Trump Where It Hurts With These Sanctions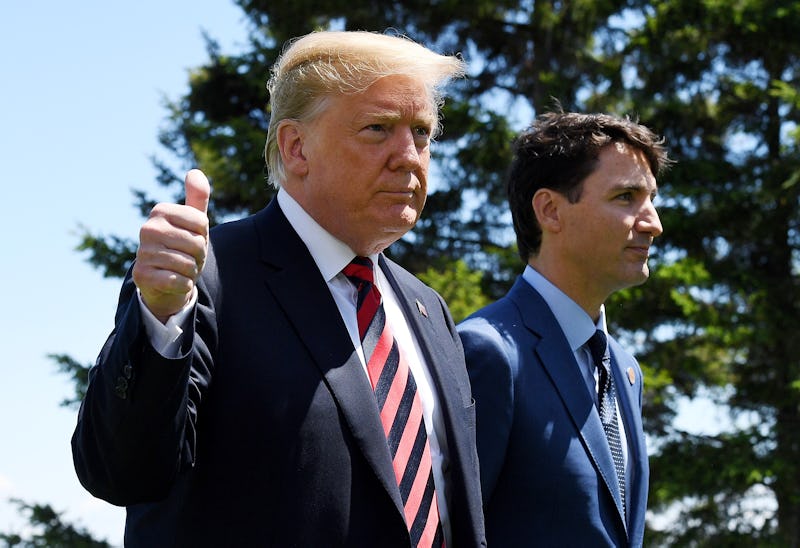 Leon Neal/Getty Images News/Getty Images
A lot of fuss has been made over the past couple of weeks about the United States' trade relationship with Canada. On June 9, President Trump said he wanted to start imposing tariffs on steel and aluminum imports from the European Union, Mexico, and Canada. Now, it's clear that there could be some major consequences. In fact, Canada may end up sanctioning Trump's organization in response.
On June 1, CNN Money reported that Canadian Prime Minister Justin Trudeau said that Canada would be retaliating against Trump's tariffs in the next month. Trudeau went on to claim that the way Trump is arguing that his tariffs on steel and aluminum are important to the United States' national security is "kind of insulting."
On June 14, Canadian Foreign Minister, Chrystia Freeland, didn't completely cement the idea, but said that Canada also wasn't completely ruling out the possibility of imposing retaliatory tariffs. In a Maclean's article, she called Trump's tariffs "illegal" and "unjustified."
"We are now in a consultation period." she said in the article. "We welcome ideas from all Canadians on what should and what should not be in our retaliation list."
In an article for Canadian outlet Maclean's, journalist Scott Gilmore explained how this could hit Trump where it hurts: his wallet.
Canada could add a tax to Trump properties equal to any tariff unilaterally imposed by Washington. The European Union could revoke any travel visas for senior staff in the Trump organization. And the United Kingdom could temporarily close his golf course.
In late May, Trump announced he would be putting tariffs in place for most of the United States' allies, CNN Money reports. On June 1, though, the European Union, Mexico, and Canada retaliated against Trump's tariff impositions with their own against the United States. According to the president of the European Commission, Jean-Claude Juncker, the tariff block they proposed would affect around $7.5 billion worth of U.S. exports.
"The United States now leaves us with no choice but to proceed with a WTO dispute settlement case," Juncker said in a statement, according to CNN Money. "And with the imposition of additional duties on a number of imports from the United States."
According to The Hill, Regina-Lewvan Member of Parliament Erin Weir, the politician who asked the question about Canada's potential tariff response, added that the Justice for Victims of Corrupt Foreign Officials Act is way to sanction foreign nationals. Maclean's explained that this law is typically used for foreigners responsible for human rights violations and gives the government the power to enforce travel bans and freeze assets. In other words, a country could try using this act to retaliate against Trump's tariffs.
"It is an interesting one, given President Trump's alleged ties with Russia," Weir said in the article. "I can see how it would be seen as a radical measure, but we are confronted with a radical reality from the Trump administration."
While in Washington, D.C. to accept news magazine Foreign Policy Diplomat of the Year Award, Freeland said that there would be a "dollar-for-dollar response" to Trump's trade tariffs, claiming that ultimately American businesses and consumers would take a hit from it, according to the magazine.
"You may feel today that your size allows you to go mano a mano with your traditional adversaries and be guaranteed to win. But if history tells us one thing, it's that no one nation's preeminence is eternal," she said during her speech at the awards ceremony. "That is why the far wiser path — and the more enduring one — is to strengthen our existing alliance of liberal democracies. To hold the door open to new friends."