Canadians Might Not Be Able To Travel To The U.S. If They Admit To Ever Using Weed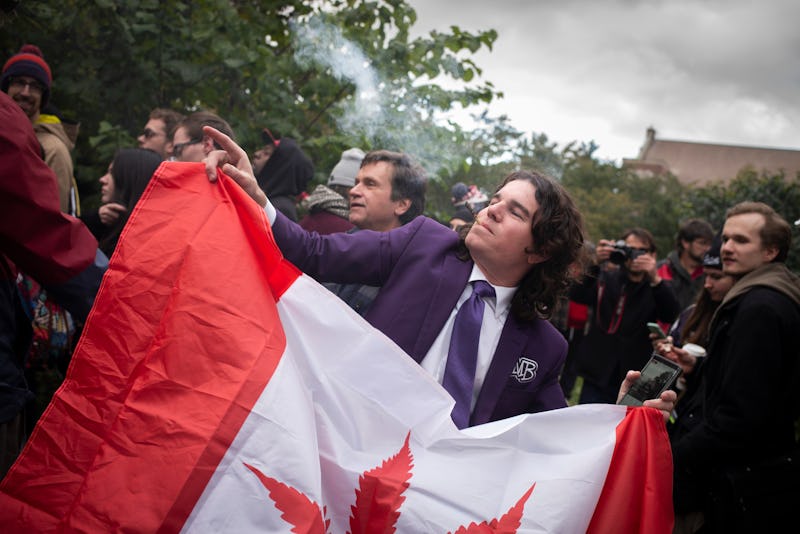 Ian Willms/Getty Images News/Getty Images
Canada voted to legalize marijuana in June, a measure that came into full effect less than two weeks ago. But now, it's reportedly causing problems for some Canadians crossing the U.S. border. According to NPR, some Canadians claim they risk being barred from entry if they admit to ever having used weed.
Despite being legal in some individual states like Washington and Alaska, "on the U.S. side, nothing has changed," Stephanie Malin, a Customs and Border Protection spokesperson, told NPR. Marijuana remains a schedule one drug in the United States, meaning that crossing into the United States — even into a pot-friendly state — with cannabis products remains a federal crime.
"If during the course of the inspection, there is reason for the officer to ask about it, they will," Malin said. "It comes down to the intent of the travel."
When asked about the claims Canadians were being denied entry, CBP emailed Bustle its official statement on "Canada's Legalization of Marijuana and Crossing the Border," which you can read here.
Canadians are actually claiming that CBP enforcement goes beyond current cannabis possession and use. "It is a fairly serious concern," Roy Ludwig, the mayor of a Saskatchewan border town told Canadian news outlet CBC. "Even people that might have smoked it 20, 30 years ago, they're being asked, 'Have you ever smoked cannabis?' when they get to the U.S. border. We understand some people have said yes, that they have, and have been turned back."
Earlier this month, The Los Angeles Times reported on multiple incidences of CBP officials asking Canadian travelers whether they had ever used weed, and being banned from the United States after saying yes. Over the summer The Star Vancouver highlighted an even more extreme case — Jay Evans, the CEO of an agricultural equipment manufacturing company, received a lifetime ban from entering the United States because he was designing equipment intended for cannabis growers. Despite not being involved in the process of growing or selling weed, Evans told The Star he and his colleagues were deemed "drug traffickers," under federal law.
"If you're a Canadian tourist in Seattle and you're over the age of 21, you can buy marijuana. But if on your next trip to the U.S., you're questioned by border agents and you admit to using pot in the past, you can be banned," Len Saunders, a Canadian lawyer who has dealt with these weed-related bans told The Times. "It's totally backwards and doesn't make sense."
The recourse for such cases is arduous — Canadians given lifetime bans have to apply for a CBP Waiver of Inadmissibility, which can take up to a year to process and comes with a fee of $585. If granted, the waiver stays valid for five years and the traveler must have it with them at all times while in the United States. After the five years are up, they have to go through the process all over again.
"The archaic state of the law is winning over common sense," Lou Correa, a House representative who has pushed the Trump administration to reform drug possession laws, said in an interview with The Times. "The federal law is not at all reflective of what is going on."