This Ruling On Child Care & Campaign Money Changes Everything For Women Candidates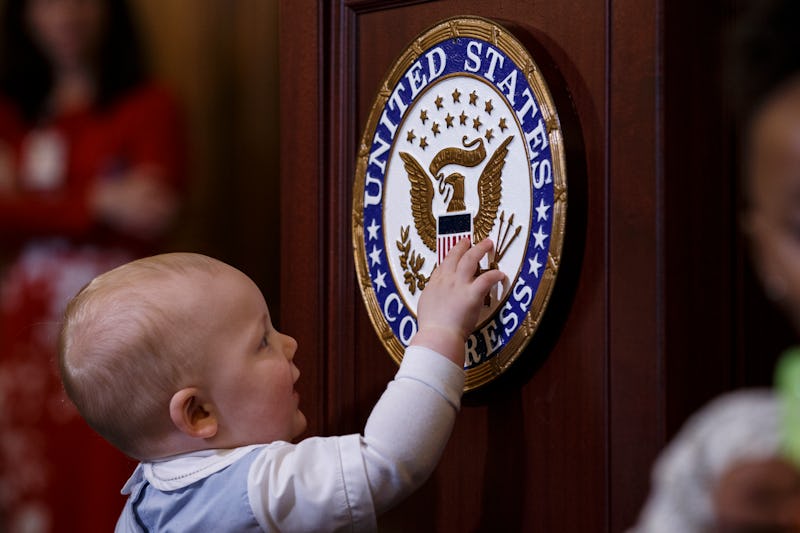 Alex Edelman/Getty Images News/Getty Images
The Federal Election Commission handed working moms (and dads) a major victory Thursday when it ruled unanimously that candidates can pay for child care with campaign money. Liuba Grechen Shirley, the mother of two toddlers who is running to represent New York's 2nd Congressional District, had petitioned the FEC in April for permission to use a portion of her campaign funds to cover child care expenses.
"It's a groundbreaking decision that will remove a major financial obstacle for working families and mothers at a time when women are increasingly considering elected office," Grechen Shirley said in a call with reporters Thursday. "I hope this ushers in a new era of female candidates who won't be held back by the question of child care expenses."
The FEC ruled that Grechen Shirley's request ultimately fell under the "Act and Commission regulations," which enables candidates or committees to use their funds for "ordinary and necessary expenses incurred in connection with duties of the individual as a holder of Federal office." Rules state that candidates cannot use campaign funds for "personal use," which the commission defined as "any commitment, obligation, or expense of a person that would exit irrespective of the candidate's election campaign."
"The Commission concludes that your authorized campaign committee may use campaign funds to pay for the childcare expenses described in your request because such expenses would not exist irrespective of your candidacy," the FEC wrote in its ruling.
Grechen Shirley said she's employed a babysitter as a member of her campaign staff since March 1, paying that person $22 per hour for 17 hours per week. She divulged that having that babysitter was the key component that made her feel she was able to take on a full-time campaign schedule.
"I'm only one of just four women right now who are running for Congress who have children age two or younger, and there's a reason for that," Grechen Shirley told reporters. "It's nearly impossible... It's very difficult for working parents who are not independently wealthy to take a year from their life to run for office full-time and still manage child care costs."
A number of high-profile women in politics, including former Democratic nominee Hillary Clinton, have expressed their support for Grechen Shirley's request. "Young women like Ms. Shirley are now running for office in record-breaking numbers," Clinton's attorneys wrote in a letter of support to the FEC. "For young mothers like her, the ability to seek office hinges on access to child care."
Clinton's team went on to say that denying Grechen Shirley's request would not only undermine earlier FEC opinions, but also "discourage young mothers from seeking elective office, and deprive parents of ordinary means of the opportunity to serve."
Two dozen members of Congress also wrote to the FEC in support of Grechen Shirley's request, noting the Commission's opinion would have "nationwide ramifications" given the record number of women running for office this election cycle.
"As we work to build a political environment that is fair to candidates of all backgrounds, the Commission has a role to play in fairly enforcing and administering federal campaign finance laws," a letter signed by 24 sitting members of Congress said.
Grechen Shirley clarified Thursday that the FEC's ruling applies not only to her, but to any future candidate who, as a parent, incurs new or additional child care costs as a direct result of their campaign. The ruling reportedly would not apply to child care expenses candidates racked up prior to their candidacy, however.
"Congress right now is only 19 percent female. We need more women running for office," Grechen Shirley said Thursday. "We need more women of color. We need people of diverse socio-economic backgrounds because we're missing out on a critical voice in Congress right now — and I hope that these candidates win because we desperately need working women in Congress who understand firsthand what it's like to balance a checkbook while raising children."