Candis Cayne Is Joining 'Grey's Anatomy' For A "Groundbreaking" Trans Storyline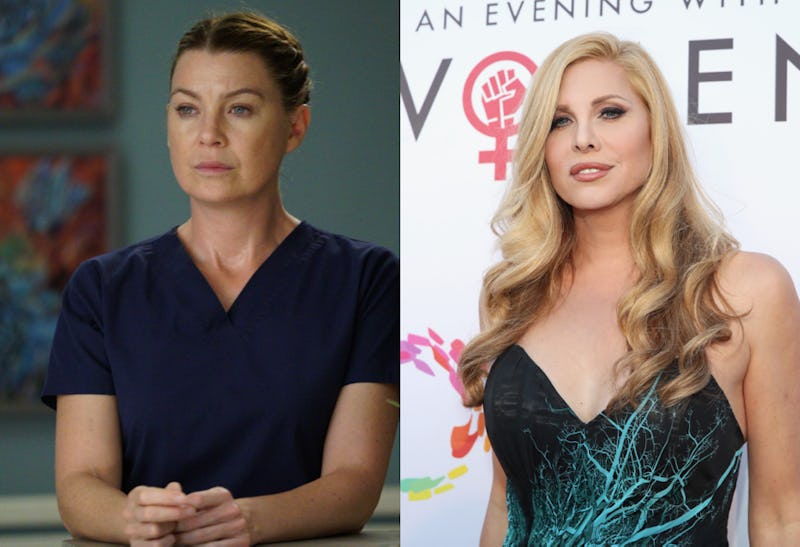 ABC/Richard Cartwright; Jonathan Leibson/Getty Images Entertainment/Getty Images
After 14 seasons, Grey's Anatomy is still breaking new ground. This season, Grey's will feature trans actor Candis Cayne in a "groundbreaking" storyline focused on vaginoplasty, according to The Hollywood Reporter. The multi-episode arc is inspired by the real story of Hayley Anthony, a trans woman who helped invent a new procedure for vaginoplasty surgeries. With this storyline, the ABC series wants to put more focus on the real-life stories of trans men and women, and hopefully other shows will follow their lead.
This was a storyline that was pulled straight from the headlines, but Grey's Anatomy showrunner Krista Vernoff still felt more people should know about Anthony's achievement. "[The surgery] revolutionizes the making of a vagina," Vernoff told THR, "and we thought that was a really cool story and Candis is playing a character inspired by something we read."
Wired reported that Anthony changed the way vaginoplasty is performed by Googling the procedure and sharing her findings with Jess Ting, the director of surgery at the Center for Transgender Medicine and Surgery at Mount Sinai. What she found helped innovate the procedure so that trans women could now have a vagina that "looks and feels and secretes like the real thing," according to Wired.
Grey's Anatomy will re-create Anthony's story for the small screen and show the power in telling these stories that, unfortunately, have been ignored for too long.
Already this season, Grey's Anatomy has shown that they want to focus on trans inclusion, but not just in storytelling, in casting, too. Out trans actor Alex Blue Davis plays intern Dr. Casey Parker who, in the recent midseason premiere, let Bailey (Chandra Wilson) know he was a "proud trans man."
While it was an important moment for Davis' character, it wasn't the most important part of the episode. In that same episode, Casey saved the hospital from a hacker, not because he was transgender, but because of his computer skills. It wasn't played as some big reveal or shock. In fact, Casey tells Dr. Bailey, "I like for people to get to know me before they find out my medical history."
That small difference in storytelling was important for Davis, who told The Hollywood Reporter, "What's cool about the show, the episode, and Krista's vision for this character is he's about way more than being trans." Davis said he cried at the table read for that episode. "It was very moving for me. I've been waiting for a moment like this on TV my whole life," Davis said. "I am so honored I got to say that line on TV because it's a long time coming."
If you want proof of that, you just have to know that Laverne Cox became the first openly trans actor to play a transgender series regular character on a broadcast television show when she starred on the short-lived CBS series, Doubt.
Cayne, who got her start as a drag performer in New York City the '90s, has been on the forefront of trans representation on TV. In 2007, she became the first trans actress to play a recurring trans character on ABC's Dirty Sexy Money, according to E! News. She's since appeared on Nip/Tuck, Transparent, and The Magicians.
But, it wasn't easy. As Cayne told Time last year, "The trans community can be more than just a prostitute or a drug addict or a killer. There have been a lot of trans killers." Getting Dirty Sexy Money, she said, was her "Meryl Streep moment," and she was so proud to play a trans character that wasn't one-dimensional.
She told Time that she remembered being at an awards show where they played a scene from the show and the whole room gave a standing ovation. "And I realized at that moment that this wasn't just about me wanting to be an actress," she said. "This was about moving the fabric of society forward."
Along with Grey's Anatomy, other broadcast shows are incorporating meaningful trans storylines. Both NBC's Rise and Good Girls feature young trans characters, while Ryan Murphy's upcoming series Pose will making TV history for casting the most trans actors in regular roles for a scripted series
With this latest storyline, though, Grey's Anatomy is taking the lead on bringing more nuanced trans stories to the small screen. The show is making it clear they're committed to telling stories that include trans actors, and most importantly, making sure trans actors get to tell them.