This Could Be The First Major City In The World To Run Out Of Water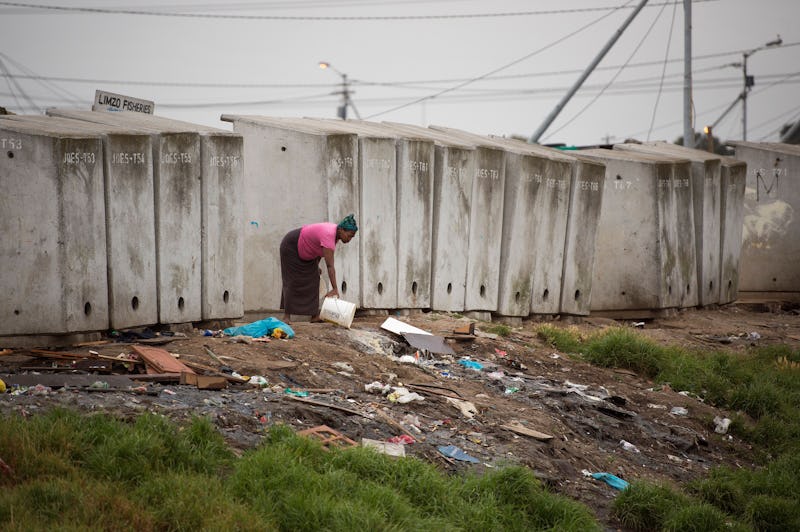 RODGER BOSCH/AFP/Getty Images
After three years of low rainfall, the South African city of Cape Town is staring down a potential humanitarian disaster. City officials are warning that by April 21, Cape Town could run out of water, which would make it the first city in the world to face such a crisis. For a metropolitan area with a population of 3.74 million people, the consequences of running out of water would be devastating.
Residents have been urged to limit their water use, with government agencies discouraging baths and recommending showers of under two minutes. But according to recent statistics, many Cape Town residents are either ignoring those recommendations or remain unaware of them.
"Despite our urging for months, 60% of Capetonians are callously using more than 87 litres per day," Mayor Patricia de Lille said, according to the BBC. Her government has asked that no resident use more than 15 liters of water per day, which is equal to about four gallons. That's more or less the amount of water used in a 60 second shower, and equivalent to one standard toilet flush.
Cape Town officials have begun referring to April 21 as "Day Zero," designating it as the starting point for non-essential water supplies to be cut off completely. The government previously issued a ban on car washing and pool filling, but with 70 percent of water use taking place in people's homes, the sense is that those limited measures have not been and will not be enough to avert a full-blown water crisis.
The current drought plaguing Cape Town is the worst the area has seen in a century. While much of southern Africa went through an intense dry spell prompted by the El Niño winds, other areas have been subsequently deluged with heavy rains. Those rains have not brought any relief to Cape Town, however.
Barring an unforeseen change of events, the city will shut off running water for Capetonians on April 21. At that point, the government will set up water stations throughout the city where residents would have to wait in line to receive a daily water ration. With 20,000 people assigned to each water station, the logistics of the proposed emergency system are unclear. As Geoffrey York reports in The Globe and Mail, "The city is consulting police and army officials to decide how to maintain law and order at the collection points."
Running water would continue to flow to vital centers only, such as hospitals and other medical care facilities. Most businesses and schools would be forced to close. And the question of how long that worst-case scenario would last has no real answer right now.
The government has been criticized for its handling of the water crisis, with many saying it hasn't done enough to prevent or prepare for the problem. De Lille's administration announced Thursday that it was instating a tax for any household that used over 6,000 liters of water per month. It previously proposed a drought levy for all homes, but backed away from that measure because it was broadly unpopular.
Cape Town is also considering the construction of desalination plants to harness the ocean water surrounding the city as a temporary solution to replenish its rapidly diminishing water resources. But building such plants up to the necessary scale would be cost prohibitive, according to several experts.
The situation is dire. Trevor Nace at Forbes has described the water crisis as "right out of a Mad Max movie." And climate scientists predict that as global temperatures continue to warm, the drought threat for Cape Town will increase, too. What has been dubbed a once-in-a-millennium drought could soon turn into a recurring nightmare. Cape Town's access to fresh water is a long-term problem that's all too easily eclipsed by the imminent "Day Zero" water shutdown.