All of Captain Holt's Ridiculous "Honeymoon" Shirts From the 'Brooklyn 99' Season 6 Premiere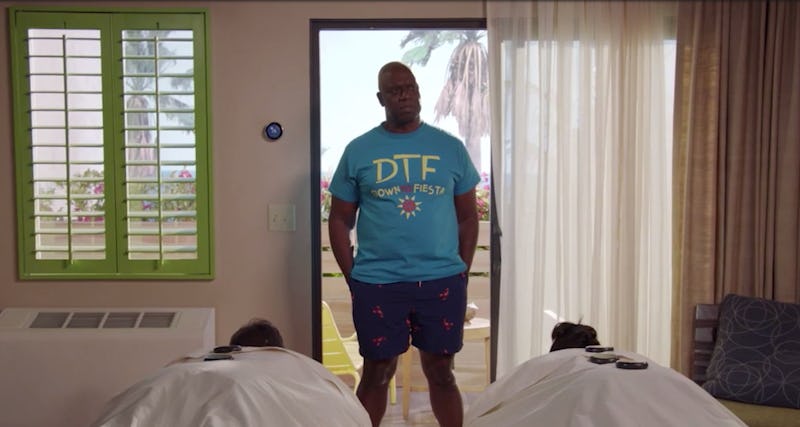 Screengrab/NBC
Spoilers for Brooklyn Nine-Nine Season 6, Episode 1 "Honeymoon" There's nothing funnier than seeing Captain Raymond Holt (Andre Braugher) out of his element, and he's certainly a fish out of water in the Brooklyn Nine-Nine Season 6 premiere. The show picks up right where it left off — with Holt about to tell everyone whether he got the police commissioner job. At first, the policeman believes he did, then realizes he read the email wrong and lost to his opponent, John Kelly. This sends the captain spiraling into depression, but when newlyweds Amy (Melissa Fumero) and Jake (Andy Samberg) arrive at a Mexican resort for their honeymoon (using the code GINA30 at checkout, of course), the cap himself is sitting in the lounge. In the next several days, Amy and Jake are subjected to a veritable feast for the eyes in the form of Captain Holt's novelty T-shirts.
As for how their boss serendipitously showed up at the same Mexican resort as them, he cites Gina and her aggressive referrals. The depressed Holt tells the couple that after he learned the commissioner news, he found himself driving to the airport instead of work. "I didn't even pack a bag," he explains. "I bought a bundle of novelty shirts at a nearby gift shop." Although it may seem out-of-character for Raymond to wear such...colorful... clothing, it's soon clear that he's not in the best place and couldn't care less about keeping it together.
Seeing the normally buttoned-up captain in these shirts is just something you can't unsee. Here are all five of his fabulously terrible tops.