Cardi B Confirms Her Marriage To Offset In True Cardi Fashion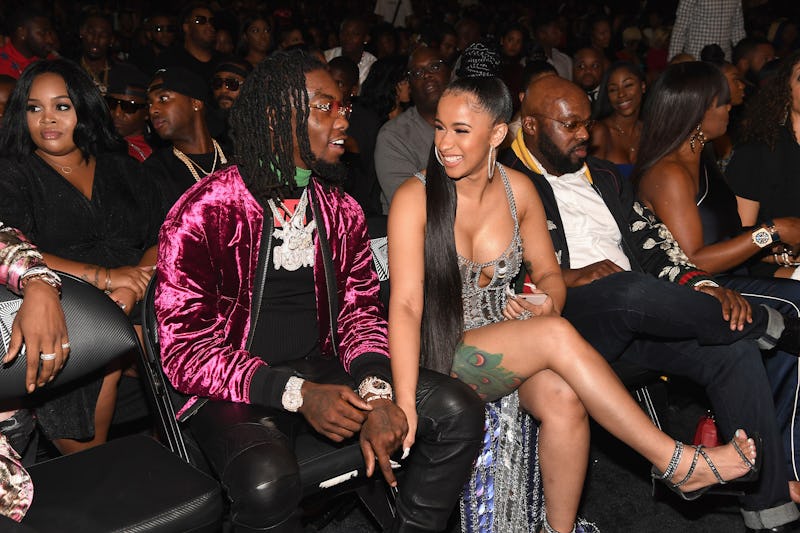 Paras Griffin/Getty Images Entertainment/Getty Images
Fans didn't know how to feel or what to think on Monday, June 25, when they learned Cardi B and Offset reportedly secretly got married last year. TMZ broke the news with an obtained copy of the marriage certificate, stating they got married in Fulton County, Georgia, on Sept. 20, 2017. Only a few hours later, as expected, Cardi confirmed her marriage with a message on Twitter. It clears up any confusion fans may have about their relationship timeline... well, for the most part.
Cardi's tweet reads, "This why I name my album "Invasion of privacy" cause people will do the most to be nosey about your life. Welp f*ck it." Attached to the tweet is a written out message from Cardi herself. First, she explains why she kept the marriage private and what happened just before the two tied the knot:
"There are so many moments that I share with the world and there are moments that I want to keep for myself! Getting married was one of those moments! Our relationship was so new breaking up and making up and we had a lot of growing to do but we was so in love we didn't want to lose each other"
Fans were super skeptical on Monday, especially because Offset proposed to Cardi very publicly during a show last October, which was technically after they actually got married. Plus, Cardi has talked about the stress of planning a wedding multiple times in the last year. Although they're married, there may not have been an actual wedding. In the Twitter message, she further explained:
"Was one morning in September we woke up and decided to get married. We found someone to marry us, and she did, just the two of us and my cousin. I said I do with no dress no makeup and no ring!"
If the Bardi Gang felt betrayed or confused or like the proposal was all for show, Cardi sort of addressed that too:
"I appreciate and love my husband so much for still wanting for me have that special moment that every girl dreams of when he got down on his knee and put a ring on my finger and he did that for me!! Well now since you nosey lil f*cks know at least ya can stop saying i had a baby out of wedlock."
Seriously, could Cardi be more flawless?
Perhaps what really let the cat out of the bag was when Offset called Cardi his wife at the BET Awards on Sunday night while accepting an award. "I thank my wife. You should thank yours," he said.
This isn't the only aspect of their relationship they've tried keeping under wraps. Before Cardi publicly revealed her pregnancy on SNL in April, she kept her pregnancy secret for a while. Cardi avoided rumors and even asked a fan to let her "fat in peace" on Instagram in February. In April, Cardi explained keeping her pregnancy a secret in a since-deleted post, writing, "This is why I did not wanted to say nothing. People be so thirsty to scrutinize and try to destroy something that is suppose to be a blessing."
According to TMZ, Cardi is due in July, which means she probably got pregnant in October, around or just after the time they got married. Cardi and Offset have been open about the ring, which is 8 carats and reportedly a half-million dollar rock. But this recent story and Cardi's semi-cryptic tweet should have people wondering how open they'll be in the future, whether it's about their baby or a possible wedding. Although Cardi is known for being honest and real with her fans, she isn't obligated to show or tell them anything she doesn't want to, and she seems determined to keep some aspects of her life private — which should only make her fans appreciate her candid nature all the more.