Cardi B & Offset Are Reportedly Already Married & Fans Don't Know What To Think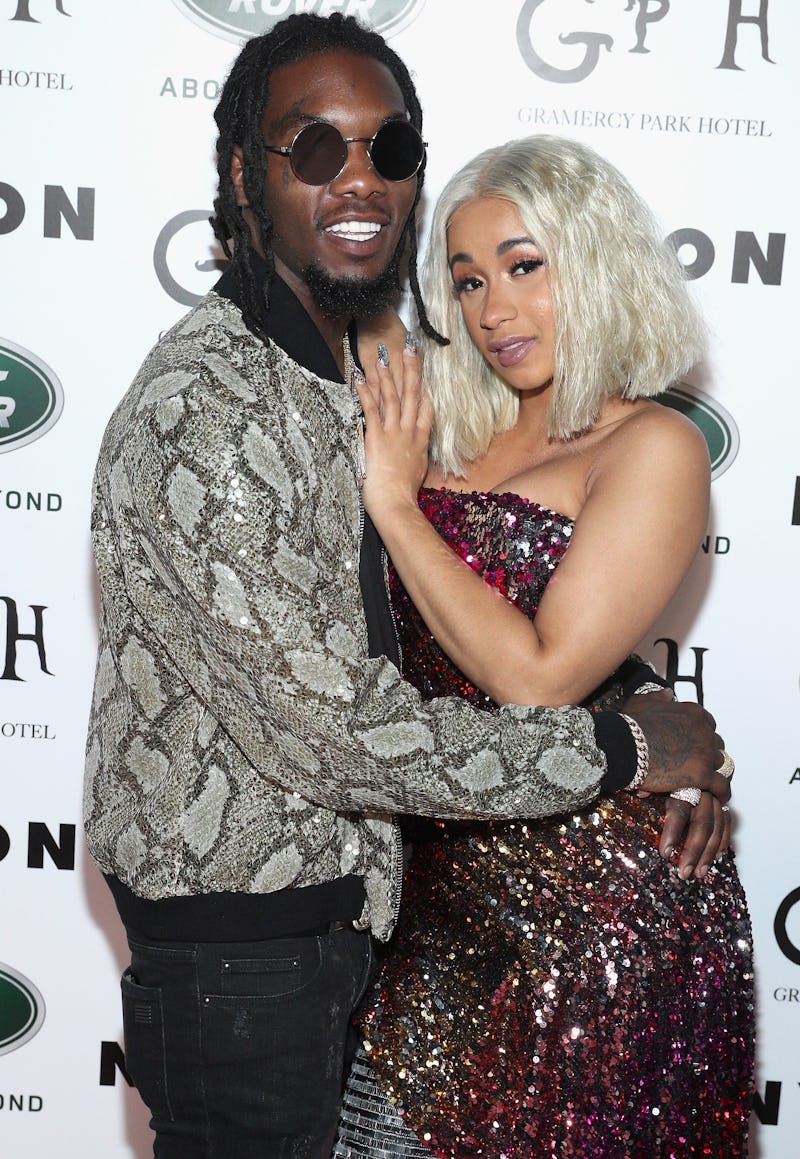 Rob Kim/Getty Images Entertainment/Getty Images
The Bardi Gang might not know what's about to hit them, because a new report suggests Cardi B and Offset have been secretly married for months. TMZ obtained an alleged copy of the marriage certificate, which says the two tied the knot in Fulton County, Georgia, on Sept. 20, 2017. Bustle has reached out to Cardi B's representative for comment, but did not receive a response at time of publication. While the news is shocking, fans may already have been a little suspicious, especially after the BET Awards Sunday night, when Offset called Cardi his wife, saying, "I thank my wife. You should thank yours." That's a plot twist if I ever saw one.
UPDATE: Cardi B confirmed on Twitter that she and Offset were married privately last September.
EARLIER: Cardi and Offsset were engaged last fall and Cardi started wearing her huge engagement ring at public events in January. Shortly after, Cardi publicly revealed her pregnancy on SNL in April, but neither have ever before hinted that they had already tied the knot. And now, fans have some serious theorizing to do when it comes to the couple's relationship timeline.
Offset publicly proposed to Cardi on stage during a show in October 2017. But if the marriage certificate is real, they had already been married for a month at that point. After the proposal, Offset shared video of Cardi's 8-carat ring and an Instagram Story of the proposal with the caption, "She said yes," according to People. In a since-deleted post, Cardi posted a photo with the ring, writing:
"Jesus Christ I'm so emotional, @offsetyrn I loveee you so much .Thank you for seeing the potential in me since you met me .For giving me advice molding me and loving me .Your such an amazing man to me your family ,friends ,kids and you are extremely talented.I can't wait to spend FOREVAAAA with you .Lets make a lot shmoney and love together ❤️ ❤️."
Cardi hasn't responded on her Instagram since TMZ broke the news. (Around the same time TMZ published the piece, she posted an Instagram story about her vegan tacos.) Now, some fans are calling the couple's bluff.
Some Bardi Gang members even felt a little betrayed.
And some are happy for the couple (despite their confusing history) and support Cardi's decision to keep it private.
Maybe fans should've seen this coming. Although the couple was clearly private about certain aspects of their relationship (like this one huge fact), Cardi was open about her feelings on marriage all along. Last August, she explained at the 2017 MTV VMAs: "I'm a woman. Every woman, I think, wants to get married and wants to have children. It's never too early to get married now. You know, if you want to propose to me, you can." Clearly, she had marriage on her mind back then.
Still, despite Cardi's enthusiastic statements about marriage, it's no wonder fans feel toyed with. Even at the 2018 Grammys in January, Cardi teased a wedding was still to come, saying to E!, "I'm like does he really love me? He got me a half-million dollar ring, yeah he does. We really want to get married this year."
Keeping things under wraps is character for Cardi, who kept her pregnancy secret for a while. Dodging pregnancy rumors for months, Cardi asked a fan to let her "fat in peace" on Instagram in February, saying she was just gaining weight. In a since-deleted post in April, Cardi explained keeping her pregnancy a secret, writing, "This is why i did not wanted to say nothing. People be so thirsty to scrutinize and try to destroy something that itsuppose [sic] to be a blessing." According to TMZ, the rapper is due in July.
If we know Cardi, she'll likely respond to all this news head-on, in a very unfiltered fashion. Maybe she'll even tell fans why she and Offset seemingly planned a huge public engagement if they were already married, and why she teased so much wedding planning to be done. Or she'll just keep it private. If there's anything fans can expect from Cardi B, it's the unexpected, after all.