Cardi B Gave Away Free Coats In Brooklyn & Even She Was In Awe Of The Turnout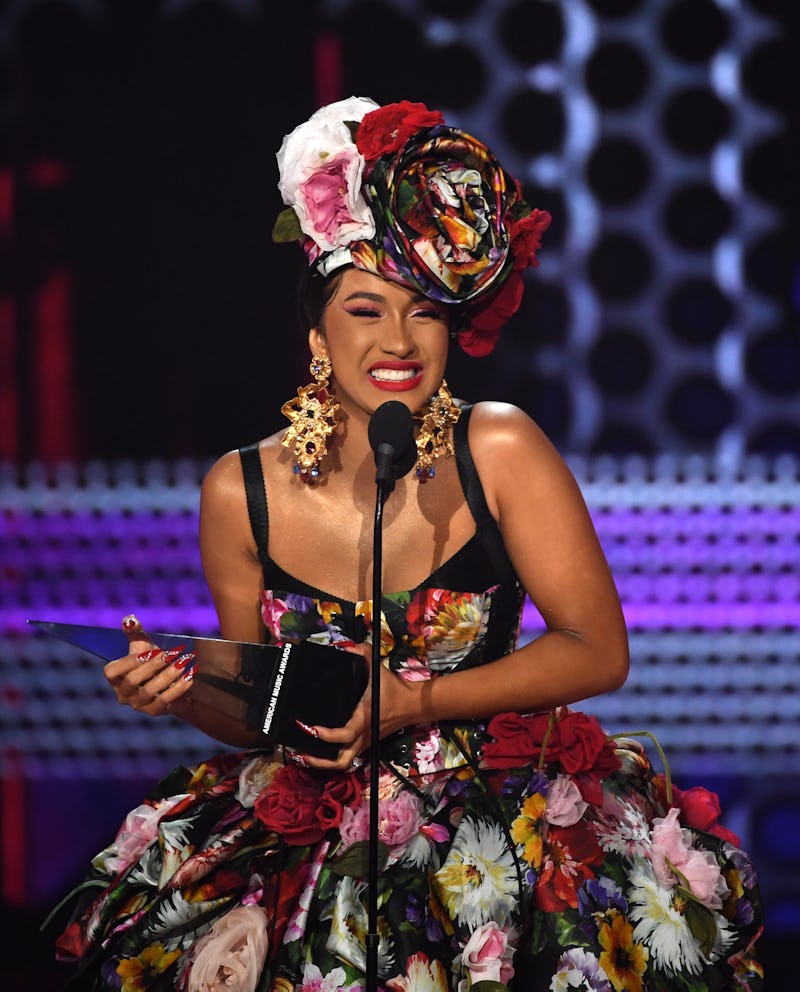 Kevin Winter/Getty Images Entertainment/Getty Images
Cardi B is a mom now, and she doesn't want you to leave the house without a warm coat on, OK? On Thursday night Cardi B handed out free coats and shoes in Brooklyn at a public housing complex, according to ABC News. It was the first true cold night of the year, but despite that, hundreds of fans showed up and waited for hours, not only for some warm winter wear, but for the chance to see Belcalis Marlenis Almánzar.
ABC News reported that families of fans waited for hours outside against metal barricades in the 40-degrees and below temperatures to get a glimpse of their Bronx queen in Brooklyn in the borough of Kings, at the Marlboro Houses in Gravesend. The Marlboro houses are a huge community, with 30 buildings making up the city-housing complex.
The event was put on by a local designer and "Cardi's close friends," according to Billboard, and when the 26-year-old rapper heard about it, she wanted to join in immediately. Even though she's one of the biggest rappers in the game right now, humble Cardi B was still surprised that there was such a massive crowd gathered to see her.
"I didn't know it was going to be so big!" she told ABC. "My homeboy Chuck told me, 'Hey, let's give out coats to our community. I know somebody who's trying to give out coats,' and I said, 'I'm pulling up, what's up, I'm in here, let's go!'"
Her spirit is what brought out a lot of fans, including little girls who love and look up to Cardi B. While waiting for the rapper to arrive, ABC talked to some young girls in the crowd and asked why Cardi was special to them. One little girl said, "I love her. She wears beautiful outfits, and I love her." Cardi really has been killing it style-wise recently — did you see the amazing blue suit she wore on Jimmy Kimmel on Tuesday Oct. 17, when she casually mentioned that baby Kulture broke her vagina?
Another young Cardi fan said: "I love her music and she's a hero to me, and she's the one who inspired me to music. She cares about the community." The reporter asked her, "What does that teach you?" and the little Cardi fan with her nose red in the cold said, "To care about the community, too." You're not crying, I'm crying.
It's not just the young ones that appreciate what Cardi is doing. One woman told ABC, "It's nice, it's very nice that she's doing this for the people, really. Because us people over here need a lot of help."
Cardi posted a video on her Instagram of some of the huge crowd super hyped to see her at the event, saying in her caption: "We couldn't believe how big this was and how many people pulled up, i wasn't ready😩." You'd think she would be used to her swarms of fans by now, right?
She also said that she would be back in Marlboro before the end of the year, and she can't wait to take this coat giveaway to her native and beloved Bronx next. Cross your fingers that next time she steps out in some Santa gear.