Cardi B Celebrates Her New #1 Hit On Instagram, Remains The Queen Of The Gram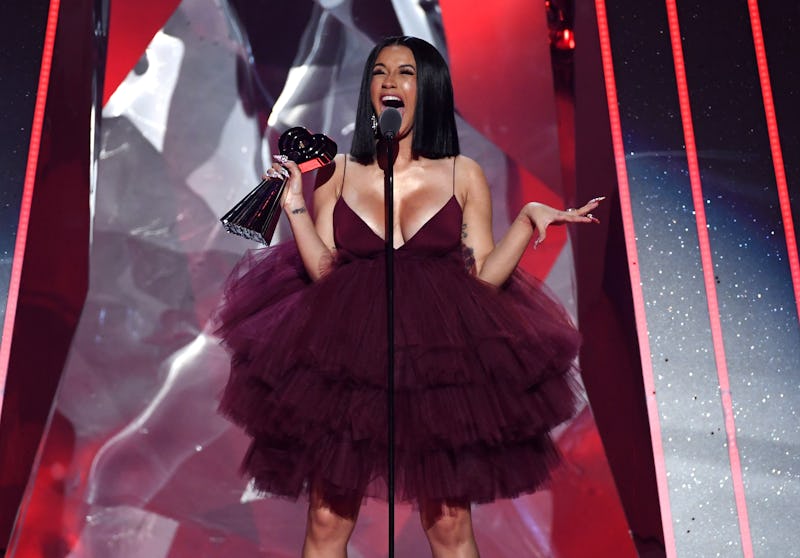 Kevin Winter/Getty Images Entertainment/Getty Images
Queen Cardi B just continues to get better and better. First, last September the rapper became the first solo female rapper to have a number one song on the Billboard Hot 100 Chart since Ms. Lauryn Hill thanks to her smash hit record "Bodak Yellow." Now, she's reached another milestone because Cardi B is now the first female rapper with two number one songs on the Billboard Hot 100, Billboard reports. That's right, Cardi's hit song "I Like It" featuring Bad Bunny and J Balvin reached number one on the charts, which means she's officially the first ever in rap history. As fans can imagine, Cardi B celebrated the only way she knows how: posting a video of herself twerking on Instagram.
When the news first broke on Monday, Cardi B initially posted a video to Instagram thanking her fans. "I'm grateful for my fans, I have the best fans," the rapper said during one of her many beloved selfie-recorded Instagram videos. She also explained why she didn't expect "I Like It" to become the great success that it did. Cardi said,
"I cannot believe that 'I Like It' is number one… You know I always loved this record but I ain't gon' front, I slept on it and I slept on this record because two verses on this song, J. Balvin and Bad Bunny parts is in Spanish and I figure that not all of my fans know Spanish but it's like, this the song y'all made it happen and I'm so happy and I'm so thankful."
Later, she acknowledged that she didn't make herself up before recording her message — though she didn't apologize, of course. "I know I look a little f*cked up and sh*t, I know my lace is fucked up but… It's hot as f*ck, I'm pregnant as f*ck it's like, who I'm getting cute for? My n*gga gon' f*ck me regardless." All of that colorful language and candidness is exactly what makes Cardi B so lovable — and it doesn't hurt that she is an amazing twerker, which she showcased on another celebratory Instagram video on Monday.
While Cardi B's willingness to share her personal feelings about why she needn't worry about her lace front may help bolster the rapper's popularity, the real reason why Cardi B is so popular is truly her music. The fact that she has now earned not one but two top spots on the Billboard Hot 100 speaks to the rapper's pure talent. Both "Bodak Yellow" and "I Like It" are perfect summer songs, too. "I Like It" may even spend more weeks on the top spot as the summer continues to heat up — "Bodak Yellow" spent three weeks at number one, according to Billboard, and it seems like her newer hit could have a similar longevity.
While Cardi B. may have been nervous about the Spanish verses on "I Like It" affecting its popularity, she clearly didn't have to worry. After all, this is the same world that made "Despacito," the song by Luis Fonsi, Daddy Yankee, and Justin Bieber, into a massive hit. "Despacito" spent 16 weeks as the number one song on the Billboard Hot 100, and Billboard reported that it tied for the longest run in that top spot with "One Sweet Day" by Mariah Carey and Boyz II Men.
With this recent news, it's clear that Cardi B is on track to have the best year ever. Starting in Sept. 2017 when she broke her first Billboard record, she has only continued to reach amazing milestones, both career-wise and personally. In late Sept. Cardi B married Migos rapper Offset. After that, the two shared an exciting public engagement that led fans to believe they hadn't yet been married, and then in April, Cardi announced that she was pregnant during the same week that she released her first studio album, Invasion of Privacy. It's Cardi's world, and we're just living in it.