Cardi B's Latest Accomplishment Is A Massive Win For Female Artists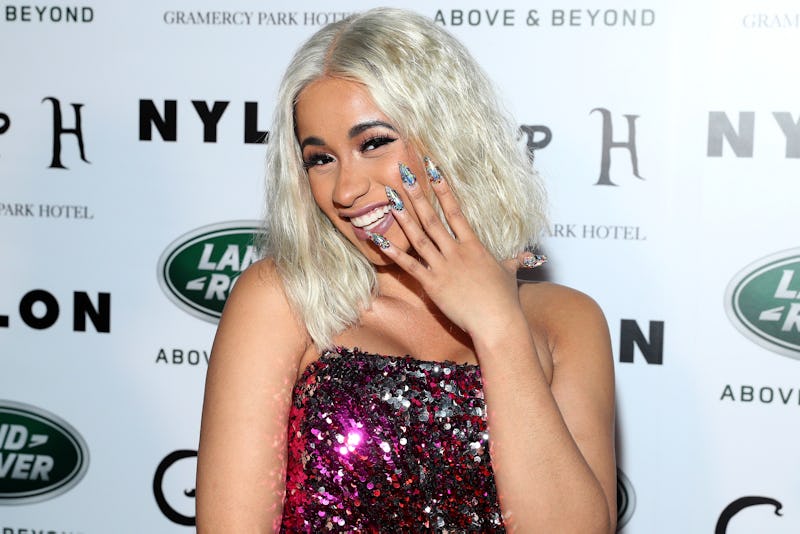 Rob Kim/Getty Images Entertainment/Getty Images
On Monday, Sept. 25, it was announced that Cardi B's "Bodak Yellow" made history. Billboard reported that the artist's breakout single and de facto song of the summer topped their Hot 100 Chart for the first time since its release. This means that Cardi B, a rapper from NYC, officially unseated Taylor Swift's "Look What You Made Me Do" (which fell to number three on the same chart) and became the first solo female rapper to top the Billboard Hot 100 Chart since Ms. Lauryn Hill. Cardi B's victory is one for female hip-hop artists in particular, and helps cement her place as the solo artist of the summer and likely beyond.
Literally everything about "Bodak Yellow" topping the Billboard Hot 100 chart is special, but here's an abbreviated list: Cardi B is relatively new as a "mainstream" artist. She has yet to release a debut LP, and "Bodak Yellow" is already a smash. As mentioned above, the last female rapper to top the Billboard Hot 100 as a solo act — meaning the track is not credited as a collaboration, and no fellow artist has a featured verse — was Hill, way back in a little year we called 1998. It was for "Doo Wop (That Thing)," which remains a perfect track. (The chorus is stuck in your head now. You're welcome.) Cardi is Bronx-born and raised, has a Trinidadian mother and Dominican father, speaks openly about her turbulent personal history, and she one-upped the Swift machine with the heat from one track. The word iconic comes to mind.
The New York native first rose to prominence through Instagram. Her talent, look, and "no filter attitude" made Cardi the perfect cast member for any TV series, and VH1 added her to the cast of Love & Hip Hop: New York by 2015. According to Billboard, she signed a deal with Atlantic Records in February 2017 — yes, as in, the February of earlier this year — and "Bodak Yellow" was her first major hit. Earlier in her life, Cardi spent time working as an exotic dancer, which she references in the chorus of "Bodak Yellow": "I don't dance no more / I make money moves."
"Bodak Yellow" brims with Cardi B's signature swagger; her bars are packed with both evocative self confidence and slights toward haters. It's apropos that it's the single to catapult her to stardom — and history. Seriously, history. According to Billboard, Cardi B is only the fifth female rapper to top the Hot 100 ever. Between Cardi B this week and Hill in 1998, rappers like Lil' Kim, Shawnna, and Iggy Azalea all led the chart when accompanied by other artists. Cardi B has also become "the first female soloist to top the Hot 100 with a debut track unaccompanied by another artist" since pop singer Meghan Trainor, who topped the chart with "All About That Bass" in 2014. Cardi B has done something even Nicki Minaj hasn't; while Minaj has cracked the chart more times than Aretha Franklin, so far the highest she's made it is the number two spot for 2014's "Anaconda."
Still, that doesn't mean there's not love between the two artists. Minaj shared her excitement, publicly congratulating Cardi B on Twitter on Monday.
Cardi B's LP is slated to drop in October on Atlantic Records, which means the success of "Bodak Yellow" could not have come at a better time. The history-making single raises her profile, introducing the artist to a wider audience in advance of the album's release and eventual tour-slash-world domination.
The artist herself posted an effusive message to Instagram on Monday afternoon, while apparently waiting for a flight at the airport. True to Cardi B form, it's cheerful, grateful, and explicit. In the span of a minute, the artist is seen thanking fans and industry people alike for helping her succeed, before her face crumples pre-cry in a way that would make Claire Danes jealous. So, go on, and listen to "Bodak Yellow" again. Help be a part of history.