Cardi B's First Post-Baby Performance Is Happening SO Soon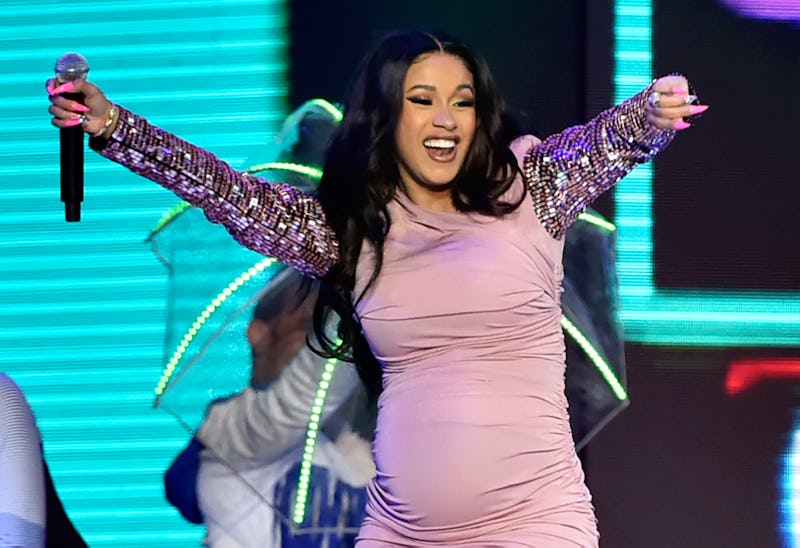 David Becker/Getty Images Entertainment/Getty Images
Fans of Cardi B will be thrilled about this news. After taking some time off to recover after giving birth to her daughter, Cardi B has scheduled her first post-baby concert. Cardi B will perform at the Mala Luna festival in San Antonio in October, which should be great news for the rapper's Texas-based fans.
Performing at a weekend-long music festival seems like a good compromise for the rapper since she wasn't able to perform on Bruno Mars' fall tour. Cardi announced in a Twitter post last month that she wouldn't be joining Mars' tour, as originally planned. The Grammy nominee explained in her post that she'd originally wanted to bring her baby on tour with her, but her doctors advised against it. Here's Cardi B's statement on leaving the tour, via Twitter:
"As of today I've decided I won't be joining Bruno on tour this Fall. I thought that after giving birth to my daughter that 6 weeks would be enough time for me to recover physically and mentally. I also thought that I'd be able to bring her with me on tour, but I think I underestimated this whole mommy thing."
"Not only am I just not ready physically, I'm not ready to leave my baby behind since the doctors explained it's not healthy for her to be on the road. I hope you guys understand that this decision has been the hardest to make but I have to do what's best for myself and my baby! Thank you Bruno for being so supportive and understanding."
Of course, Cardi's decision to exit the tour was totally understandable. She and Offset are caring for their daughter, Kulture Kiari Cephus, who was born on July 10. Taking a newborn on tour would be no easy feat, and Cardi made the right call to put her health and her baby first.
The two-day Mala Luna festival, which will take place on October 27 and 28, seems like the perfect first post-baby gig for the talented rapper. Cardi can perform at a singular event, and then she can go home to her family afterward, without the stress and commitment of a full tour.
The rest of the festival lineup sounds pretty great, too. Tyler, the Creator, Nick Jam, Lil Pump, Becky G, and Rich the Kid will also perform at the event, according to Rolling Stone. Billboard adds that the festival was sold out last year, so if you're planning to be in San Antonio that weekend, it's probably worth it to get your tickets on the earlier side of things.
Cardi B's album Invasion of Privacy was released in April, just months before Kulture's birth. And Cardi kept performing through April, despite saying in an Instagram video that she could "barely breathe" at that point. The rapper has been vocal about being both a new mom and a musician at the top of her game, and it looks like her career isn't slowing down anytime soon. Cardi is putting her baby first, but she's also making plenty of time for her music, which sounds like the best of both worlds.