Yes, Even Offset Was Fooled By Cardi B's Opening Stunt At The VMAs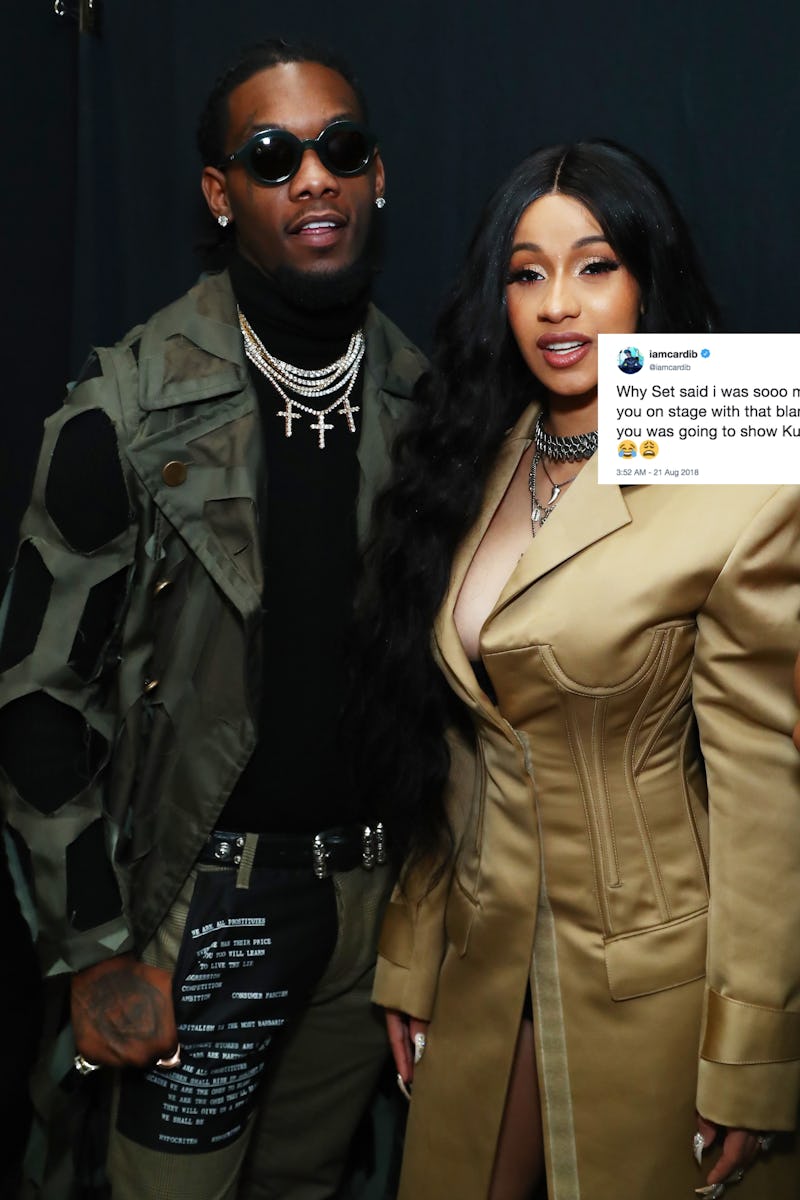 Astrid Stawiarz/Getty Images Entertainment/Getty Images; Cardi B/Twitter
In case you missed it, Cardi B had a hilarious surprise in store for fans everywhere during her VMAs opener on Aug. 20 as she stepped onstage holding what appeared to be her daughter Kulture (but it wasn't). As People reported, Cardi B's husband Offset was also fooled by the VMAs bit. If even Offset was surprised, that's the sign of a pretty successful opening bit, right?
After the awards show, Cardi took to Twitter to explain just how taken aback Offset was by the whole joke originally. She wrote,
"Why Set said i was sooo mad, when i saw you on stage with that blanket... I thought you was going to show Kulture"
Basically, he had the exact same reaction everyone else did during the wild moment (except that it must have been a more intense reaction from him given that, you know, this concerned his own family).
It is kind of funny to see that the "Bodak Yellow" singer left her husband in the dark about this joke, especially since it had been planned out in advance. Prior to the show at the VMAs press junket on Friday, executive producer of the VMAs, Bruce Gillmer, discussed Cardi's appearance.
He told Bustle, "She is going to surprise everybody. I think that whatever it is that she does will please the fans. I really don't want to say, because it's one of those moments that we're trying to preserve some level of mystique." It seems that there was a little too much mystery surrounding the planned opener, when it comes to Offset, at least.
Even if she didn't offer up this humorous account of the Migos rapper's reaction, it's pretty clear that he was surprised by the moment just based on a short clip from the event. When she took to the stage with a bundle in her arms (which was actually an award wrapped up), Offset looked a little anxious about where the bit was headed. Seeing as though he didn't know whether Cardi was actually holding Kulture or not, his reaction makes total sense.
To put it simply, it would have been surprising to see your baby daughter on stage at an awards show when you weren't expecting it. But, it would have been especially surprising considering that it would have served as the first time fans got a glimpse of the couple's child.
Cardi originally welcomed the couple's daughter, Kulture Kiari Cephus, back in July, according to Rolling Stone. She let her fans in on the happy news by posting some stylish snaps from a recent photoshoot, which put her baby bump on full display. While the "I Like It" singer has offered updates about her daughter, and about how she's handling motherhood, neither she nor Offset have revealed any photos of their little one just yet.
So, it definitely would have been a wild moment if Cardi chose the VMAs for the big reveal (which makes Offset's reaction all the more understandable). Still, it's not totally unsurprising that the outspoken singer would have a little bit of fun with this faux Kulture stunt, even though her husband wasn't originally in on the joke himself.