OMG, Cardi B. Is Going To Be The Opening Performer At The 2018 MTV Video Music Awards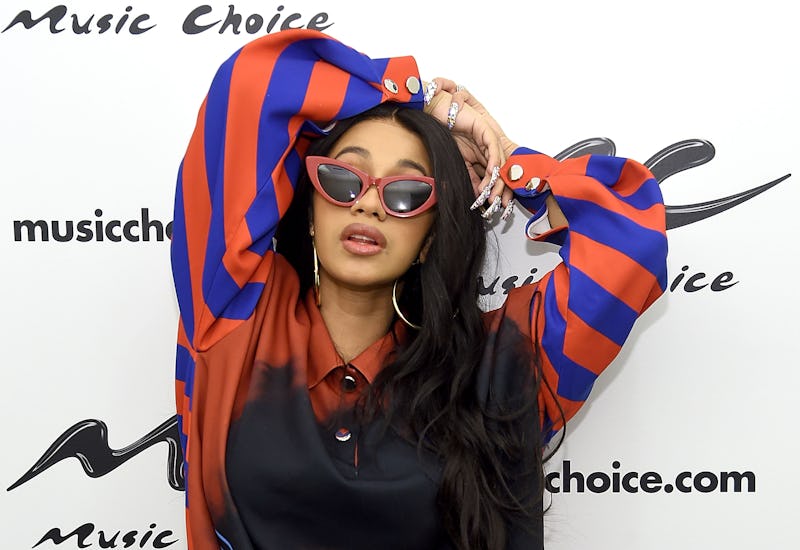 Jamie McCarthy/Getty Images Entertainment/Getty Images
Cardi B's officially back, okurrr! Just a few short weeks after giving birth, Cardi is slated to open at the 2018 MTV Video Music Awards on August 20, proving that she's ready to pick up right where she left off in her hugely successful career. The rapper was announced as the opening act for this year's ceremony via MTV's Twitter account on Wednesday Aug. 15 and the news couldn't be anymore exciting for fans who have been waiting patiently for Cardi's big return. In its social media reveal of Cardi's performance, MTV posted a video announcement along with a caption which read:
"WANNA PARTY WITH CARDI??? @iamcardib will open the 2018 @VMAs. You don't wanna miss this. August 20th at 9p on MTV #VMAs"
UPDATE, Aug. 17: At the VMAs Press Junket on Aug. 17, executive producer Bruce Gillmer told Bustle that Cardi B is definitely attending, but did not confirm she's performing, as originally reported. He said:
"She is coming to the show. She is going to surprise everybody. I think that whatever it is that she does will please the fans. I really don't want to say, because it's one of those moments that we're trying to preserve some level of mystique ... She's definitely coming and she's definitely going to put a smile on the fans' faces. Beyond that, it's difficult to say."
A VMAs rep told Bustle that Cardi is not performing. On Wednesday, Aug. 15, Cardi herself told fans that she is not performing via her Instagram Story, according to multiple media outlets. She wrote in the IG Story:
I'M JUST OPENING I'M NOT PERFORMING !!!
EARLIER: It goes without saying that adding Cardi to the mix makes perfect sense for the annual award show given that she is the year's lead nominee with 10 nods in total for her debut album, Invasion of Privacy.
MTV announced several performers in recent weeks, revealing that Nicki Minaj, Jennifer Lopez, Travis Scott, Post Malone, Shawn Mendes, Ariana Grande, Panic! At The Disco, Rita Ora, and Logic would all be taking the stage that night.
Despite the star-studded listing, the lineup, up until now, failed at offering fans a performance from any of the night's leading nominees. The Carters, aka Beyoncé and JAY-Z, followed Cardi's lead with eight nominations, while both Childish Gambino and Drake earned seven each and Bruno Mars garnered a total of six.
Cardi, who just gave birth to her daughter Kulture Kiari Cephus on July 10, took to Instagram Live earlier this month to share news that she's been working on new music with hopes to release approximately ten songs on Sept. 1. She went on to explain that five of the tracks were completed when she recorded Invasion of Privacy but were left off of the album because they "didn't make sense" with the project's theme at the time. She shared that she only needed four or five songs to finish the record, but was unsure if she could meet her self-imposed deadline which is now just weeks away.
While the shocking new music announcement was certainly welcomed by fans, it seemed to be clear that a live performance from Cardi is something that would materialize until later down the line. The VMAs appearance is especially surprising given that the 25-year-old was originally scheduled to open for Bruno Mars on the last North American leg of his 24K Magic World Tour, starting in September, but later canceled after confessing that she'd "underestimated this whole mommy thing.
On July 26, Cardi took to Instagram to explain:
"I thought that after giving birth to my daughter that 6 weeks would be enough time for me to recover mentally and physically. I also thought that I'd be able to bring her with me on tour."
She continued,
"Not only am I just not ready physically, I'm not ready to leave my baby behind since the doctors explained it's not healthy for her to be on the road."
Since stepping onto the scene just a little over a year ago, Cardi has time and time again proven that she is one of the hardest-working people in the music industry. Now that she's performing live at the VMAs less than six-weeks after welcoming her daughter, it seems that the wait for the return of Cardi is officially – and much sooner than many originally thought.
Additional reporting by Jamie Primeau