Who Kirsten Gillibrand Picked As Her SOTU Guest Sends An Important Message To Trump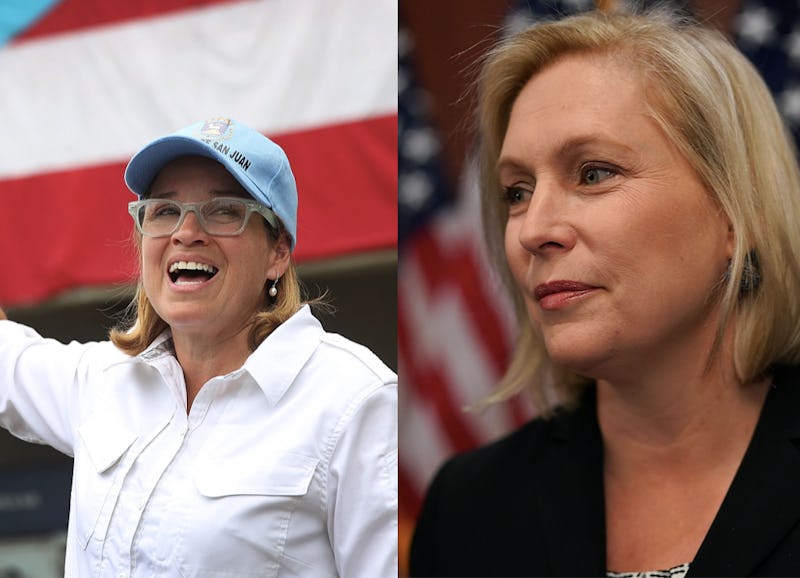 Alex Wong; Joe Raedle/Getty Images News/Getty Images
As Capitol Hill prepares for President Donald Trump's very first State of the Union (SOTU) address on Tuesday night, details about the attendees' guest list have emerged. According to a tweet on her account, New York Democrat Sen. Kirsten Gillibrand will bring San Juan mayor Carmen Yulín Cruz as her guest at Trump's SOTU.
On Monday, Gillibrand tweeted:
It is an honor to announce that Mayor @CarmenYulinCruz of San Juan, Puerto Rico will join me at the #SOTU. Throughout the crisis in Puerto Rico, Mayor Cruz has shown extraordinary leadership and fearless advocacy for her city.
Gillibrand also added that she hoped Cruz's presence at the SOTU event would "remind the president and my colleagues in Congress of our urgent responsibility to help Puerto Rico fully recover and rebuild. Our fellow citizens must not be forgotten or left behind." Cruz responded to the New York senator's announcement and said that it was an honor to "represent thousands in San Juan and more in Puerto Rico who still have no electricity and fight everyday for a better today."
According to the Philadelphia Inquirer, at least 30 percent of Puerto Rico's population does not have access to basic electricity after the devastating Hurricanes Irma and Maria hit the region in 2017. The Puerto Rico Electric Power Authority said that the monstrous hurricanes destroyed major infrastructures of power, leaving Puerto Ricans with no choice but to use generators for days.
Gillibrand's decision to bring Cruz to the SOTU address may leave a strong political message for Trump as the San Juan mayor and president have exchanged testy words for each other in the wake of the hurricanes. Last year, Cruz gained prominence throughout the country after she criticized the president for his remarks on Puerto Ricans who were suffering the aftermath of both Irma and Maria.
Soon after the hurricanes in September, Trump said that Puerto Rico left the government's budget "out of whack." Cruz criticized the commentary as hurtful against Puerto Ricans and spoke on Univision, "When someone is bothered by someone claiming lack of drinking water, lack of medicine for the sick and lack of food for the hungry, that person has problems too deep to be explained in an interview." She also added, "What is really nasty is that anyone would turn their back on the Puerto Rican people."
Seemingly unbothered by Cruz's criticism, Trump responded to the mayor in a tweet and said, "The Mayor of San Juan, who was very complimentary only a few days ago, has now been told by the Democrats that you must be nasty to Trump." While speaking on CNN in October, Cruz responded to Trump's tweets and called him the "hater-in-chief."
Now, with Trump set to deliver his first SOTU speech on Tuesday night, it's unclear whether he will touch upon Puerto Rico's conditions. An approximate 450,000 people lack access to electricity in the region where it has been four months since the hurricanes pummelled local buildings, infrastructure, schools, hospitals, and much more.
For Cruz, the issue of bringing stability back to Puerto Rico is fresh as ever. Soon after the hurricanes hit Puerto Rico, Cruz penned an emotional and heartfelt open letter to the public and said, "I ask the United Nations, Unicef and the world to stand with the people of Puerto Rico and stop the genocide that will result from the lack of appropriate action of a President that just does not get it because he has been incapable of looking in our eyes and seeing the pride that burns fiercely in our hearts and souls." Considering Cruz's passion for Puerto Rico's prosperity, Trump might just bring up the contentious subject tonight.