Dorinda Made Berkshire House Rules On 'RHONY' But They Obviously Got Completely Ignored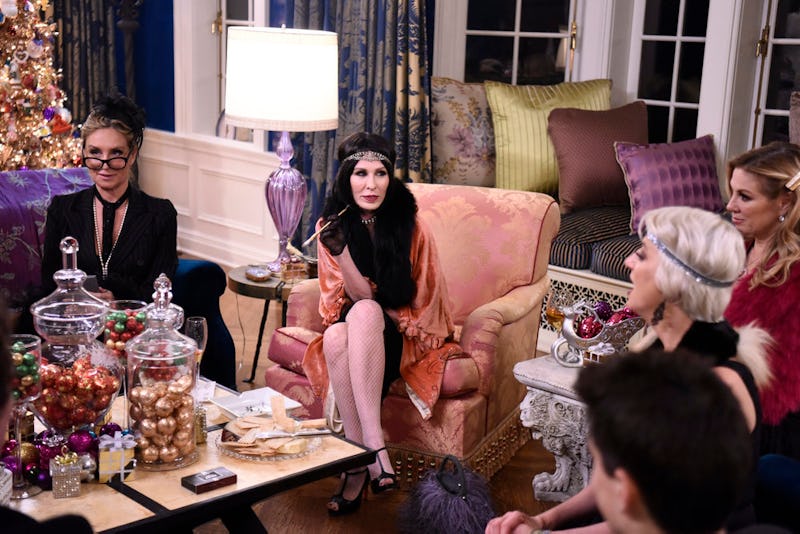 Dave Kotinsky/Bravo
The moment that Season 10 of Real Housewives has been building for all eight episodes so far is here — Bethenny and Carole finally duked it out on Real Housewives Of New York. These two have had tension since before filming started, and we still really haven't gotten to the reasoning why. One thing is for sure, though — Dorinda's Berkshires house was the only place for this all to come to a head, because it's the only place that this cast of Housewives seem to have their knock-down, drag-out fights. The Berserkshires! Bethenny and Carole fought on Real Housewives Of New York, and now their rift is starting to make sense.
Neither has had a lot of camera time with the other this season, which means that something is up — these two are usually joined at the hip, at least during filming. Remember when they ran out of Jules Wainstein's house in the Hamptons? That was some comedy gold stuff. But now, Bethenny and Carole have seemed pretty distant. After Dorinda's murder mystery party, Dorinda, ever the stirrer that she is and has always been, asked Bethenny and Carole if they thought there was tension between them. And off to the races we go! For the record, Dorinda broke her own new house rules of decency for Bluestone Manor (they include getting your own stuff, because the maid is not your maid, and no destroying the furniture, Ramona), but since it's her house, maybe she's allowed to.
Bethenny can be a bulldozer, and it's much easier to get along with her than to be opposed to her. As Ramona said in the episode, usually Bethenny is the one that has a way with words, but when it comes to Carole, she's a little tongue-tied. A little flabbergasted. So far, the biggest pain point in their relationship seems to be this: Bethenny, who started a charity to help those affected by the hurricanes in Houston and Puerto Rico, asked Adam, Carole's ex-boyfriend, who is a photographer, if he would come to Houston with her and take photos to show what it all looks like. Bethenny claimed that Adam wanted to know how much he would be getting paid, and when Bethenny was all, "Nothing, because this is for charity," Adam allegedly said he couldn't do it. Bethenny was annoyed and Carole didn't like that. (Adam did not respond to Bustle's request for comment.)
While the episode leaves us with a "to be continued," it doesn't seem like these two have mended fences quite yet. In a blog entry for Bravo published in May 2018, Carole wrote, "Unlike Bethenny, I don't need to be biting and self-righteous in order to make myself feel better, smarter, or more successful. I hardly recognize the woman on television shaming women simply for having different opinions and interests."
So this is about Adam, but it's not really about Adam. It can't be. What it sounds like from my well-trained reality television (I've been a Real Housewives Of New York viewer since its inception) is that Carole is sick of being overshadowed by Bethenny, and she's sick of Bethenny talking — about everything — so loudly. While I love Bethenny (she's my favorite Housewife), she has a tendency to think that the loudest person in the room is the correct person in the room. Both women were wrong in avoiding each other, and they both clearly have issues with each other. Fortunately, a good fight is like a good antihistamine. If you're clogged, a good screaming match will blow everything right out. Communication is the key to solving these sorts of problems, and the sooner they can talk feelings, the better.
Should Bethenny have said all that she said about Adam? No. Carole would definitely be hurt by that. Should Carole attack Bethenny in the press six months later? No. Be grownups and talk about it in person. Should the other women (like Ramona, who wrote an anti-Bethenny blog post recently) be involved in this? Not really. It's not their fight. Right now, Bethenny and Carole are not friends — this is a problem that even Dorinda's Berkshires house can't fix. There's no making it nice here.