Carole Radziwill Just Announced She Is Leaving 'Real Housewives Of New York City'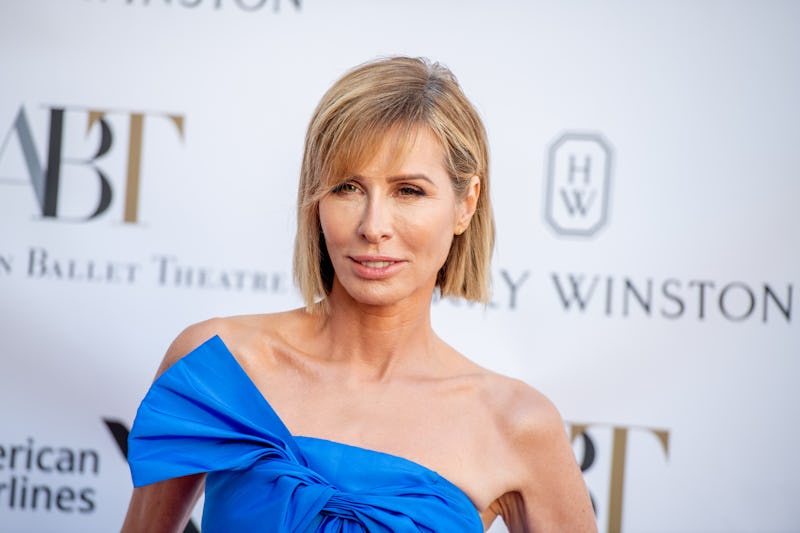 Roy Rochlin/Getty Images Entertainment/Getty Images
After six seasons as a main cast member, Carole Radziwill will not be returning to Real Housewives of New York. In a statement shared on Wednesday, July 25, Radziwill shared that she is pulling away from reality television in order to place more focus on her journalism career. (When asked for comment by Bustle, Bravo shared Radziwill's statement from Bravo's Daily Dish.)
Through her announcement, Carole explained:
"After six seasons on Bravo's RHONY, I have decided to return to what I do best — journalism and producing. I am sure this does not come as a surprise to any of the viewers, all of whom have been supportive, encouraging, and kind. My original curiosity about reality television has waned over the years and I am focusing on TV and writing projects that better suit my more steady temperament."
In closing, the 54-year-old reveals that she is excited for the next chapter in life, sharing:
"I have worked with amazing producers, made great friends, and I'm thrilled to leave frenemies behind. I will remember this entire experience with delight, humor, and a veracious accuracy. Next."
Long before becoming a reality star, Radziwill enjoyed a long and esteemed career in journalism. According to her BravoTV.com bio, Carole got an internship with ABC News in 1988, and later worked with Peter Jennings' documentary unit, 20/20, and Primetime Live. Refinery29 points out that Radziwill was one of few women on ABC's newsdesk at the time and stayed in the position for 15 years.
She's won three Emmys, a Robert F. Kennedy Humanitarian Award, and a GLAAD Award for her contributions to the field. After leaving ABC News in 2003, she wrote a bestselling memoir, What Remains: A Memoir of Fate, Friendship and Love, about her life and marriage to Prince Anthony Radziwill (a Swiss prince, and Jacqueline Kennedy Onassis's nephew), who died tragically young from cancer in 1999. In 2014, she also penned, A Widow's Guide To Sex and Dating.
In an interview shared by Refinery29 in June of 2018, Radziwill revealed what prompted her to join the cast of RHONY after having such a successful career in journalism. She explained,
"My young life was filled with very serious endeavors. I was very intense in my 20s and 30s, and I just thought, 'When I'm 80 and look back at my life, if this is the silliest thing I've ever done, I'm totally okay with that.' The show balances that out. I don't think I could do it if I didn't have that foundation."
Revealing that she suppressed a lot of information about her career and history while on the show, Radizwill continued:
"I knew who I was. I wasn't prepared to pretend to be anything I wasn't. In fact, I downplayed a lot of my background and my career. At that time, I felt good about myself, and I thought, 'I'll show that to the world a little bit and it'll be fine.'"
During her discussion with Refinery, the reality star also defended her on-screen persona, which many felt to reserved and far different than the other women in the cast, attributing it to her journalistic training.
She said,
"I'm a very rational person — it's the way my brain thinks, by nature and training. I'm a journalist. So, I approach things that way, whereas other women on the show approach things first emotionally, and then logic follows. It's not to say I think I'm better than them, but it's just a different way that I look at the world and approach conflict."
The announcement of Radziwill's departure comes amidst the current airing of the Bravo series' Season 10 which saw the former TV reporter and costar Bethenny Frankel go through a major breakdown in their friendship. Radziwill and Frankel had become close when the SkinnyGirl creator returned to the series in Season 7. Fans were sad to see their relationship seemingly come to an end in recent months after, according to Us Weekly, Frankel insinuated that Radziwill's boyfriend Adam Kenworthy requested to be compensated for participating in an event supporting hurricane relief. Radziwill later denied those claims in a BravoTV blog. However, the animosity between the two has continued to mount. The issue has left many bracing themselves for the show's upcoming reunion special, which a source for Us Weekly claims will feature a huge blow-up between the two women, that was reportedly taped earlier this month.
With the recent revelation of her departure, fans may want to pay close attention to what appears to be Radziwill's last moments on reality TV – good, bad, and ugly.