This 'Pride & Prejudice' Line Is Always Quoted Wrong — Including At Barbara Bush's Funeral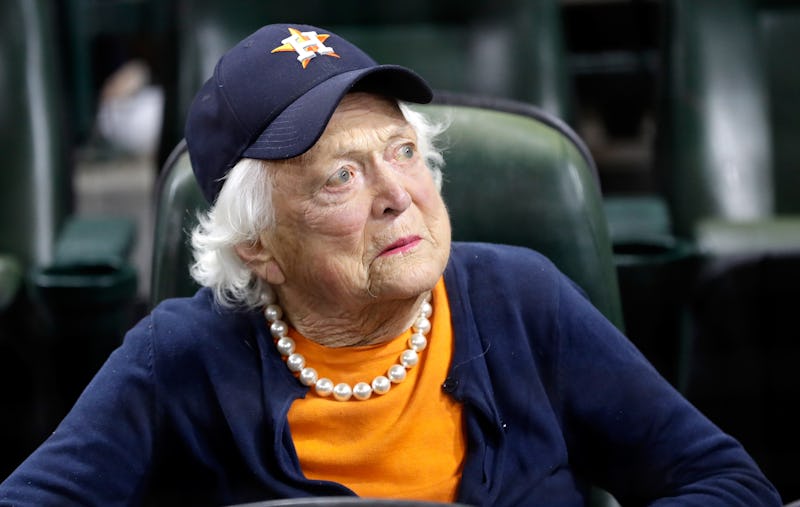 Pool/Getty Images Sport/Getty Images
There are some quotes that always manage to get misused, somehow, and a major Pride & Prejudice misquote just reared its ugly head once more. Caroline Bingley has been misquoted again, this time at Barbara Bush's funeral. Pull your shawl tighter, Janeites, because this one is a real doozy.
The blunder occurred during Bush's funeral service, conducted by Rev. Russell Levenson, rector of St. Martin's Episcopal Church in Houston, Texas. Levenson made several comments regarding the former First Lady's love of reading and of Austen, and he even closed the service by saying, "My guess is she's already hunted down Jane Austen and has said, 'Well how did things turn out with Mr. Darcy and Elizabeth Bennet?' Or knowing Barbara as we all do, she may be telling Jane how things should have turned out."
It was Levenson's inclusion of one particular Pride & Prejudice quote that raised hackles on Janeites everywhere, however. After telling the funeral attendees that Pride & Prejudice was Bush's favorite book, the rector said, "Jane Austen used one of her characters in that book to utter a wonderful truth: 'I declare there is no enjoyment like reading. How much sooner one tires of anything than of a book.' Reading . . . was, as you know, Barbara Bush's great passion."
Jane Austen fans know that the quote comes from Caroline Bingley, who is among the top three most unlikeable characters in Pride & Prejudice. The full quote reads as follows:
"Miss Bingley's attention was quite as much engaged in watching Mr. Darcy's progress through his book, as in reading her own; and she was perpetually either making some inquiry, or looking at his page. She could not win him, however, to any conversation; he merely answered her question, and read on. At length, quite exhausted by the attempt to be amused with her own book, which she had only chosen because it was the second volume of his, she gave a great yawn and said, 'How pleasant it is to spend an evening in this way! I declare after all there is no enjoyment like reading! How much sooner one tires of anything than of a book! When I have a house of my own, I shall be miserable if I have not an excellent library.'
No one made any reply. She then yawned again, threw aside her book, and cast her eyes round the room in quest for some amusement."
Although Rev. Levenson's gaffe is kind of a big deal — one can only imagine Bush casting a fair dose of shade on him from the afterlife — it doesn't come close to the other notable time Caroline Bingley was misquoted for Austen-repping purposes. When the U.K. unveiled a new £10 note featuring Austen's likeness in 2013, the author's fans were quick to point out that the note's designer had included the disingenuous quote beneath Austen's bust. From The Guardian:
"The trouble is that these words are spoken by one of Austen's most deceitful characters, a woman who has no interest in books at all: Caroline Bingley. She is sidling up to Mr Darcy, whom she would like to hook as a husband, and pretending that she shares his interests. He is reading a book, so she sits next to him and pretends to read one too."
Now, I'm no P.R. expert, but I think that quoting a toxic character like Caroline Bingley when one is trying to emphasize a late woman's love of books and Austen is... a blunder, at the very best. It's not the end of the world, of course, but it's also not the most worthy of tributes to a fallen Janeite. The Pride & Prejudice fandom won't kick Rev. Levenson out of the ball, but we won't invite him to dine any time soon.