Caroline Flack's Ex-Fiancé Just Made The Most Shocking Post-Break Up Confession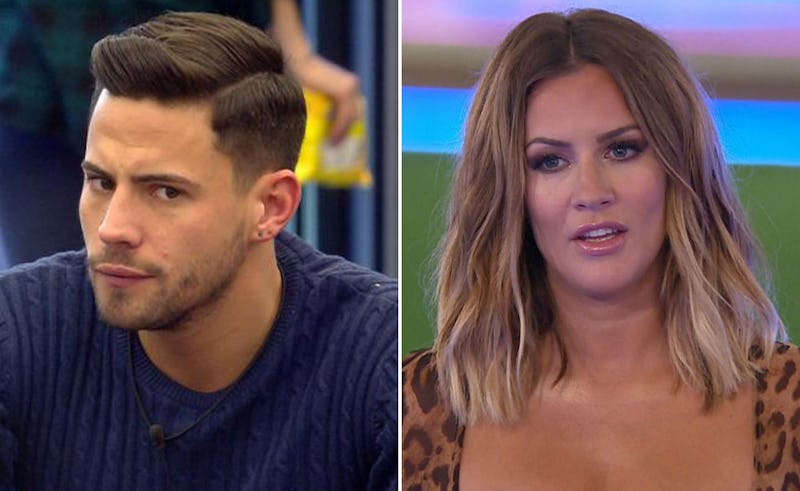 Channel 5/ITV
It's been a tough week for Love Island's leading lady. After publicly discussing potential wedding plans, Caroline Flack and Andrew Brady called off their engagement. Now, he's being called out on social media by Flack's loyal army of fans, who are questioning whether he was ever serious about the Love Island presenter in the first place. Rumour had it, just days (possibly hours) after the break-up, he met up with telly bosses behind the reality show Celebs Go Dating. But surely that couldn't be true? He wouldn't do that to Flack so soon, would he? Erm, well, he's spoken out to set the record straight and I'll be honest with you, I'm speechless.
So, what huge post-breakup error has Brady committed to induct him into the hall of infamy? Well, I can't believe I'm even writing this — I was Tyra Banks ANTM Season 4 rooting for this kid — but it turns out, he really has gone and had a meeting with Celebs Go Dating producers, the very day after he and Flack separated. One. Day. After.
For those not in the know, Celebs Go Dating is an E4 reality dating series that matches celebrity singletons up with potential civilian suitors via the works of a celebrity dating agency, which is run by Nadia Essex. Previous contestants on the series have included the likes of Joey Essex, Charlotte Dawson, Stephanie Pratt, Mike Thalassitis, Sam Thompson, Gemma Collins, and Ollie Locke.
And, for a not-so- hot second, it looked as though Brady was going to next in line.
Speculation about Brady's possible appearance on Celebs Go Dating is thought to have begun following a private and pretty irate Facebook post written by Flack, in which she appeared to confirm Brady had been meeting with producers of the E4 series. The Express reports she wrote: "When you find out your fiancé had been planning a meeting to go on Celebs Go Dating, and has the meeting the day AFTER you break up."
Incredulously — because I totally would have denied it — Brady then addressed Flack's claims on Twitter, and admitted that yeah, he did have a meeting with Celebs Go Dating producers after his split from Flack. Oh, but he realises (now that the information has been made public) that the meeting "was wrong."
Well. Obviously.
"I never comment on media speculation or stories," he wrote. "But in this instance I feel it necessary to. Yes I had a meeting [with] Celebs Go Dating after Caroline and I had separated. However, this was wrong. When someone has no money and nothing to lose they tend to do crazy irrational things."
Brady then added: "I am ashamed and trying to move on with my life. Please would you respect mine and Caroline's privacy and not try and speculate on who said or did what."
Well I never. Both the meeting and Brady's subsequent confession are pretty shocking, given Flack's engagement ring finger is presumable still warm and they didn't depart on completely terrible terms, as she did actually wish Brady well as recently as a few days ago.
So, why would Brady do that to the woman he was planning to marry? I mean, seriously. Ouch.
Tellingly, while Brady was busy meeting Celebs Go Dating producers in the immediate days following their split, Flack was liking tweets about people revealing their "unfavourable personality", reports the Mirror, which certainly suggests she may have seen something in Brady she hadn't before and straight up, didn't like.
Whatever the reason, it's the real world equivalent of finding your ex-fiancé on a dating app one day post your break-up — and is sucky behaviour regardless.