Why Caroline Rhea Decided To Play Aunt Hilda In 'Sabrina The Teenage Witch' Is Relatable AF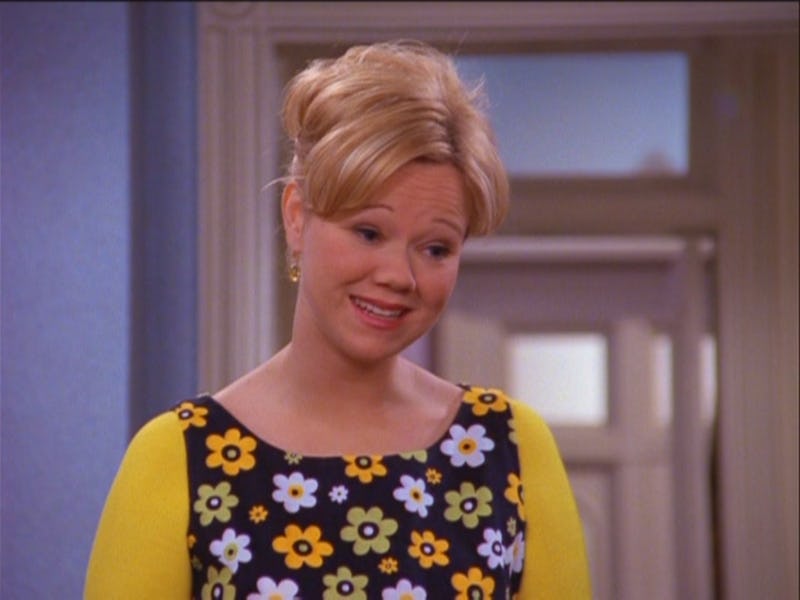 CBS Television Distribution
Sabrina The Teenage Witch wasn't just compulsively watchable for its tiny blonde protagonist, but thanks to her bubbly aunts. So the reason why Caroline Rhea aka Aunt Hilda joined Sabrina The Teenage Witch in the first place will most likely only contribute to any sane reader's love for those characters and reinforce that the actor was the perfect fit for the role of Sabrina's unlucky-in-love aunt, Hilda.
From the sounds of what Rhea told Entertainment Weekly, it seems like she was mainly prompted by an awful breakup. She explains that, at the time, she had "a horrible boyfriend" and they went on holiday to Hawaii together. The relationship was so unhappy that they broke up even before the pictures from the vacation had been developed — and those photos were Polaroids, she quips. Around the time she returned, Rhea described how:
"...my friend [creator of Sabrina The Teenage Witch] Nell Scovell called me and she had created this show and she said to me, 'Caroline, why did you pass on the show? I think you would really love it' and... I go, 'Tell me about the character' and she said, 'She's a witch and she's recently imprisoned a man who didn't love her in her ring and I was like, 'I'll do it'."
This visceral identification with the sort of witch who would imprison a terrible ex in a piece of jewellery makes the actor a shoo-in for the part of Aunt Hilda, whose love life was pretty dispiriting until close to the end of the series.
When we first meet the Spellman sister in Season 1, she's still bemoaning the end of her relationship with Drell, the head of the Witches Council. Which sucks, because her ex-fiancee is a real tool — he stood her up at the altar. But things don't get any easier once she makes peace with the fact that she's never getting back together with Drell. Apparently, Westbridge is so short on single dudes that even dating Sabrina's middle-aged, lethally dull principal appeals to Hilda, at least for a bit — and, further proving the fact that the town is a sausage famine, even her sister Zelda dates Hilda's ex after they split up.
And, of course, Hilda goes through a lot more dudes before she finds the person she's meant to be with, including Mr. Kraft's brother. Clearly, the Sabrina The Teenage Witch universe is very pre-Tinder and there are no new people to date, just your ex's siblings. Eventually, the younger of the aunts finds her soulmate, Will, at the mall in Season 6. But, up until that point, there's plenty of romantic distress.
The show was always canny about taking metaphors and bringing them to life. Thus, in a storyline that might now feel more painful than watching it first time round as a child or teenager, there was the horror of Hilda's biological clock starting to tick all too fast in Season 5 after a visit from friends who had become parents, so much so that Sabrina takes it to be mended in the Other Realm. This coincided with what seemed like a pretty open and shut case of empty nest syndrome; Sabrina had just left home and Hilda was so restless that she bought her own coffee shop and there was a palpable impatience on the part of the aunt for some sort of forwards motion in her life.
Of course, things worked out for both Rhea and Hilda. According to People, at the age of 44, Rhea had a daughter with the comedian Costaki Economopoulos, Ava. And Hilda ended up with the personification of normcore, but one she worshipped, mall guy Will. But having that experience clearly made Rhea a better Hilda. The actor is funny and scathing and sad about the experience of dating a lot of douchebags, so clearly the Hawaii holiday was invaluable in terms of method acting.