You Can Own A Piece Of Carrie & Debbie's Legacy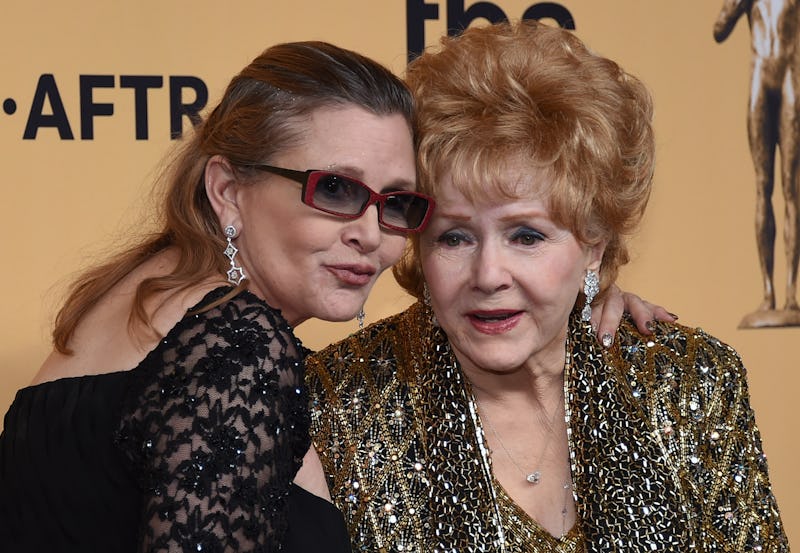 Ethan Miller/Getty Images Entertainment/Getty Images
Carrie Fisher and Debbie Reynolds were both Hollywood legends, and the mother-daughter pair lived up to that name — literally, in a compound next door to each other in Hollywood. Now, after their deaths one day apart from each other in December, Fisher and Reynolds' collections of memorabilia are being put up for auction in September, as Yahoo! reports, offering friends, fans, and lovers of the movie business a chance to mine their wonderful and vast personal museum. The two women's homes full of treasures that show just how eccentric, charming, and legendary they were. There will be a staggering 1,500 items up for auction.
Among the most biddable items will surely be Fisher's Star Wars collectibles. The most intriguing, according to The Guardian, is a life-size Princess Leia statue, coming out of a British-style phone booth. Priceless. There's also her director's chair from the set of Return of the Jedi, a bronze statue of the adorable droid R2D2, and a C-3PO replica "electronic lighting elements.'" Out of this world.
Reynolds, who died on December 27 of a cardiac arrest just a day after her daughter, was a giant in preserving Hollywood fashion. Beginning in 1970, the movie star started preserving film costumes and memorabilia. She started her collection in 1970 with MGM Studios was planning on auctioning costumes, props, music, and scripts, and she spent all her savings to buy as much as she could to save history, according to The Hollywood Reporter. "They literally threw away our history, and I just got caught up in it," Reynolds told THR in 2013. "The stupidity and the lack of foresight to save our history."
Over the decades she came to own iconic pieces like Marilyn Monroe's infamous white halter dress from The Seven Year Itch, Charlie Chaplin's bowler hat, Audrey Hepburn's ascot dress from My Fair Lady, five of the Rat Pack's tuxedos, and Orson Welles' fur coat from Citizen Kane. She opened a museum in the '90s, which sadly went bankrupt, and tried five times to get the Academy of Arts and Sciences to house the collection, which didn't happen. That's when she began auctioning off her collection.
Profiles in History, which will be handling the auction, lists some of the most impressive items from her collection up for bid: the lavender silk chiffon dress Reynolds wore in Singin' In The Rain, her stage costume from Annie Get Your Gun, a pair of replica ruby slippers from The Wizard Of Oz, a hand-carved harp from the set of Cleopatra, and Francis Ford Coppola's camera used on The Godfather.
It's an awe-inspiring collection, but it makes perfect sense that these two women had amassed such a personal museum. Fisher, who wrote several autobiographies in her life as a writer, was "weird and wonderful," as her friend and one-time tenant James Blunt described her. Fisher had an open heart and big spirit and she hosted in her Hollywood home countless friends, artists, and others that needed a refuge. As she said in an interview about her home in 2004 with Architectural Digest, her guesthouse has seen the likes of the "famous and near famous: the well and those in need of healing, addicts, depressives, those being treated for cancer and HIV, those just passing through. There's been anything and everything holed up in this Hollywood-style hacienda."
Fisher and Reynolds' home full of treasures preserves their senses of humor, and their love of life. And now some lucky bidders will get to hold on to some of that joy, which is what they would have wanted. Some of the proceeds will go to mental health charities, including Reynolds' charity The Thalians and The Jed Foundation, which works to prevent teen and young-adult suicides and was chosen by Fisher's daughter, Billie Lourd.