'Star Wars' Legend Carrie Fisher Has Died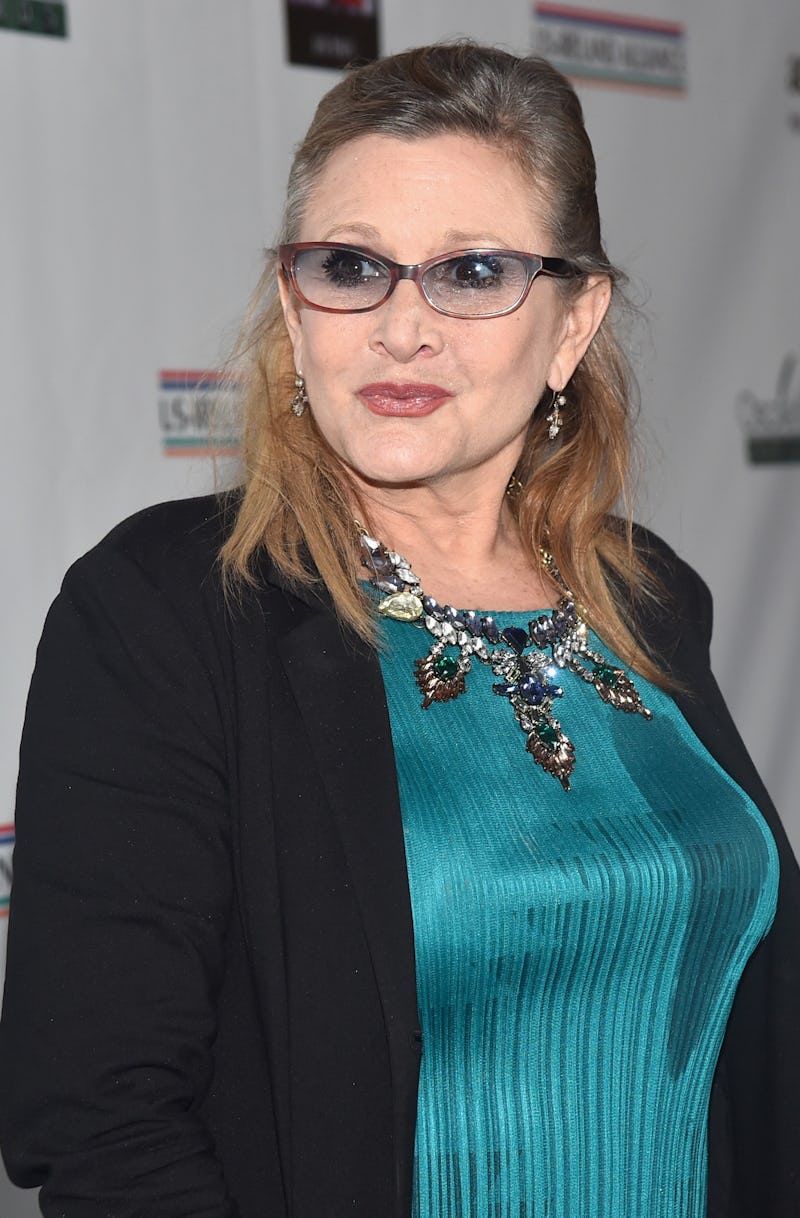 Alberto E. Rodriguez/Getty Images Entertainment/Getty Images
It's a tragic day in Hollywood: Carrie Fisher has died at age 60, after suffering a massive heart attack on a flight from London to Los Angeles on Friday. A spokesperson for her family released the following statement to People on behalf of Fisher's daughter, Billie Lourd:
It is with a very deep sadness that Billie Lourd confirms that her beloved mother Carrie Fisher passed away at 8:55 this morning. She was loved by the world and she will be missed profoundly. Our entire family thanks you for your thoughts and prayers.
Best known for her work in the Star Wars franchise, Fisher will forever be remembered by fans for her iconic role as Princess Leia. An actor and writer, Fisher was in the middle of a book tour for her latest memoir The Princess Diarist when she passed away. Fisher is survived by her daughter, Lourd, who had a role alongside her mother in 2015's Star Wars: The Force Awakens.
While it is hard to separate Fisher from the smart, fiery Princess Leia, her career stretched far beyond a single role. Over her five decades in Hollywood, Fisher starred in classics like Hannah and Her Sisters, When Harry Met Sally, and Shampoo. Her work also extended to television, where she most recently starred as Sharon Horgan's mother-in-law in Amazon's Catastrophe.
Fisher was just as passionate about putting pen to paper as she was about being in front of the camera. In addition to The Princess Diarist, she also wrote the book and screenplay Postcards from the Edge, and Wishful Drinking, which she turned into a one-woman show. Whether she was acting or writing, Fisher's natural wit was irrepressible.
Life was not always easy for Fisher who suffered from bipolar disorder. She was always open about her struggles with mental illness and addiction. Because of her personal struggles, Fisher became an activist for mental health awareness, as well as LGBTQ rights. In 2016, Harvard awarded Fisher with the Outstanding Lifetime Achievement Award in Cultural Humanism for "her forthright activism and outspokenness about addiction, mental illness, and agnosticism have advanced public discourse on these issues with creativity and empathy."
Fisher led a fascinating, tumultuous life that she was more than willing to share with the world. For many fans, separating Fisher and Princess Leia will always be impossible. The iconic princess with political savvy and a sharp tongue inspired generations of young women. Because of Fisher and Leia, no little girl who has seen Star Wars will ever question whether or not she can be a princess and a hero, and that is a beautiful accomplishment that always seemed to make Fisher proud.
While some actors shy away from the fame associated with genre film work, Fisher embraced her fans and the role that made her famous. Though she is gone, the Force was always strong in Fisher and her legacy will live on.