Carrie Fisher Was Honest About Debbie Reynolds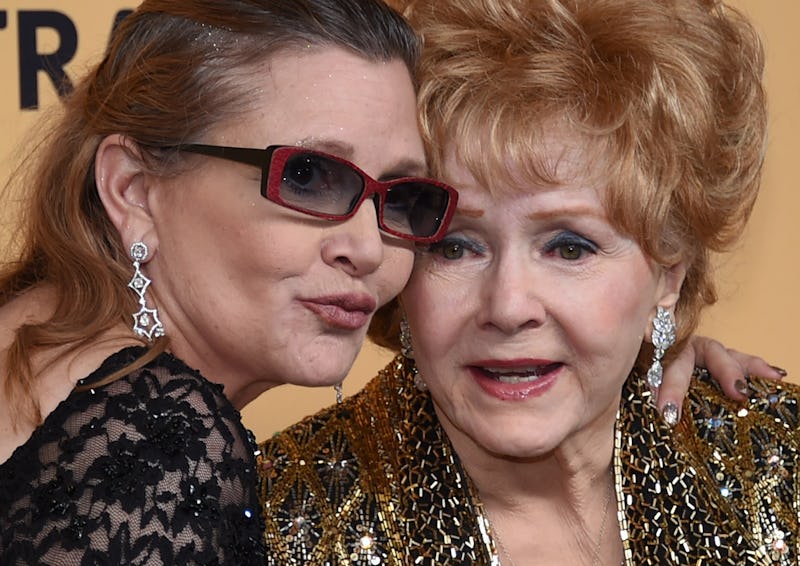 Ethan Miller/Getty Images Entertainment/Getty Images
On Wednesday, actress Debbie Reynolds reportedly passed away, just one day after her daughter, actress Carrie Fisher, also died. Although they paralleled each other with acting careers, the mother-daughter duo didn't always share a picture-perfect red carpet relationship. In reflection, the complicated-but-likely-relatable story of their relationship is probably best summed up by Fisher's quotes about Reynolds and Eddie Fisher, Carrie's father.
Fisher died on Tuesday at the age of 60. She had suffered a cardiac emergency a few days earlier and was hospitalized. Reynolds, who was 84 years old, was hospitalized on Wednesday and reportedly suffered a stroke. Their near-simultaneous deaths shocked and saddened the American public, who had come to know Fisher and Reynolds through their bright and renowned film careers. Reynolds starred in such movies as Singin' in the Rain and How the West Was Won, while daugther Fisher followed in her mother's footsteps, appearing most prominently in the Star Wars series as Princess Leia.
Meanwhile, Eddie Fisher, who passed away in 2010, was a famous recording artist. He is likely best known for his divorce from Reynolds, after which he married Elizabeth Taylor. The Fisher-Reynolds family certainly shared a success streak in the entertainment industry, but as Carrie's own words show, their off-screen and off-stage relationship was a complicated evolution.
On Fame
In a 2011 interview with Oprah Winfrey, Fisher alluded to a lesson she learned from growing up around famous parents. "Eventually all fame will disappear, and I watched that happen," she said. "So I never wanted to go into show business… I watched that be heartbreaking." Clearly, Fisher herself did go into show business, but she left the rose-colored glasses behind.
On Being Her Mother's Daughter
In the same Oprah interview, Fisher characterized her relationship with Reynolds as "volatile."
We had a fairly volatile relationship earlier on in my 20s. I didn't want to be around her. I did not want to be Debbie Reynolds' daughter.
To that, Reynolds responded, "It's very hard when your child doesn't want to talk to you and you want to talk to them."
On Princess Leia
"A lot of parallels, me and Leia," Fisher mused to Rolling Stone in 1983. "Dad goes off to the dark side, and Mom marries a millionaire." Fisher was often brutally honest about her parents' relationships — with each other, with their subsequent spouses, and with her.
On Her Sense Of Humor
"If it relates to me, it's fair game," Fisher told Time Out New York in 2008 about her sense of humor. Despite the tumultuous relationship with her famous family, Fisher was able to make light of the situation. And she didn't often shy away from talking about it.
On Happiness
Fisher and Reynolds culminated their 2011 Oprah interview — and perhaps their mother-daughter relationship — on a happy note, literally. Fisher recognized that despite their ups and downs, she learned how to be strong, independent, and happy from her famous mother.
What I say about being happy is that I am 'also happy.' I'm happy among other things. Happy is one of the many feelings or experiences that I will have throughout a day. I think happy has been sort of made into this Hallmark card of a word, and I don't know what that means. So I will just say that I enjoy my life, I make choices, I do what I want to do. I am a strong person, I'm not afraid of almost anything, and that's a lot because of your example
Together, Fisher and Reynolds encountered Fisher's mental illness, her struggle with drug addiction, and Reynolds' very public falling out with her daughter's father. Clearly, it wasn't always a Hallmark Channel movie relationship, but it was a genuine mother-daughter relationship that often wasn't masked by the bright lights of Hollywood. As Fisher and Reynolds both passed away unexpectedly, the legacy of their relationship shows that imperfection can ultimately lead to happiness.