Carrie Fisher's Mother Debbie Reynolds Passes Away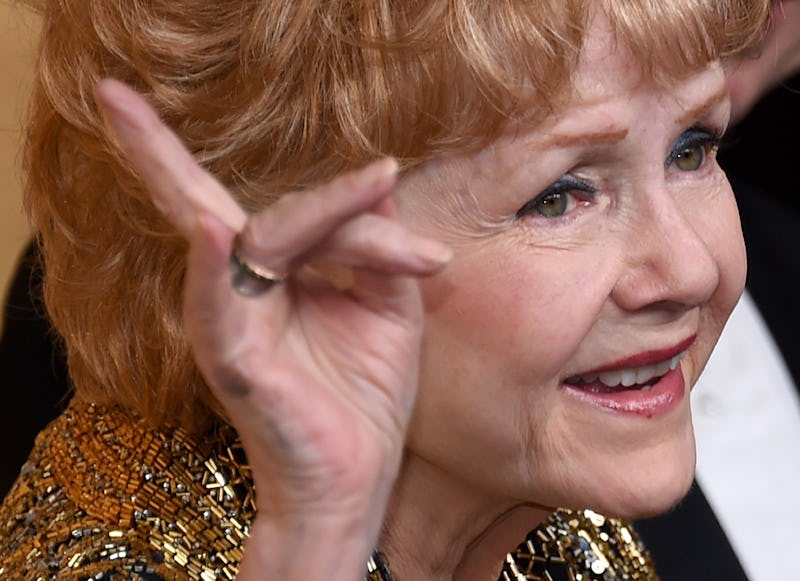 Ethan Miller//Getty Images
It appears that 2016 felt like it hasn't taken enough from us already. On Wednesday, TMZ announced that Debbie Reynolds reportedly passed away at the age of 84, after being rushed to the hospital for a possible stroke. The reported stroke came only a day after her daughter Carrie Fisher passed away after also being rushed to the hospital. In fact, according to TMZ, Reynolds was at her son Todd Fisher's house helping to plan Fisher's funeral when the stroke happened. This is a truly tragic situation, not just for fans, but also for the family, who lost two strong and powerful women in the same week.
Like her daughter, Reynolds was an actor, an entertainer, and a humanitarian. Not only was she in the 1952 classic Singin' In The Rain, where she sang her way into the hearts of damn near everyone, but she also starred in her own show — The Debbie Reynolds Show — and picked up a Golden Globes nomination. On top of that, she has an honorary Doctor of Humane Letters from the University of Nevada, Reno; is a published author thanks to the memoir Debbie: My Life (1988) and Unsinkable: A Memoir (2013); and established the Debbie Reynolds Studio for dancers, which has seen the likes of everyone from Lucille Ball to Mariah Carey.
Perhaps even more tragically, a documentary starring Reynolds and Fisher was screened at the 2016 Cannes Film Festival, and is slated to air on HBO in 2017. Entitled Bright Lights: Starring Carrie Fisher and Debbie Reynolds, it was already going to be hard to sit through due to the loss of Fisher alone. After losing both Reynolds and Fisher in the same week, I might cry all the way up to the documentary, to be totally honest with you.
Reynolds is survived by her son, Todd, and her grandchildren. She will truly be missed.