Carrie Underwood Explained Exactly How Her Injuries Happened & It Was Terrifyingly Simple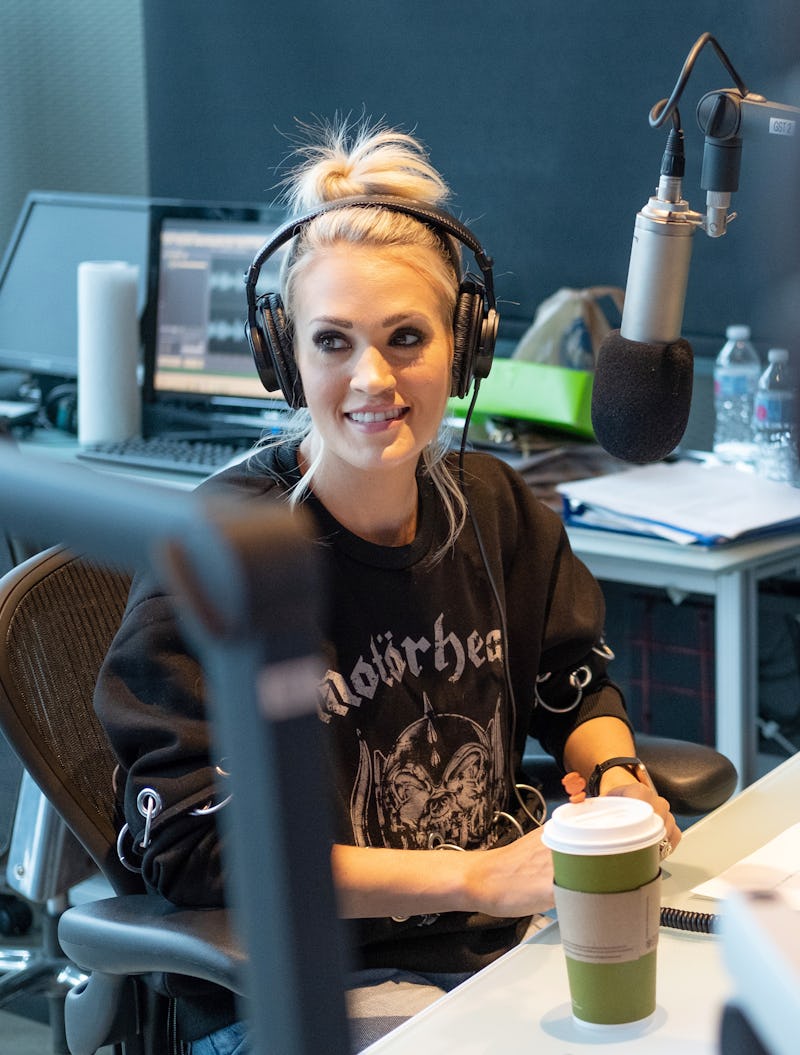 Jason Kempin/Getty Images Entertainment/Getty Images
Carrie Underwood is opening up even more about the terrifying injury that caused her to take a step back from the spotlight. As Hollywood Life noted, Carrie Underwood discussed more details about her injuries during her time on The Bobby Bones podcast. The singer was not afraid to explain exactly what happened with the stressful ordeal she went through.
In November 2017, Underwood fell, which caused her injuries. But, on the podcast, she shared more details about how the unfortunate moment went down. While on the podcast, she explained, "I fell down … I was taking the dogs out ... And I just, I tripped." The singer continued, "There was one step and I didn't let go of the leashes. Priorities! So, that's why my left hand is fine. But, I went to catch myself and I just missed a step. If I had fallen anywhere else I would've been perfectly fine. But, there was one step that messed everything up."
She went on to say that she thought that the accident only left her with a busted lip, but that was obviously not the case. As she previously mentioned to her fans in January, her fall left her with over 40 stitches on her face and a broken right wrist, per E! News.
Underwood said that it wasn't easy to have an injured right hand saying that it "can throw off your world, having an appendage that is there, but that you can't use." She did say that she was "fortunate" that she was able to take some time for the injuries to heal properly. "I was lucky that when it happened, everything was kind of shutting down in the music world and we had the holidays and stuff like that." But, she also said that she's been ready to resume her normal life again after the accident.
(In the video below, Underwood starts explaining the injury around the 7:50 mark.)
And Underwood has been getting right back into the swing of things with her music. The singer made her first public appearance since the accident on April 15 at the American Country Music Awards. At the awards show, she performed an incredibly moving performance of her single "Cry Pretty," which is about overcoming obstacles. Underwood received a standing ovation for the rendition of her song, which is the lead single on her upcoming Cry Pretty album. Considering that the performance served as the first one after her accident, it was an especially emotional choice of song.
Before her comeback performance, Underwood shared a photo with her fans that showed the progress she's made post-injury. The day before the ACM Awards and during her rehearsal for her performance, the singer posted a selfie on Instagram that had a clear view of her face. It was Underwood's first selfie in months that showed her face, which is where she received 40 stitches. It was an amazing sign that Underwood was moving right along in her recovery from the accident.
Underwood first opened up about the injury soon after it occurred in November 2017. The injuries caused her to have to cancel her appearance at the Country Rising benefit concert in Nashville on Nov. 12, according to The Tennessean. The singer later tweeted that she appreciated her fans' "well wishes" and that it would "take some time" for her to feel better. She later explained via Twitter that she was still in recovery mode after having surgery on her wrist.
In an emotional letter to her fans on Jan. 1, Underwood explained that she was still healing after the accident but that she was "coming along," according to E! News. She went on to say that she experienced a facial injury in addition to breaking her wrist. The singer did not share the "gruesome details" but said, "here we are 7 weeks later and, even though I've had the best people helping me, I'm still healing and not quite looking the same." Her statement to her fans ended on a positive note, though, as she said she was determined to "make 2018 amazing."
Considering Underwood's journey to recovery, and the new details she provided about the injury, it's nice to see that the singer is in a much more positive place now.