Carrie Underwood's Emotional ACM Awards Performance Will Remind You She's Truly Unstoppable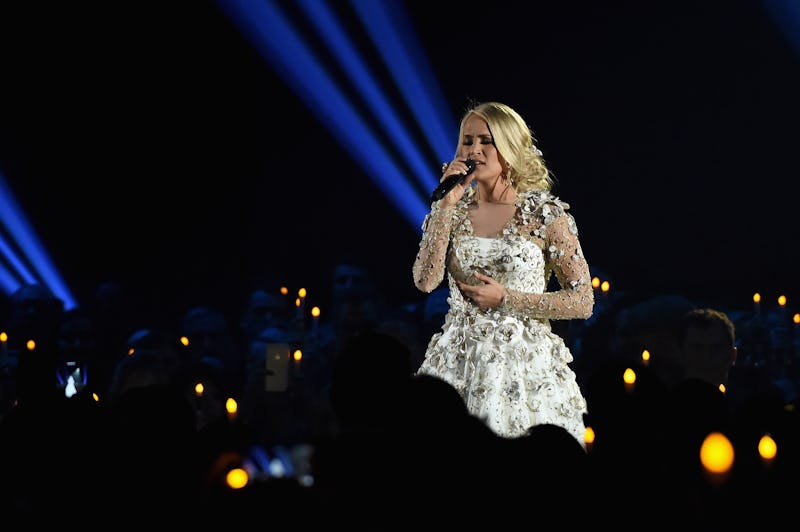 Rick Diamond/Getty Images Entertainment/Getty Images
Carrie Underwood just gave her first performance since suffering a face injury in November, and the video will have you cheering. Underwood's 2018 ACM Awards performance earned her a standing ovation, and it's easy to see why. The country star has been staying out of the spotlight ever since suffering her fall, but her performance on Sunday shows that she's stronger than ever.
After a serious fall in November, Underwood had more than 40 stitches in her face. She also had wrist surgery in November after the accident. In January, Underwood shared more details with fans, revealing in a statement that she was "still healing and not quite looking the same." According to Underwood's statement, the incident happened after she "tripped and fell," which led to facial injuries as well as a broken wrist.
Last week, Underwood made a music comeback, five months after the fall. Underwood released her new single "Cry Pretty," a moving ballad about overcoming obstacles. In light of everything, it was only fitting that Underwood performed "Cry Pretty" at the ACM Awards in Las Vegas. The performance was beautiful and moving, and the crowd (as well as the fans watching at home) loved seeing Underwood singing again.
Underwood's rendition of "Cry Pretty" at the awards show was emotional and raw, so it's no surprise that she brought the audience to their feet. After all, the chorus of the song is incredibly moving:
"You can pretty lie and say it's okay
You can pretty smile and just walk away
Pretty much fake your way through anything
But you can't cry pretty"
Whether or not the song is explicitly about her struggles after the accident, anyone who's gone through hardship can relate to the song's lyrics about how "you can't cry pretty." Sometimes, you have to just feel the pain.
Underwood's performance wasn't the only big part of the evening for her, either. Just after she finished her set, she and Keith Urban won the ACM Award for Vocal Event of the Year, for their collaboration on the song "The Fighter." Underwood was also nominated for Female Vocalist of the Year, but that honor ultimately went to Miranda Lambert.
Before the ACM Awards and the release of "Cry Pretty," Underwood was, for the most part, laying low. Here's the statement Underwood gave fans about her recovery in January:
"In addition to breaking my wrist, I somehow managed to injure my face as well. I'll spare you the gruesome details, but when I came out of surgery the night of my fall, the doctor told Mike [her husband, Mike Fisher] that he had put in 40-50 stitches in. Now, here we are 7 weeks later, and even though I've had the best people helping me, I'm still healing and not quite looking the same."
She also hasn't shared many photos on Twitter and Instagram since the fall. But just before the ACM Awards, the "Jesus Take The Wheel" singer shared a close-up shot of her face from a rehearsal for the awards show, proving she's ready to be back in the spotlight and performing once again.
Earlier this month, Underwood also shared an Instagram photo of herself rehearsing with her band members. "Missed these guys. #bandrehearsals," she captioned the photo. It's clear that she's more than ready to be back in the music game.
It's great to see that Underwood has continued to recover from her fall, and that she's keeping a positive attitude about everything that's happened. She may have been injured, but there's clearly no keeping Underwood down. Even if you have to cry sometimes, and it's not pretty, you can still get back up afterward, and Underwood's ACM Awards performance perfectly demonstrated that fact.