The Big Problem With Speculating Whether Carrie Underwood Got Plastic Surgery After Her Injury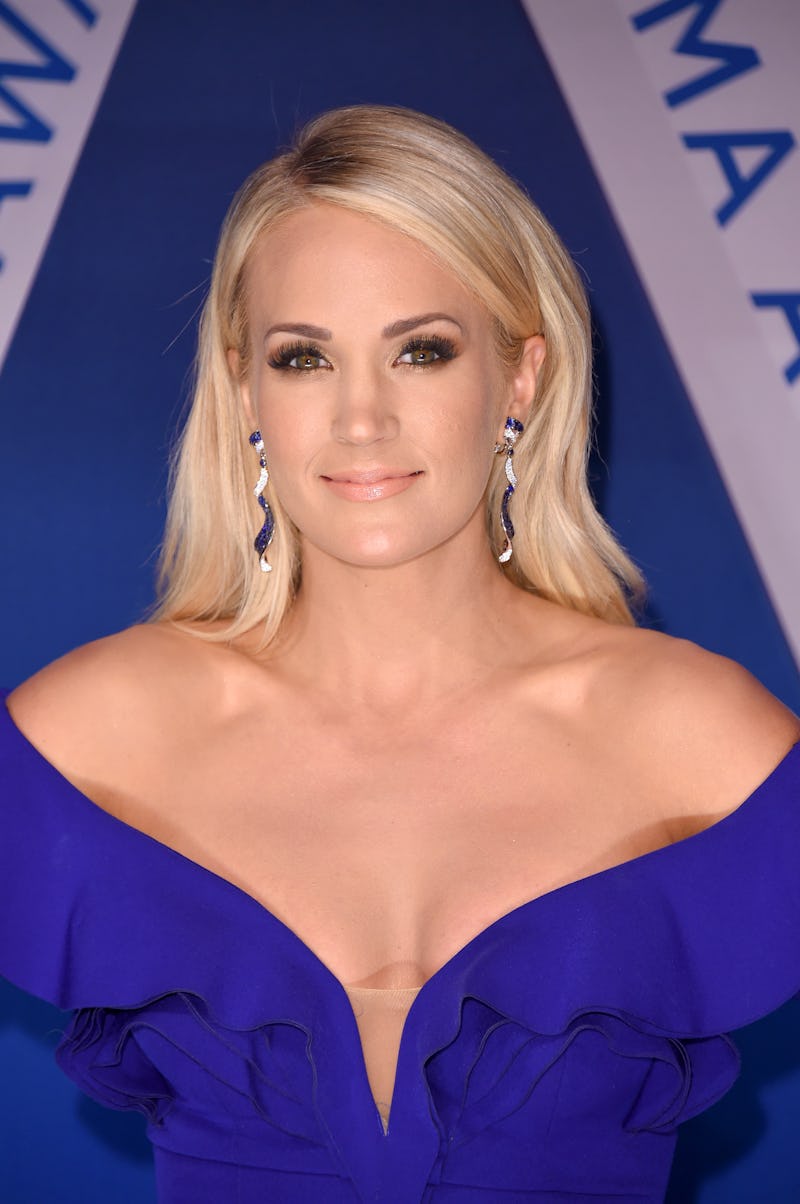 Michael Loccisano/Getty Images Entertainment/Getty Images
In case you missed it, Carrie Underwood announced that she had a nasty fall at the end of 2017. While Underwood is healing just fine, she says she seriously injured herself — and banged up her face — in the accident. Now, a recent fan photo is going viral and has fans thinking that Carrie Underwood might have had plastic surgery at the end of 2017. While some are outraged at the prospect, many are pointing out that plastic surgery would be completely normal after a serious injury.
Underwood has been out of the public eye besides her half-faced Instagram selfie announcing the fall on Dec. 28. The fall left her with a broken wrist and facial damage. But Below Deck's Adrienne Gang caught up with the singer and posted a photo on Twitter after a workout sesh. Now, the rumor mill is flying.
Underwood doesn't appear to look much different to her pre-fall self in the photo, which is leading people to think that she got plastic surgery post-fall. The star has not commented on whether or not she got plastic surgery.
In a statement after the Nov. 10 fall Underwood wrote, "In addition to breaking my wrist, I somehow managed to injure my face as well. I'll spare you the gruesome details, but when I came out of surgery the night of my fall, the doctor told Mike [her husband, Mike Fisher] that he had put in 40-50 stitches in. Now, here we are 7 weeks later, and even though I've had the best people helping me, I'm still healing and not quite looking the same."
After an injury like that, it would be completely normal for Underwood to go through plastic surgery. First of all, as Health Magazine says, there's no way to actually know how much damage was done from the fall. The publication talked to plastic surgeon Daniel Y. Maman, MD, who said that the amount of stitches differ depending on where on the face they are needed.
Additionally, the resulting scarring is dependent on how fast after the injury they're treated — and treatment could include reconstructive surgery. "There are a lot of things we can do in the long-term for scar optimization, but there's no question that the best scarring results from the best repair in the short-term," Dr. Maman told Health Magazine.
According to Gang's Twitter, Underwood had no signs of scarring and "looked amazing" when she saw her at the gym. In fact, the Below Deck star claims that she didn't even know about the fall.
Underwood made it clear that she went to be treated as soon as the fall happened. So, with what is being said about scaring, it would make complete sense that she has no scarring months after the injury.
Underwood discussed the surgery on her wrist on Twitter in November 2017. While it's possible that she needed plastic surgery on her face as well, there's a bigger part of this conversation that needs to be talked about: Reconstructive surgery after an injury is completely normal. According to Dr. Joseph A. Racanelli's website, "plastic surgery was originally designed to help people recover from physical trauma."
Although the meaning of the word "plastic surgery" has changed over time, the procedures are still the same. Dr. Racanelli even states on the website that it is used as a coping mechanism for people who have gone through a traumatic event — like Underwood's "gruesome" fall.
But the bottom line here is that it is Underwood's body and her choice. She shared at the end of her statement that she's "determined to make 2018 amazing" — and how she does that through her recovery is completely up to her.