'Cars 3' Star Armie Hammer Says His Daughter Changed Him In A Big Way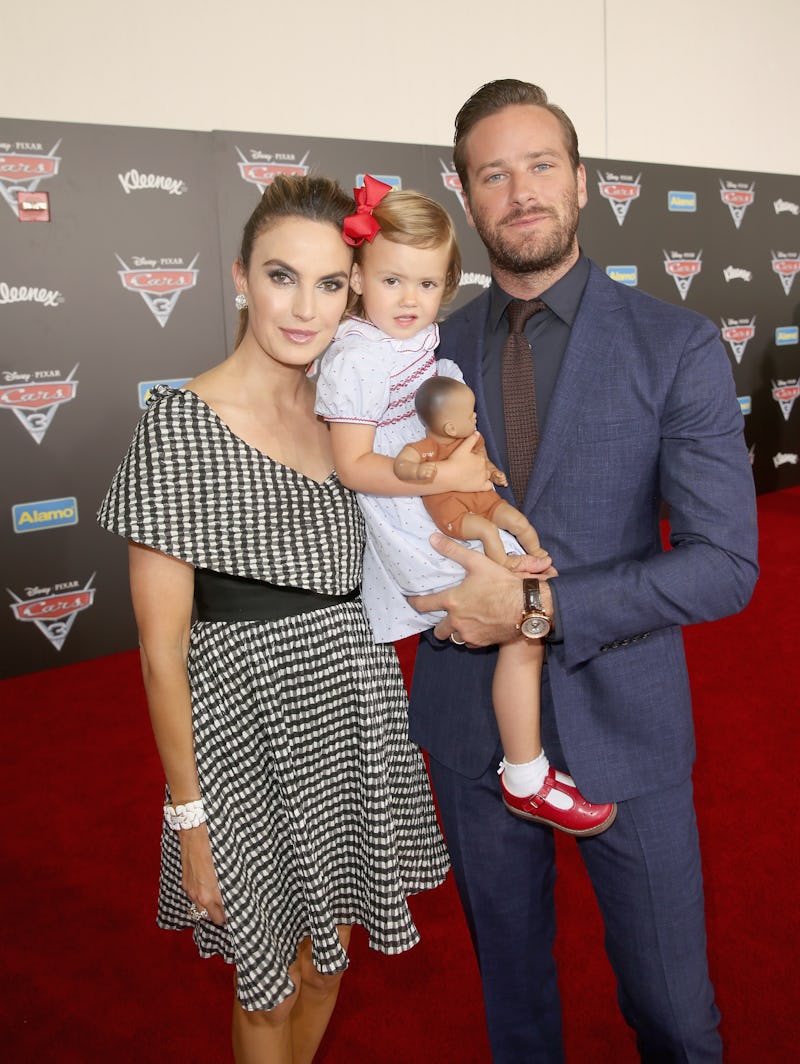 Jesse Grant/Getty Images Entertainment/Getty Images
Disney's latest Cars installment, Cars 3, is an uplifting and refreshing spin on female power, but star Armie Hammer gets an education of his own at home. As a dad to his two-and-a-half-year-old daughter Harper and five-month-old son Ford, Hammer says the experience of fatherhood (as he puts it, being the "babysitter, bodyguard, cook, housekeeper"), has perhaps given him a new lease on life. Witnessing day-to-day life, particularly through his young daughter's eyes, has not only enhanced and shifted his view of the world, but of himself. I sit down with the actor a few days before the film's premiere on June 16, who explains how he works hard to raise a kick-butt female every day.
The film showcases the greatness that can come from mentorship when females take the reigns, as Lightning McQueen (Owen Wilson) passes the torch to his protege Cruz Ramirez (Cristela Alonzo). But in Hammer's case, it's the other way around as he's always learning from his young daughter.
"I'm relearning constantly with my daughter because she is like a fresh set of eyes seeing everything in the universe for the first time," he tells me. "So when she goes, 'What's that?' I go, 'Oh, that's a flower' she goes, 'Why?' and I go, 'Well, let's figure it out.'" And beyond googling plants and other miscellaneous objects, Hammer says his daughter has changed the way he navigates life.
"I'm aware of how crazy the world is, even more so now that I'm trying to bring a young, innocent life into it," he says. "I look at my daughter and she's nothing but pure potential. She's not jaded by anything. She hasn't been hurt by anything. She hasn't felt the pangs of embarrassment or abandonment. She's this pure little entity." Now he dedicates his life to protecting and raising a strong woman alongside his wife Elizabeth Chambers. "You realize how crazy the world is when you're trying to protect this thing."
And of course, raising Harper and her newborn brother has come with sacrifices, but it's all been worth it for the 30-year-old actor. "It's full-on being a parent. You are on-call all the time," he tells me. "You don't ever get a break, and it's wonderful. But it's exhausting." Being so selfless is perhaps the best thing that could've ever happened to him. "I have the thing where if someone puts a gun to my head, I know exactly what I'm gonna think about. Which is really nice, in a weird way," he says.
But of course, in the spirit of Cars 3, I wonder: What does Hammer want to pass on to his kids? For one, it's teaching them to be educated citizens of the world. He explains that his most risque film, a gay love story, Call Me by Your Name, is a film he can't wait to explain it to his children one day. "I don't want to be the kind of parent who overly shelters my kids so they don't know how the world works," he says. But that said, he doesn't want to set a perfect example either.
Hammer wants his kids to know that imperfection is OK. "There's a fallacy where as a parent people think you have to present yourself to your kids as a perfect superhero who never deals with anything," he says. "But that doesn't teach your kids how to deal with sh*t."
Above all, he wants to teach his kids to simply "be good, be happy, and worry less." As he says, "Life's too long to be miserable the whole time. And worry less, f*ck it."
As far as I'm concerned, Harper Hammer is one lucky girl.