How 'Cars 3' Empowers Women, According To Kerry Washington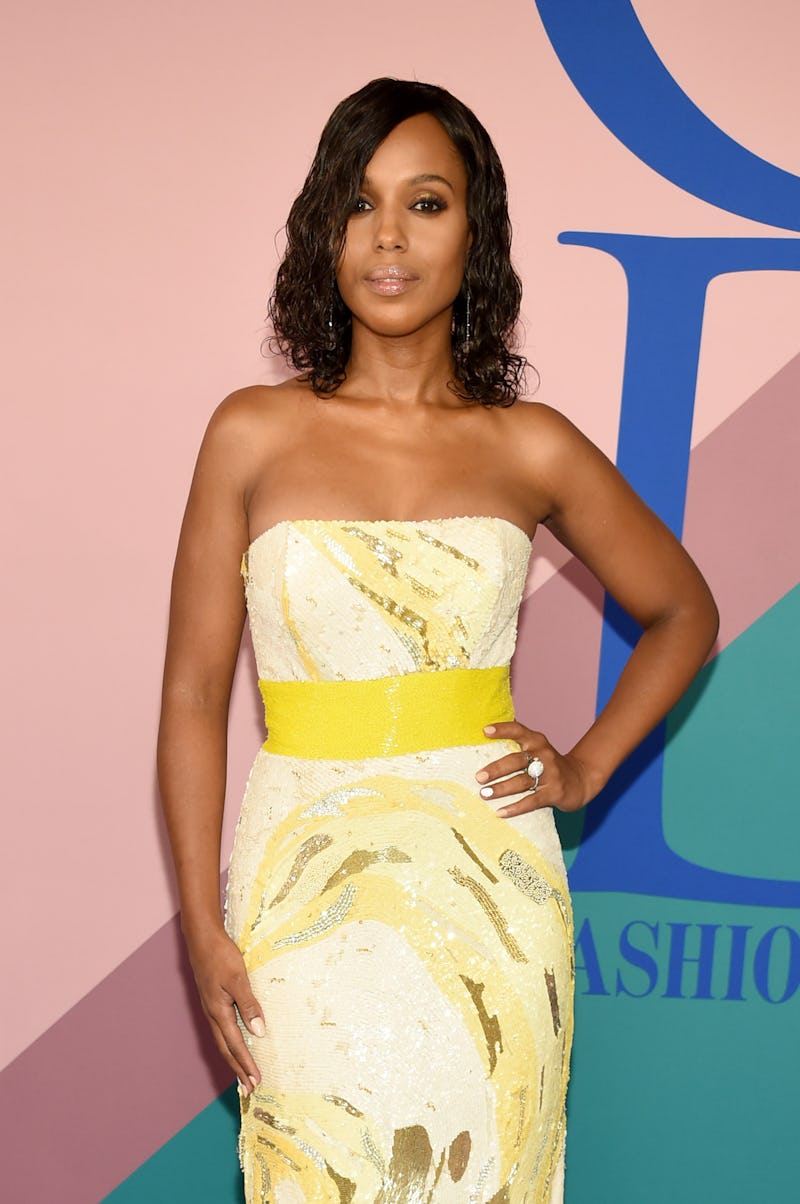 Dimitrios Kambouris/Getty Images Entertainment/Getty Images
Watching the star of ABC's Scandal, Kerry Washington, gush over joining the Cars 3 family is the most endearing thing I've seen in a minute. Washington, who plays TV personality Natalie Certain in the upcoming installment, can barely contain her excitement when telling reporters at the film's Los Angeles press conference how she's been a huge fan of the Disney/Pixar franchise for years. Scoring a role in Cars 3 (out June 16) was a dream come true for her, and seeing as how the film is possibly the most heartwarming and inspiring in the franchise, Washington is one proud woman to be able to share the story with her family.
The 40-year-old, who's known for being very private about her personal life and children, opens up about how watching the film with her mother and three-year-old daughter Isabelle was a profound moment. And there's reason why. The film follows car superstar Lightning McQueen (Owen Wilson), who finds himself getting beat by the much younger, newer, and faster cars. Spoilers ahead for Cars 3. While training to beat the new guys, he in turn mentors his trainer (a female car), passing the torch as his teacher Doc (Paul Newman) did to him. It's an uplifting yet grounded and relatable story for viewers of any age or gender.
Washington and her family can certainly relate. "I had the treat of watching the film with my mother and my daughter, which was really special," Washington says. "To have three generations of women watching this film so much about empowerment beyond gender and inclusivity for women, it also really resonated for all three of us." Washington calls her experience in the film an honor, "as a woman and a woman of color," because she can help tell such profound lessons that are important to get out there.
She explains how women are painted as intelligent beings, yet ones willing to learn. "It's fun to see women in the film who are brave and smart and courageous and also teachable," she says. "Women that balance having extraordinary talent and intellect but also are humble enough to learn the lessons they have to learn by the end of the film." The film promotes competition, but in the way it matters most. "It's not as simple as numbers. Heart and passion is the most important thing."
Washington also greatly appreciates how Lightning McQueen and his protege Cruz Ramirez (Cristela Alonzo) are treated as equals. The actor reflects on how this element makes the story so special:
Not that the girl beats the boy, but that they win together. That's such an important message that she wins, but they win together. There's room for the mentor and the mentee, the girl and the boy, the champion and the newcomer. When we work together, there's room for everybody at the table.
The actor points out that so many people can identify with being the underdog like Cruz's character. "What keeps the film so grounded, no matter what the specifics are about why they feel like an outsider... or unrepresented, no matter who that looks like, you can identity with Cruz," she says.
And while it's clear Washington would be an excellent mother and teacher, she of course nods to the mentor who's helped mold her as an actor and woman: her Scandal boss Shonda Rhimes. "It's great to have a mentor who's a friend and a mentor, but I really look up to her as a leader and a mom and a citizen of the world," she says. "I think she's pretty badass."
While Cars 3 advocates for people from all walks of life to achieve their dreams and defy the odds, it drives the point home that those who succeed probably wouldn't have without those who taught them. And that's a beautiful lesson for Washington, and any viewer, to pass on.