Casey Affleck Should Not Be Repping 'Manchester'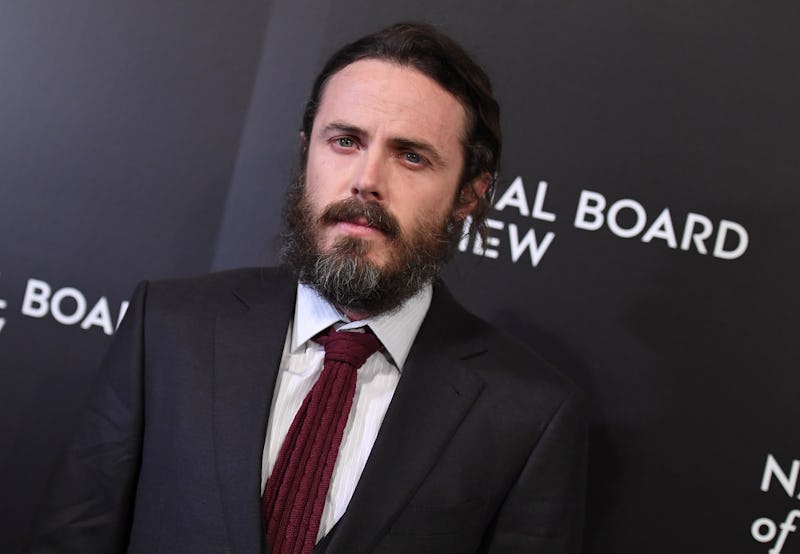 ANGELA WEISS/AFP/Getty Images
Although it's not considered as much of a frontrunner for the Best Picture Oscar as La La Land or Moonlight, Kenneth Lonergan's moving drama Manchester by the Sea is still a major contender in awards season. Starring Casey Affleck as a depressed Massachusetts janitor coping with the aftermath of an unspeakable tragedy, Manchester is a haunting, intensely powerful film that deserves to be seen and talked about. Yet it's distressing to see Affleck repping Manchester so prominently, like he did at the 2017 Golden Globes, considering the allegations of sexual harassment that have followed the actor for several years.
In 2010, Affleck was sued by Amanda White, the producer of his film I'm Still Here, for allegedly verbally and physically harassing her in the workplace; the film's cinematographer, Magdalena Gorka, also sued Affleck, claiming that the actor had climbed into her bed without her permission and caressed her back. Affleck has denied the claims of both women, with his lawyer telling The Hollywood Reporter back in 2010 that "the allegations brought upon our clients are preposterous and without merit;" the lawsuits for each woman were settled out of court for undisclosed amounts.
In the years since, the allegations against Affleck have been largely ignored by Hollywood, perhaps because he was never legally found guilty, or because he's a white man, or because he's Ben Affleck's little brother and an "underdog" many people can't help but root for. Most likely, it's a combination of all of those reasons, and while recent months have seen an increase in the attention the allegations have gotten, it hasn't led to Affleck's overall reputation, or his chances at winning awards, diminishing to any great extent.
This is incredibly frustrating, to say the least, and that feeling only increases as awards season goes on and Manchester receives more and more attention. Affleck has become the spokesperson for the film, doing numerous interviews, appearing at events celebrating the movie, and, like at the Globes, repping Manchester as its lead actor. Seeing a man who has been repeatedly accused of sexual harassment take center stage and be celebrated for his work is painful and disappointing, yet not surprising in the slightest. After all, Hollywood has a history of honoring men with less-than-stellar pasts, from Chris Brown to Mel Gibson.
But that doesn't excuse Hollywood from celebrating Affleck without any hesitation, especially when there are several other deserving stars from Manchester who could rep the film during awards season, like the hugely talented Michelle Williams or the impressive newcomer Lucas Hedges. Affleck gave a great performance in the film, yes — but so did his co-stars, and they don't have sexual harassment allegations to their names.
It's very likely that Affleck will continue to have a banner awards season, going on to win the Oscar for Best Actor and many other honors as the months go on. If it happens, though, let's not forget the allegations that mar his name, and the fact that Affleck is just the latest example of the easy forgiveness Hollywood so often has for its male stars.