The Host Of 'Cash Cab' Has A Real Taxi Driver's License, And That's Not All You Didn't Know About Him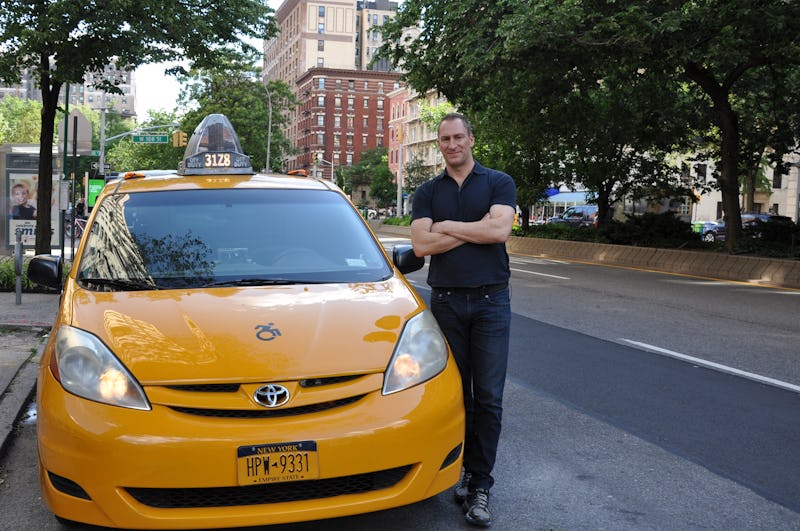 Discovery
Fans of quizzes, cabbies, and Ben Bailey have reason to celebrate. Cash Cab is back on TV after a five-year hiatus with its same iconic Cash Cab host Ben Bailey. He's a multi-talented man: Emmy award winning television host, stand up comedian, and, of course — a licensed taxi driver. The Discovery channel website noted that Ben Bailey has always been a man for odd jobs, reporting that he landed hosting gig on the network's first game show because of his experience as both a limo driver (he's an official member of the New York Taxi and Limousine Commission) and comedian. As a host of the original Cash Cab series, he also earned seven Emmy nominations and three wins (in 2010, 2011, and 2013) for Outstanding Game Show Host.
Following the initial end of the show in 2012, though, Bailey hasn't shrunk from public life. He continued being a television personality, appearing in advertisements and hosting shows like the NBC series: Who's Still Standing? Apart from hosting, Discovery noted that he also starred in shows like Celebrity Apprentice and Brain Games. He's also continued his career as a stand up comedian who will be performing several times this month and, presumably, in the future.
However, he's also back to what may be his most well-known job in hosting: The revival of Cash Cab, which premiered Dec. 4, on Discovery. And, Bailey isn't the only thing returning as though it had never left. The rules of the game are the same, contestants unsuspectedly get into the taxi and are asked a series of questions for cash prizes, but if they get three questions wrong — they lose all their money and get booted from the cab. Despite producers briefly considering having the show switch to Uber or Lyft, per People, they opted to stay with the iconic yellow NYC taxi-cab. That seems to have been a good decision, as Bailey told People that the response to him being back on the streets of New York City have been met with huge excitement from fans of the show. "It felt like the whole city was welcoming us back and happy to have us back," Bailey said in an interview with People. "It was awesome."
The majority of the revived show will be just like the original, the main change viewers will notice will be the inclusion of celebrities, according to Deadline. They'll be in the cab with Bailey when contestants get in and will be able to help contestants answer questions. Deadline reported that Matthew Perry, Brooke Shields, Scott Bakula, Gilbert Gottfried, Dave Foley, Jeff Garlin and Susie Essman will all appear on the show. Additionally, according to NBC Chicago, this revived season will only be six episodes long and will sport a new type of social-media-based shout out (the show's equivalent of lifelines like from Who Wants to Be A Millionaire?).
But, why bring the show back? According to Bailey, it has a lot to do with the state of the world at the moment. In an interview with Entertainment Weekly, he said he wants Cash Cab to be a bit of happiness in the world. "So many shows on TV are so heavy. News programs are very stressful these days," he said. "Most of the scripted stuff involves murder, death, and crime. I think what's important about shows like Cash Cab is that [they] are light and fun and a break from all that other stuff."
But, it also seems like there were some personal motivations for Bailey to come back to the show himself. After all, in the interim, Steve Harvey has been winning the Emmy for Outstanding Game Show host that Bailey had won three times. In that same interview with Entertainment Weekly, Bailey suggested he was hungry for another win. "I'm going to run him right out," Bailey joked about Harvey. Only time will tell if his return to TV can do just that — all while making the 2017 television landscape a little brighter.