Cate Blanchett Is Moving To TV To Play This Real Anti-Feminist Icon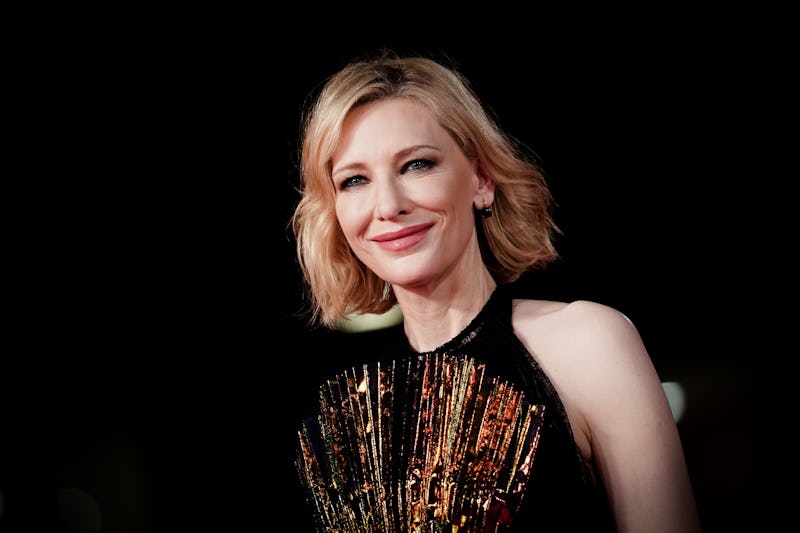 Vittorio Zunino Celotto/Getty Images Entertainment/Getty Images
Reese Witherspoon, Julia Roberts, Nicole Kidman, Meryl Streep — these are just a handful of A-list movie actors who have made the jump over to television, and now it seems there will be one more icon to add to the impressive lineup. Variety reported that Cate Blanchett will star in FX's limited series Mrs. America and the role she's taking on should prove to be an intriguing challenge for the legendary star.
Based on true events in America's history, the nine-episode series will recount the ratification of the Equal Rights Amendment with Blanchett playing conservative activist Phyllis Schlafly, who opposed the women's movement. "Through the eyes of the women of that era — both Schlafly and second wave feminists Gloria Steinem, Betty Friedan, Shirley Chisholm, Bella Abzug and Jill Ruckelshaus — the series explores how one of the toughest battlegrounds in the culture wars of the '70s helped give rise to the Moral Majority and forever shifted our political landscape," the official synopsis reads, as per Entertainment Weekly. Blanchett will also serve as an executive producer for the show, which was written by Mad Men writer and producer Dahvi Waller.
For her part, Blanchett seems eager to portray such a compelling role, especially given the modern day political climate. "I feel privileged to have this opportunity to collaborate with Dahvi, Stacey [Sher] and Coco [Francini] under the robust and fearless FX umbrella," she said in a statement, as reported by Deadline. "I am extremely excited about delving into the material as there couldn't be a more appropriate time to peel back the layers of this recent period of history, which couldn't be more relevant today."
Sher, who serves as one of the project's producers, echoed that sentiment with her own statement, commenting on the relevancy of the subject matter: "This country has literally been discussing women's rights for over 100 years and this story is as timely and relevant to the times we live in as it was during the tumultuous and passionate period in which it took place."
Having a legendary star like Blanchett headlining the series is a big get for FX — something that FX CEO John Landgraf seems more than aware of, given the statement he gave shortly following the casting news, according to The Hollywood Reporter. "Cate Blanchett is one the great actors of our time — and we are truly honored to have her star in Mrs. America," he said, adding:
"We have no doubt that Cate is the perfect actor to play the role of Phyllis Schlafly, who was one of the most polarizing and fascinatingly complex figures of the '70s for her opposition to and role in defeating the Equal Rights Amendment, which to this day has never been ratified. Dahvi Waller's scripts are extraordinary, and I'm thrilled to reunite with my former Jersey TV partner Stacey Sher, and commend her on assembling such a dynamic foursome of gifted, female, artist-producers to take on this timely story."
As a two-time Oscar winner there's no doubt that Blanchett will make this project your next big TV obsession. So should we just go ahead and give her the Emmy now or what?