Trump Walked Away Rather Than Face A Reporter Who Corrected Him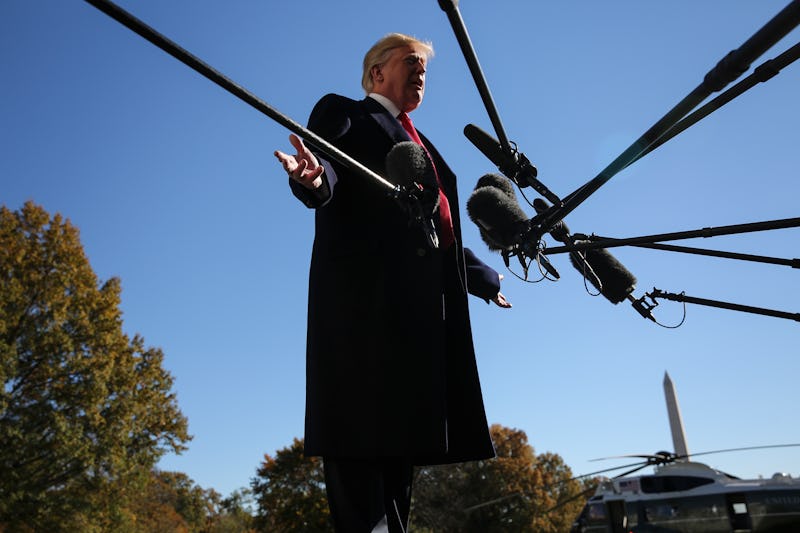 Pool/Getty Images News/Getty Images
One of the lingering questions surrounding the Trump presidency is how reporters should cover President Donald Trump when he says something untruthful while speaking to them. Most often, reporters elect not to question Trump's statements directly to his face, no matter how true they are. On Monday, though, CBS reporter Paula Reid corrected Trump to his face on a false statement he'd made regarding his border policy, rather than simply offering the correct statement to viewers later — and she received a substantial amount of praise for having done so.
Reid's correction happened when Trump doubled down on his false claim that the Obama administration had employed the same "zero tolerance" policy that separated so many migrant families at the border. As The Huffington Post explained, the Obama administration did deport a record number of undocumented immigrants and their families, but it never separated the families. This came up in a 60 Minutes segment on CBS, and it gave Reid the opportunity to correct the president's oft-used rhetoric defending his administration's policies.
"So I'll tell you what, Obama had a separation policy. We all had the same policy," Trump told Reid.
"You did not have it, sir. No, you didn't," Reid then told Trump.
"I tried to do it differently, but Obama had a separation policy," Trump said in the video. "But people don't like to talk about that."
"Sir, it was different," Reid then said, as Trump began to walk away. "You decided to prosecute everyone at the border."
Trump did not respond to Reid's comment regarding the Trump administration's prosecution of migrants arriving at the border.
After posting the video on Twitter, Reid immediately received numerous messages of support for her decision to press Trump on his false statement rather than simply letting it stand.
"Excellent reporting. I wish more journalists would instantly fact check him. You've gained a new follower," one Twitter user wrote in response to Reid's post.
"That weird finger point and walk away. A reliable tell that he's knows he's busted and is mad about it," wrote another Twitter user, adding a laughing emoji. "Great job by Paula Reid!"
Trump has, of course, provided reliable employment for fact checkers from all over, from the Politifact team that won a Pulitzer based on their fact checking of Trump's statements to the Washington Post fact checking team, which has kept track of every single false or misleading statement that Trump has ever made as president. As of the beginning of November 2018, he had made 6,420 such claims. Every time he gives a press conference or an interview, numerous new organizations line up to provide fact-checked transcripts. Correcting his tweets is a daily exercise for the hundreds of his critics who follow him.
Corrections to his face, however, are much less common, so it's natural that Reid's gesture would have received so much attention. Trump also made it clear through his avoidance response that he wasn't interested in actually addressing the fact that someone had pointed out his false claim. If more reporters started following Reid's lead, it would be interesting to see how the president chose to deal with it.